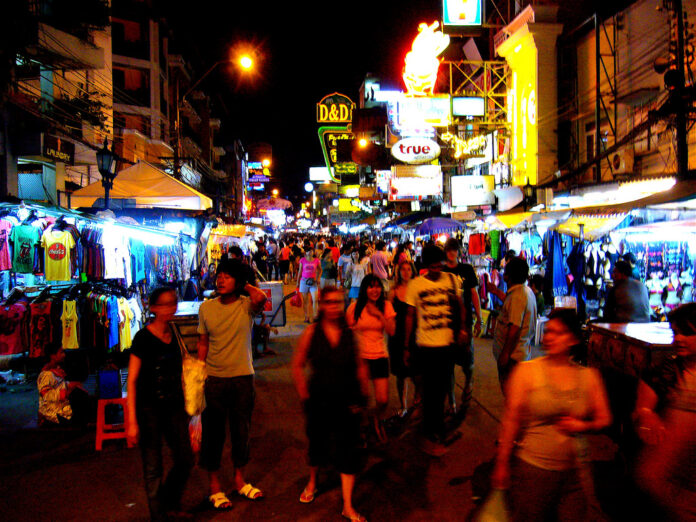 BANGKOK — Khaosan Road vendors Monday called for a demonstration tomorrow to protest City Hall's failure to explain new regulations to be enforced in two days.
Vendor representative Yada Pornpetrumpa announced they would march Tuesday morning on the Bangkok Metropolitan Administration after city and local police failed to meet with them today. The Monday meeting, held at a nearby school, had been arranged to discuss a recently announced plan to rein in their operations, the details of which they only learned yesterday.
Read: Police the Cops Before 'Choking Us,' Khaosan Vendors Say
"You've never done what you promised. You just drafted the plan and said the vendors would have to follow it," she said with anger in her voice, referring to Deputy Gov. Sakoltee Phattiyakul, who announced there would be new rules just two weeks ago without consultation. "The district administrators could not answer any questions. We've asked for a meeting with you and that never happens. What is this supposed to mean?"
"All vendors will start marching from Khaosan Road at 9am to the City Hall," she declared as cheers erupted from vendor association members.
On Sunday, the vendors learned what the new rules would be for the area, which for decades has drawn tourists with busy street markets selling everything from henna tattoos and apparel to forged software and university diplomas.
The plan calls for clearing the sidewalks of stalls and moving them and all food carts into designated areas which have been marked with chalk along one side of the road. The other side would be kept clear as an emergency lane.
The vendors said the details were shared Sunday by Phra Nakhon district administrators, just three days before they will be enforced.
Most were caught blindsided by Sakoltee's announcement earlier this month, which came over a year after City Hall said Khaosan would be exempted from its four-year-old cleanliness and order campaign.
Raywat Chobtham, president of the association representing all 50 Bangkok districts, said the plan did not seem well thought out.
"Putting them on the street is not appropriate. From what I've seen, a lot of problems will occur. If there's a fire, it will be very difficult." he said. "Tourists coming to Khaosan Road know how to walk around, and vendors also know where they should put their stuff. The regulations should consider what would be practical, but officials have never planned or come up with any supporting measures."
He insisted that the safety of both tourists and vendors should be prioritized equally.
Yada pointed out another issue during her fiery speech: regular flooding the city has been unable to manage.
"You can't even solve the flooding problem, and you tell vendors to stay in the street to bear their own fates," she said, showing two-year-old viral photos of foreigners swimming in the flooded road. "If carts and stalls are there and have to manage electricity on their own, and someone's electrocuted [because of flooding], what will you do?"
She added that police don't seem in step with City Hall as they haven't told the vendors how they will enforce the new rules.
She then addressed the room:
"Who does not support these new regulations?" Everyone raised their hands in unison.
Although invitations were sent to both police and administrators, the only officials to show up today were several tessakit, the local municipal officers tasked enforcing cleanliness and order regulations in the city.
Kasidet Sooksawang, who represented the force, said he would forward all complaints to the administration. He insisted that the authorities want the vendors to remain on the street but require everything be "in order."
And complain they did. Thanapong Manitthammapong, who owns a clothing shop and a building on the road, accused the administration of forcing the order on them without any consultation.
"I've lived here for over 10 years. Khaosan Road has come to be what it is today not by any support from the government but by the work of all people in this community," he said. "We are not refusing to make changes, but we want to be involved in every change that will affect us. … We'd like the officials to listen to us. Please don't act like there won't be any problems."
Another stall owner, Natcha Aree, explained why allowing vendors to operate only from 6pm to midnight would be bad for the whole business model of the road.
"Customers during the daytime normally are tourists who reserve one day before they fly back home to shop here," she said. "If we follow the regulations, we will lose this group of customers. It's our loss."
"A market with charm is a market formed naturally, not one carefully constructed. The liveliness of this market is what the tourists come to experience," she added.