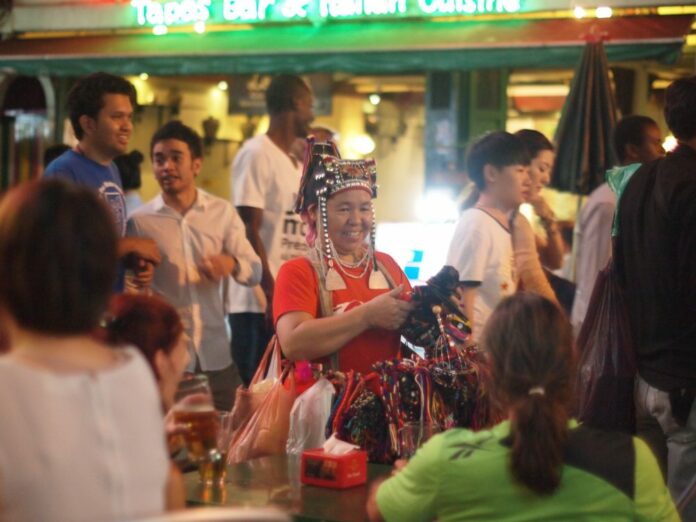 BANGKOK — Khaosan vendors were served a heaping bowl of win Friday with word they can resume business as usual after City Hall gave up a push to regulate them.
After meeting today with various ministry and police representatives, Deputy Gov. Sakoltee Phattiyakul said officials agreed that Khaosan Road's sidewalks should be exempted for vendors as it's an important, unique tourist attraction of the country.
That was the same rationale given over a year ago – before Sakoltee was elevated to his powerful position – when the street was declared exempt from the campaign to clear out informal street markets.
Sakoltee said it would take about a month for City Hall to process the exemption. In the meantime, sellers will be able to do business on the sidewalks from 6pm to midnight, with their stalls limited to a width of 1.50 meters.
Vendors must register with district administrators and are allowed only one stall per person, he said.
Once the exemption is in place, Sakoltee said, they would still only be able to operate 4pm to midnight instead of all day. He added that same time restriction will be applied to nearby areas including Ram Buttri, Kraisi, Chakrabongse and Sip Sam Hang roads.
City Hall and Khaosan vendors reached a compromise earlier this week after Sakoltee's push for new rules fell apart as local police refused to enforce them.
Vendors' representative Yada Pornpetrumpa said later Friday afternoon that they don't agree with the daytime restriction and will continue to push for it to be repealed.
"I don't understand why he has to limit the sale time," she said. "How is the time preventing Khaosan Road from being more organized?"
"I'd like to ask the officials to be more open-minded. Please hear us and discuss what should be done together," she added, referring to the rules they are drafting to submit to the government next week for consideration.
Related stories:
Deal Struck For Khaosan Vendors to Submit Alternate Rules
Khaosan Goes Quiet After Police Ignore New City Rules
Khaosan Vendors to Defy City Hall's New Rules
Feeling Spurned, Khaosan Sellers to March on City Hall
Police the Cops Before 'Choking Us,' Khaosan Vendors Say