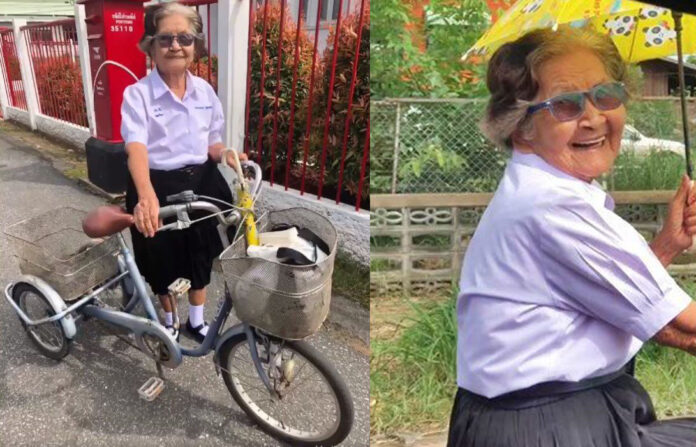 YASOTHON — Kesorn Sookserm pressed her schoolgirl uniform, held up her yellow umbrella and pedaled off to school Sunday to sit for her sixth grade final exams, books and pencils in her basket.
Unlike her classmates who are a fraction of her age, Kesorn is 84.
Her story made waves today after a teacher at the testing facility spotted her leaving and gave pursuit, filming a short video clip of her returning home after the test.
"Before, my highest education was at the fourth-grade level. That's all there was. I didn't have the chances kids today have. When I came to learn, I had a lot of fun, and a lot of friends," Kesorn says in the video.
The teacher, 30-year-old Wuttichai Suphap, caught up with her as she was exiting the Kum Keun Kaew Chanoopathum School. Kesorn takes classes at a local vocational ed office in the Keum Kaew district of Yasothon province, and her exam was held at the school.
"I was so surprised and impressed that granny is still working to improve herself, breaking the rules we have about education," Wuttichai, a teacher at the school, said Monday in an interview. She's not embarrassed to be sitting in class with people her grandchildren's age."
Wuttichai said he whipped out his phone and drove after Kesorn when he saw her.
"My kids and grandkids have jobs, so I didn't want to bother them. I can come to school by myself, no problem," Kasem says of her 2-kilometer commute by bicycle.
Kesorn's vocational class has a couple of other seniors working toward their sixth grade certificates. She hangs out with the children in the school next door, her hair cut to primary school regulations.
"The teachers at the Office of the Non-Formal and Informal Education Center said she is really diligent in class, carefully reading each question, unlike some kids who come through and just rush through the tests," Wuttichai said.
Kesorn has been teased by some of her friends and family for pursuing her education, saying that "she won't get to use the knowledge anyway." But she doesn't listen to them.
"She's determined and has a good attitude. I want kids these days to see how much she wants to learn. Education doesn't end with age," Wuttichai said.
What's next for this plucky grandma? First she'll have to endure the wait finding out if she passed Sunday's test.