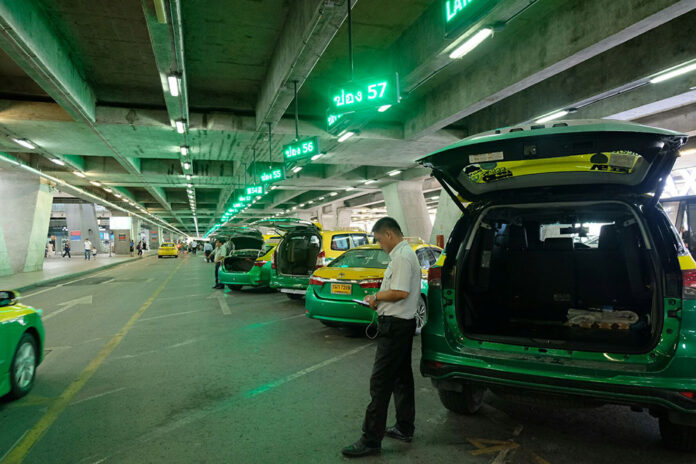 BANGKOK — Taxi service at Bangkok airports was operating normally Friday afternoon, a day after a group of airport taxi drivers threatened to strike over what they can charge.
An emergency meeting was called for today after drivers of large taxis said they would go idle at both Suvarnabhumi and Don Mueang airports today if the authorities refused to raise service fees from 50 baht to 100 baht, complaining the lower rate was "unfair."
Woraphol Kaemkhuntod, leader of one of the taxi associations, said the demand was triggered by the recent arrival of a fleet of electric VIP taxis to Suvarnabhumi. The electric vehicles, or EVs, are also SUVs, charge higher fares than normal taxis and also receive a surcharge of 100 baht.
"The way they see it is this: They are both Thai drivers, regulated under the same ministry, yet why are two fare structures being applied?" Woraphol said in an interview today. "The EVs are just ordinary taxis that use electricity. We don't even know if they will actually work."
He continued, "If they didn't bring in EVs, this issue wouldn't have been raised. They are Chinese cars. How good can it be? How many years will they run? Let me ask you: Will you choose Toyota or a Chinese car?"
Cherdchai Sanunsrisakorn of the Land Transport Department said he would meet with Transportation Minister Arkhom Termpittayapaisith today to discuss adjusting public transport rates for buses and taxis nationwide.
Taxi drivers have long argued, with little success, that fare rates have fallen far below cost of living increases. The last increase was in 2014.
Though service at both airports appeared unaffected Friday, Woraphol said some drivers didn't show up for work.
The decision to let the electric taxis collect a higher surcharge unleashed a torrent of complaints.
Drivers of large airport taxis said it is unfair they receive half the fee the electric vehicles' drivers get, as there is "no difference" in the service provided. They noted that the 50 baht they currently receive is the same paid to drivers of regular taxis, despite having higher fuel costs and capacity for more passengers and luggage.
They also said the punishment for not turning on their meters is too harsh and demanded airport authorities reduce the penalty from a lifetime ban to suspension because "current fares are too low, making us lose so much money."
A Suvarnabhumi driver identifying himself only as Wittawat said the long wait, up to four hours for one passenger, is another big problem.
"We drive into the city, get 200 baht from the meter plus a 50-baht surcharge. It doesn't cover the expenses of us having to wait that long," he said. "We proposed raising the surcharge to 100 baht for big taxis and 70 to 80 baht for normal cars, but no agreement has been made."
They faulted officials for enforcing a double standard, as the new electric taxis can set fixed prices for trips over 300 kilometers.
Cherdchai said the request to raise the surcharge for large taxis would be considered today. He said that he believes they should be able to negotiate with the drivers, and thinks a mass strike is unlikely.
Woraphol said he has not seen any positive signs from the transport department.
"They put our issue in Neutral gear," the taxi trade guild leader said. "They made no promise."
Cherdchai defended the surcharge of the electric taxis for their higher standards.
He added that if the strike goes forward, transport officials would supply both airports with an additional 1,000 taxis with approval from airport authorities.
Additional reporting Teeranai Charuvastra