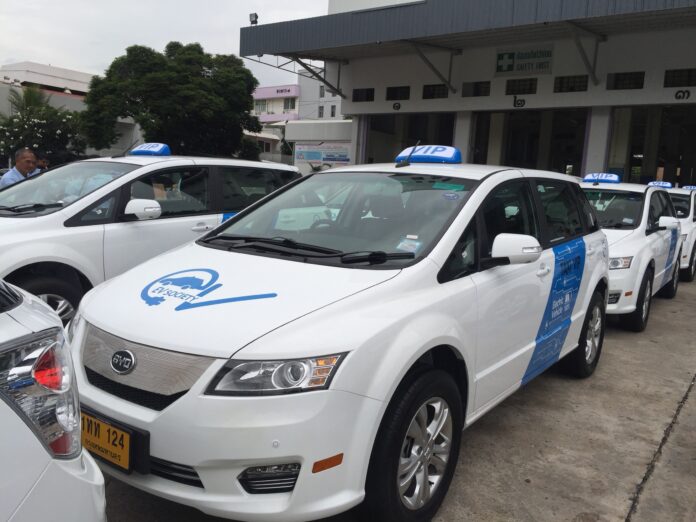 BANGKOK — A fleet of electric taxis is coming to service Suvarnabhumi Airport early next month, officials said Thursday.
In an effort to promote renewable energy, Sanit Promwong of the land transport department said a fleet of 101 electric taxis will be in service by Sep. 9 with a goal of increasing the number to upward of 1,000 next year.
He said that the starting fare is 150 baht and 16 baht per kilometer from the third. A 5 percent discount will be available in the beginning of the service.
The electric taxis, equipped with GPS trackers and entertainment tablets, will be available at a service counter inside Suvarnabhumi Airport and via the taxi hailing application of the land transport. Sanit added that there are now 30 charging stations in Bangkok.
Sorayut Phettrakul of the EV Society which oversees the Suvarnabhumi taxi service said the company has invested 2 billion baht for the initiative. The vehicles are BYD E6s manufactured by Chinese automaker BYD.
Officials cited policies in countries including China, Germany and England to reduce the emissions by discouraging the use of fossil fuel vehicles. Several public and private efforts in Thailand to boost the electric vehicle industry have also been launched in recent years, but the growth has been relatively limited.
Regular airport taxi services will still be available.
In 2016, fewer than 10,000 hybrid and battery-powered vehicles were purchased out of about 2.9 million new cars entering the roads, with only 16 public charging stations across the country by September 2017, according to the National Science and Technology Development Agency.