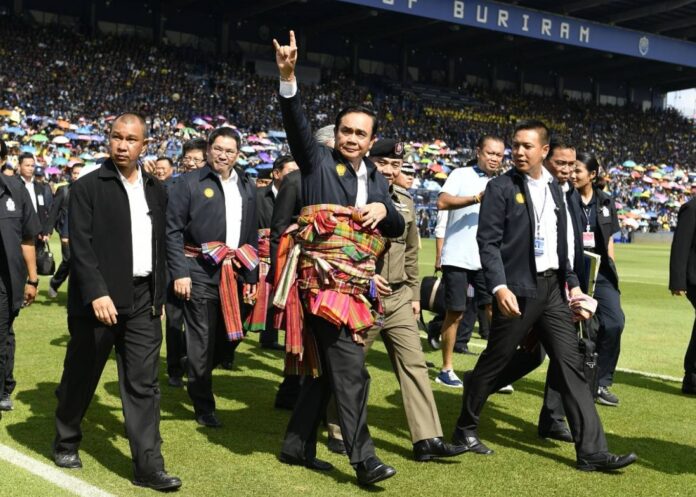 BANGKOK — Political parties big and small are grumbling as they watch junta leader Gen. Prayuth Chan-ocha and pro-junta politicians engage in behavior indistinguishable from campaigning, despite the oft-cited ban on political activities.
Prayuth has visited various provinces over the months, and even newspapers sympathetic to him such as Thai Post on Thursday described his activities – hopping on the BTS Skytrain to chat with people and vowing to solve Bangkok's traffic problems – as campaigning.
Meanwhile the Three Friends, a group of three pro-junta politicians, continue campaigning despite criticism that everyone else is being stifled by the junta's ban on gatherings of more than four people for anything political. Deputy junta leader Gen. Prawit Wongsuwan defended the group Tuesday, saying they weren't violating the ban as they aren't politicians – because they haven't registered as a party.
Read: Pro-Junta Politicians Can Campaign Because They Are Not Politicians: Junta
Though remaining cautious in their approach, big players such as the Democrat Party have begun criticizing what they perceive as an unfair and unlevel playing field, particularly as the three friends go about poaching their former members and allies.
"Can I ask, by using common sense, if the trip by the Three Friends to see veteran politicians in various provinces was shopping, or private business?" Democrat Party deputy leader Ong-art Klampaiboon said Thursday.
Nipit Intarasombat, another deputy Democrat leader, said the same day that he feels it's unfair.
"We do not do anything because we are mature enough, considering there's a ban," Nipit said, adding that it covers not just politicians but anyone from engaging in political activities, as well as a ban on political assembly of more than four people.
Even those from new political parties say they're dissatisfied by what they're seeing.
Kittichai Ngamchaipisit, leader of the Commoner Party, said that in light of his own ban, Prayuth's visits to local residents in various provinces is unfair.
"Should he do this while others can't?" Kittichai said.
Still, some groups are finding ways to skirt the ban without running afoul of it.
Kittichai said his some of his party's members have quietly gone upcountry to meet people and hear their complaints. But they draw a line and won't stage any rallies or campaign openly.
"It's about how the junta interprets it," Kittichai said, referring to the definition of what constitutes political activity.
Kittichai said he doesn't agree with any political ban to begin with.
"The ban on political activity is an index of how undemocratic things are. People feel stifled … We try to be within the frame, but there are no clear standards, so it leads to unnecessary fears," he said.
Another new party, Future Forward, has sent its leaders upcountry to meet people, gauge their needs and formulate possible future policy.
Chamnan Chanruang, party deputy leader, said he has visited dozens of provinces over the months.
"In principle, we think we can make a move. Making a move is normal. It's the restrictions that are abnormal," Chamnan said on the phone Thursday from Chiang Mai.
He said what the Three Friends group is doing is also normal and shouldn't be an issue, were everyone else allowed to engage in politics as well.
"We are normalizing what we do, and we are ready to be scrutinized. What we are doing is right," he added.
Chamnan said earlier this month that a hotel canceled a booking for his party's youth wing in Nonthaburi province after police said such a meeting would be considered political activity.
The party held the meeting at its temporary headquarters on Petchaburi Road in Bangkok.