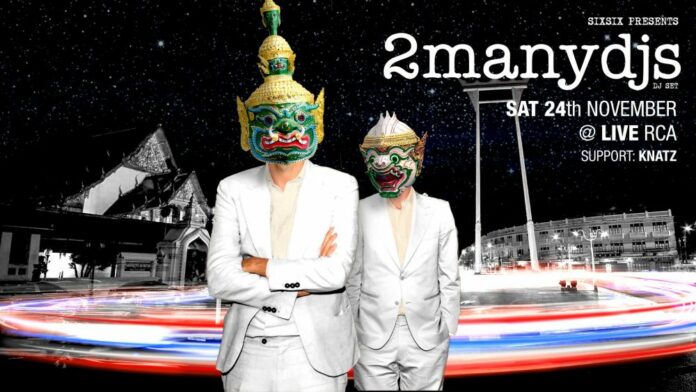 BANGKOK — A frontrunning act in Europe's electronic scene and the '00s remix movement are heading to Bangkok late November.
Known under the moniker Soulwax, Belgian brothers David Dewaele and Stephen Dewaele are coming to Bangkok to perform as 2ManyDJs.
The left-of-center progressive duo has been active since mid-1990s. They play and mix everything from prog-rock and R&B to hip-hop and techno (one of their bootleg mashups,"Smell Like Teen Booty," mixes Nirvana and Destiny's Child).
Their album "As Heard on Radio Soulwax Pt. 2" was highly acclaimed upon its release in 2002 and was named the best popular music album of the year by The New York Times.
For their Bangkok gig, 2ManyDjs will be supported by local veteran DJ Knatz. The concert takes place Nov. 24 at Live Arena. The renovated music venue, at same location of the former Live RCA, can be found in the RCA area just a few kilometers from MRT Phetchaburi.
Tickets are 690 baht and available online.