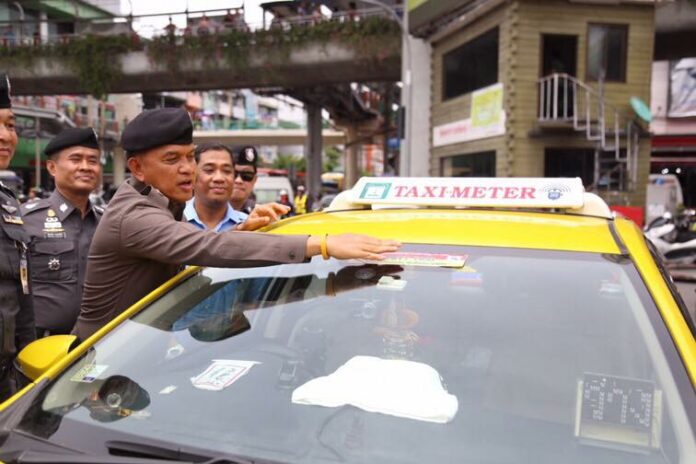 BANGKOK — If you, like so many other Bangkokians, are fed up with taxi drivers refusing your fare, a novel cab service has a pitch to make.
For a fixed monthly price – starting at 6,500 baht – its cabbies would always pick you up and take you to your destination. The founder of the firm, called My Taxi, said he hopes the service would not only end passengers' complaints, but also offer taxi drivers steady jobs with decent pay.
"Passengers often can't find cabs when they need them, but we have them for those who buy our service," Woraphol Kaemkhuntod said in an interview. "Whichever driver is nearest to the customer, he can get it. We will use a GPS pin system."
Though prices have yet to be announced and My Taxi is still in the planning stages, Woraphol outlined some basics. The cheapest package, at 6,500 baht a month, comes with three daily trips – about 70 baht per ride. There's also a more expensive monthly fare of 12,000 baht for "long-distance trips" across the metropolis, such as from "Rama II Road to Pathum Thani," Woraphol said.
Here's the catch: Trips must be made between 6am and 6pm. Outside those hours, drivers will still pick passengers up but on metered fares.
"We set a target of 2,000 drivers," said Woraphol, who also heads a taxi association. "The way I see the future is, when all the skytrain lines are completed, taxi drivers will find it harder to make money. So I set up this company as a way for them to earn money."
But thousands of Bangkokians already sidestep the problem of non-compliant taxis by booking their rides through GrabCar and GrabTaxi. Indonesian ride-booking application Go Jek is also reportedly coming to Thailand soon.
Despite these entrenched competitors who do not require customers to pre-book rides for an entire month, Woraphol said he's confident the idea will take off.
"It's business," he said. "It's about competition and whose service is better."
Woraphol added that My Taxi was already registered with the authorities, and its "official opening" would be announced at a later time.
Related stories:
100 Electric Taxis Coming to Suvarnabhumi
Airport Taxis Back Down From Strike Threat