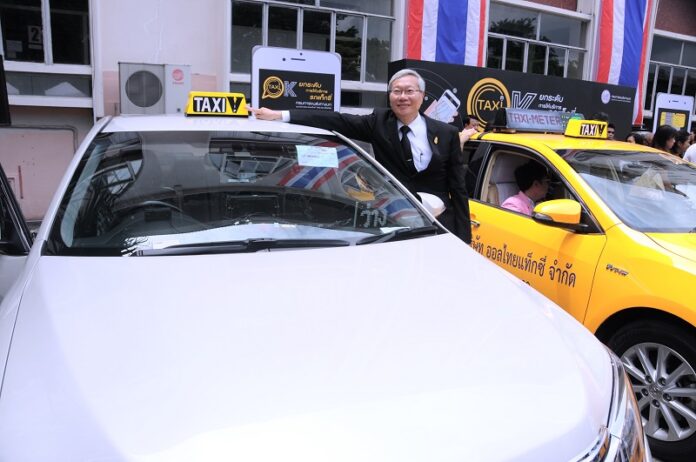 BANGKOK — Transportation officials unveiled Thursday a taxi-hailing service that requires drivers install equipment to ensure passenger safety.
Launching in November, they will be the first app-based services operated by the government. The first, Taxi OK, can be used to call regular taxis which have met certain standards. The second, Taxi VIP, will summon higher-end cars with better facilities operated by an existing service.
While insisting that Uber and GrabCar remain illegal, the Land Transport Department said using app-based services is itself not illegal. Officials said their new apps will improve taxi service and ensure passengers have safe, convenient rides in legal taxis.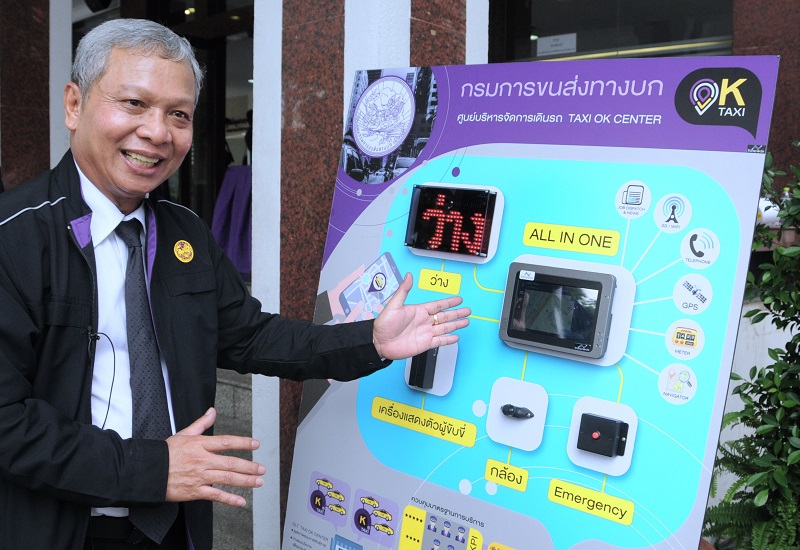 Private taxi drivers, those registered with cooperatives and those of organizations such as All Thai Taxi or the newly introduced Line Taxi can participate if both car and driver meet requirements.
"We won't charge a service fee," department Director-General Sanit Promwong said Friday. "The taxi company may charge something, but it cannot exceed a 20 baht limit established by the law."
For example, if a passenger uses Taxi OK to call a car belonging to All Thai Taxi, they would still have to pay All Thai Taxi's fee, he clarified, which can't exceed 20 baht.
A car demonstrating the Taxi VIP program is shown Thursday to members of the media.
Upgrades Required
To join Taxi OK, taxis must be equipped with a video display showing information about the license-holder, an estimated fare, camera, real-time GPS tracking device and call button that will alert a service center in case of emergency.
Asked to estimate what the cost of such a system will cost drivers, Sanit demurred.
"I prefer we talk more about development. I don't want to weigh on the expense," he said.
Sanit's agency expects a total of about 80,000 drivers to join the service.
For drivers to join Taxi VIP, they must drive for a private company or cooperative. The car must be larger and include more unspecified facilities.
"I expect half of the existing taxi fleet will be part of Taxi OK by January next year," said Pichit Akrathit, deputy transport minister.
Related stories:
Line to Launch Taxi Service in Bangkok
Pattaya Taxis Terrorize Woman They Mistake for Uber Driver
28 Uber Drivers Busted, Now Official Floats Article 44 Ban
Thai Govt Releases Taxi Rating App
New BKK Taxi Service to Stress Passenger Safety