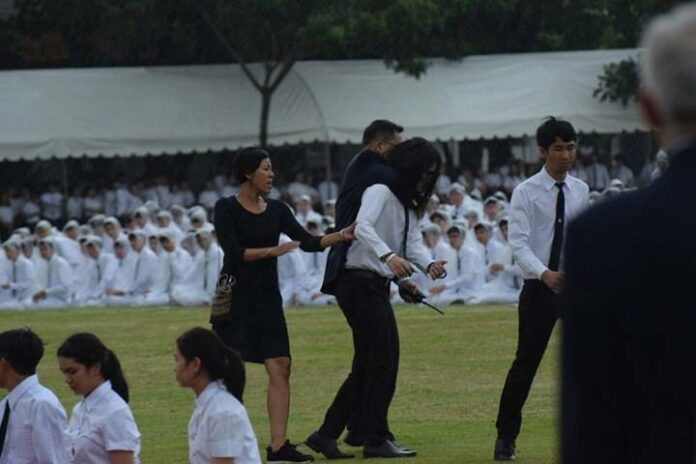 BANGKOK — Chulalongkorn University's vice president of student affairs apologized Friday for a professor who put a student in a chokehold during the school's annual freshmen initiation ceremony.
University Vice President Bancha Calapiron's apology came a day after botany instructor and administrator Ruengwit Bunjongrat was filmed placing a freshman in a headlock during the campus event.
"I really have to apologize on behalf of the professor," Bancha said Friday.
Read: Chula Professors Tackle Student Trying to Leave Initiation (Video)
Bancha did not confirm whether Ruengwit would face any disciplinary action, saying he remained hospitalized due to stress experienced after the incident became public.
"He's in the hospital right now. We will talk about it again Monday," Bancha said.
Supalak Damrongjit, the 21-year-old freshman Ruengwit placed in the headlock, filed an assault complaint with police after Thursday's incident. Supalak said he was physically and verbally abused when he and the student body president, 20-year-old activist Netiwit Chotiphatphaisal, bowed instead of prostrated themselves on the ground to statues of two past kings credited with founding the university.
Bancha did not confirm whether Ruengwit Bunjongrat would face consequential actions. "He's in the hospital right now. We will talk about it again Monday."
Supalak said he felt obligated to file the complaint.
"I don't know what the future holds, so I wanted the police to officially record what happened," he said.
Supalak said he and members of the student council, including Netiwit, approached the statues of Rama V and Rama VI after the ceremony ended to bow.
Students are expected to graab, or prostrate themselves on the ground before the statues, in the ceremony, which is about 20 years old.
Netiwit, a progressive activist who has challenged education orthodoxy since he was in high school, refused to do so last year when he was inducted as a freshman, saying at the time that it was Rama V himself who banned the practice.
Netiwit and some students objected to the fact the ceremony wasn't called off despite inclement weather, with plastic rain covers only handed out after rain began to fall.
That's when Bancha said Ruengwit grabbed Supalak.
"During the initiation ceremony, which nong Netiwit didn't agree with, seven or eight of his student council friends came up to the statues to pay their respects, but one ajarn decided to pull one back and hold his neck," Bancha said.
Supalak said as he and his peers were departing from having bowed, a group of professors including Ruengwit assaulted him.
"He put me in a headlock and yelled at me using curse words as he dragged me off the field," Supalak said. "He called me a motherfucking kid, used 'meung' and asked me where [Netiwit] was."
Meung is a vulgar term of address also used casually between close friends.
Supalak said that he does not know what to expect from the university, complaining that professors have treated them poorly.
"Ajarns have berated me and Netiwit before for how we look, but nothing happens to them," he said.
Netiwit said he was unsatisfied with the university's response so far.
"This is Chula culture," he said. "They place the blame on the kids, and the adults just defend each other."
Bancha said Thursday that Ruengwit, the professor, did not commit any form of assault and was a student-loving professor who had taken ill from the stress of what happened.
Netiwit was dissatisfied with that response. "Mentioning that he loves children or that he's fallen ill is completely missing the issue," Netiwit said.
Attempts to reach Ruengwit on Friday were unsuccessful. A mobile phone number furnished by the rector's office was disconnected.
Bancha said the conflict was the byproduct of a disagreement over the prostration portion of the ceremony.
"Netiwit doesn't want there to be prostration. Actually the ceremony doesn't feature that," he said. "This is a tradition of Chulalongkorn University ever since this university was the Royal Pages School in service of Rama V. This is a tradition that we choose to do."