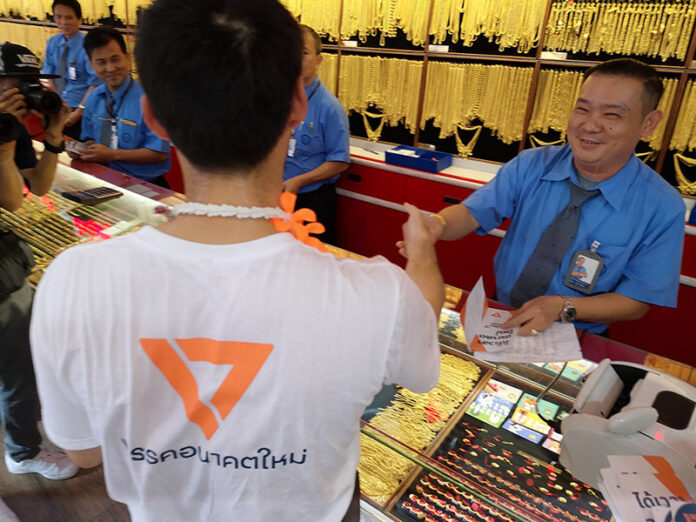 By Jintamas Saksornchai and Pravit Rojanaphruk
BANGKOK — The Future Forward Party hit the streets of Bangkok's Chinatown on Monday to recruit new members among crowds mostly unaware of its existence.
Similar to last week's march by Suthep Thaugsuban's new party, an entourage of about 50 members and staff flanked founder Thanathorn Juangroongruangkit as they introduced themselves to shop owners and handed out leaflets with QR codes for online party registration.
Also like the Action Coalition for Thailand Party, Future Forward denied its effort violated a junta order banning political campaigning, saying it was not asking people to support its candidates at the ballot box.
"It's indeed a political campaign, but not a campaign for votes in the election," spokeswoman Pannika Wanich said. "It's a campaign for recruiting new members, which is essential for us."
Catch up on Our Election Coverage
This was reiterated by party leader Thanathorn, who voiced confidence the party will be able to gain enough traction despite the many political restrictions.
"We can't say much. What we can do here is invite people to register with our party," he said. "This is our first move in Bangkok. Our team will go around Bangkok after this to enlist members."
"We're very confident that we'll become one of the big parties," he said.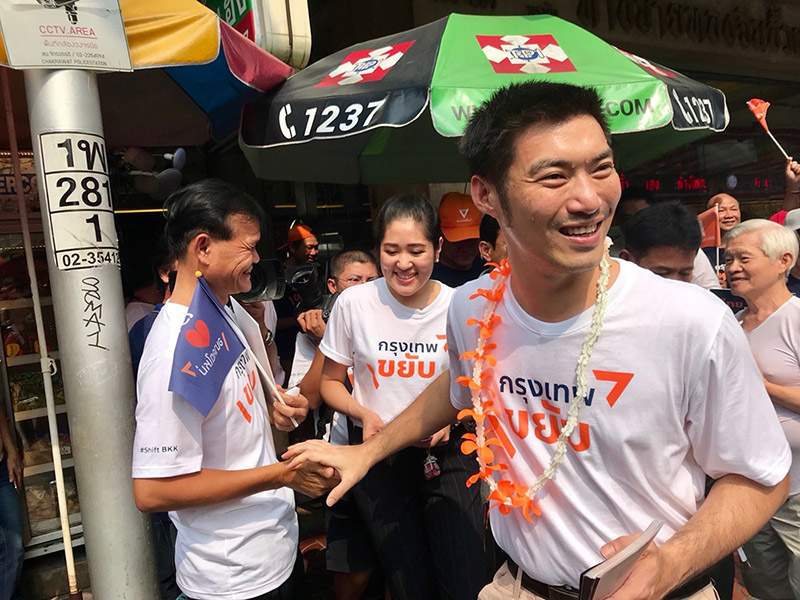 The ban on political campaigning remains in place despite the proposed date for elections being under four months away.
As they walked the street, staff wearing party T-shirts randomly chanted "Thanathorn, Future Forward!" and "Thanathorn, the new prime minister!" The party leader was most of the time surrounded by his own professionally outfitted production crew as he approached shop after shop.
The group did not appear to encounter the kind of hecklers faced by Suthep upon his return to the streets five years after leading anti-government rallies. It also saw less of the same warmth. Many people said they had not heard of either the party or Thanathorn before yesterday.
"I didn't know about the party before but sort of know about Thanathorn," said Apinya Chuenmeechon, 29, who help runs her family shop selling wholesale plasticware in the Sampeng market.
"Here, take a look at this. It's Future Forward Party and Thanathorn," a middle-aged woman who had just taken a pamphlet told a couple of young men sitting nearby. "Who's Thanathorn?" one responded.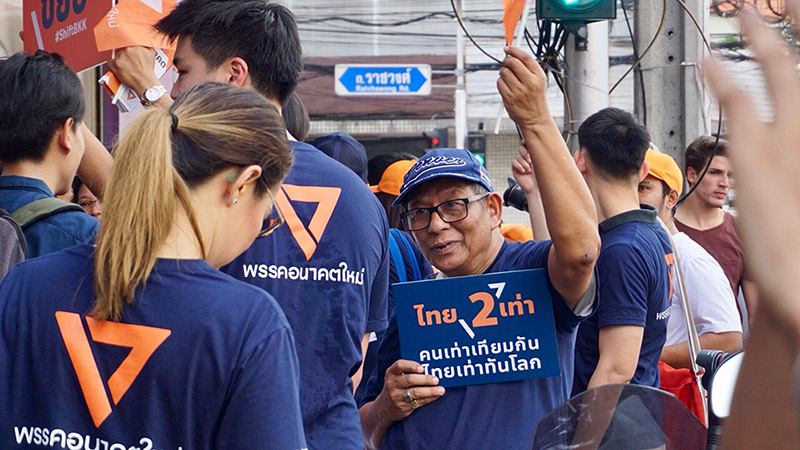 Others were reluctant to say if they would support the party.
"I'm still not sure if I'll cheer for them. There are many things to be considered," said the owner of one of the gold shops the group entered, who only gave her first name Nanthikan. "I like Khun [Pannika], but I don't know much about Thanathorn."
An employee in a dried goods shop said she wanted to see if the party can really deliver on its promises if elected.
"Their policies speak to me, probably because we're from the same generation," a 29-year-old identifying herself only as Nawaporn said. "But I don't know if they'll be able to do as they say. They all say nice things [to get people to vote]. I haven't decided if I'll support them."
Promoting itself as the voice of the new generation, the party has mainly projected its ideology online since its March launch. It has been criticized for being out of touch with ordinary people and representing capitalism due to the status of its leader as the scion of a wealthy family and former top executive himself.
Thanathorn, who also once sat on the board of the publishing group which owns Khaosod English, insisted the party's intent to represent the majority will be clear when its policies are revealed.
Thanathorn said after he concluded the march that people were more receptive to the party than had been expected. Acknowledging that many still don't know who they are, he said he doesn't see it as a problem.
"It's alright under these many restrictions. What we have to do is to go out and make ourselves known to the people and build up our credibility," he said. "That's our challenge."
He said the party has gained about 7,000 new members, who are required to pay 100-baht annual fees. He also said it had received about 25 million to 30 million baht in private donations in the past month. Pannika added that the party's single largest donation was 5 million baht but declined to name the company, adding that it will be revealed in the party's quarterly budget report in January.
Thanathorn said the party will release a full report of its donors next year for transparency and said it won't be unduly influenced by big donors over individual members who give much less.
"When it comes to the elections of the party leaders, even if you donate 1 million or pay our 100-baht annual membership fee, you have one vote, equally," he said.
He however did not say how exactly he will make sure major corporate donors won't have more indirect influence on the party's policy making process than ordinary members, who were promised to be Future Forward's "true owners."
The party said it will continue marching through Bangkok in the coming weeks with a walk through the Silom area slated for Friday.