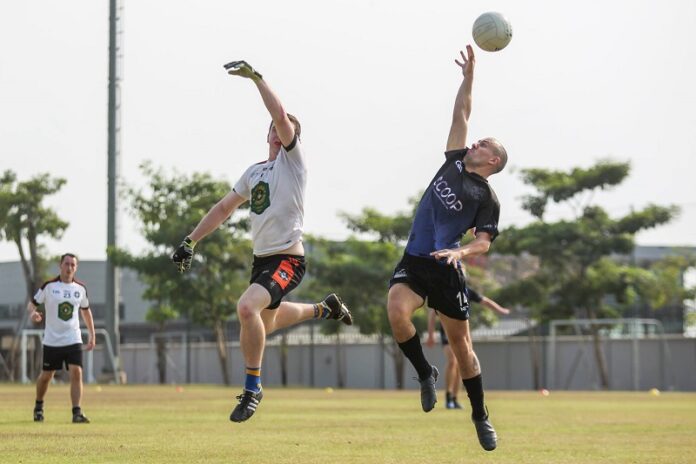 BANGKOK — See balls soar over goalposts and into nets this weekend when hundreds of people from throughout Asia meet in the capital for a two-day Gaelic football tournament.
Billed as the largest organized gathering of Irish expatriates, the annual Asian Gaelic Games is expected to attract 800 people to Bangkok to represent Ireland's national sport throughout the continent at an event with 17 trophies up for grabs in both men's and women's categories.
The event will feature 17 teams from countries throughout Asia, some fielding more than one side from different cities. They will include Cambodia, Singapore, the Philippines, Vietnam (Hanoi and Ho Chi Minh City), Malaysia (Johor and Kuala Lumpur), China (Beijing, Shanghai, Shenzhen, Suzhou), Hong Kong, Japan, South Korea, Taiwan and, of course, Thailand. Also making an appearance will be South Africa.
Read: Far From Belfast, Gaelic Football Keeps Their Irish Up
There will be a full pitch-side catering facility all weekend at the main venue. Ireland's minister of state for the diaspora and international development will attend the event and be accompanied by the Irish ambassador to Thailand.
Gaelic football has made itself at home worldwide, creating communities which encourage the ever-traveling Irish to establish themselves abroad.
"The cups and the medals are important but what is truly precious and invaluable are the memories and the friendships and the camaraderie and spirit generated by our involvement," Sean O'Horain, president of the Gaelic Athletic Association, or GAA, said in a message introducing the games.
The 2018 Fexco Asian Gaelic Games will take place 8am to 6pm on Saturday and Sunday at the Bangkok Patana School. Some women's events Saturday will also be held at St. Andrews International and Berkeley International schools. All are reachable via taxi from BTS Bang Na or BTS Bearing. Entry is free.
Related stories: