Top: Lauren Magee, left, Dublin and the 2017 team, in action against Sinead Aherne, Dublin and the 2016 team, during the exhibition match March 17 at the Chulalongkorn University Stadium. Photo: Ladies Gaelic Football / Facebook
The woman receives the ball and barges past a couple of players. Facing the H-shaped goal, she sets herself up and blasts it between the posts.
Those in the stands – many clad in green to celebrate St. Patrick's Day – rejoice as the football flies under the crossbar, past the keeper and into the net, sealing the victory for the 2016 Irish All Stars team. But they're not playing football. Although they carry the ball, it's not rugby. They're not even in Ireland.
"If any person leaves Ireland to go wherever in the world, the first thing they'll ask is 'do they have a Gaelic team?'" said Joe Trolan, chairman of the the regional player's association as the All Stars match was underway, adding that expat players think, "I have a familiar aspect here now, I'm fine."
An hour earlier, after standing for the Thai and Irish national anthems, the commentator hollered in Gaelic then English that the heat at Chulalongkorn University Stadium had reached 37C. But playing in such conditions is something to be expected for devotees of Gaelic football.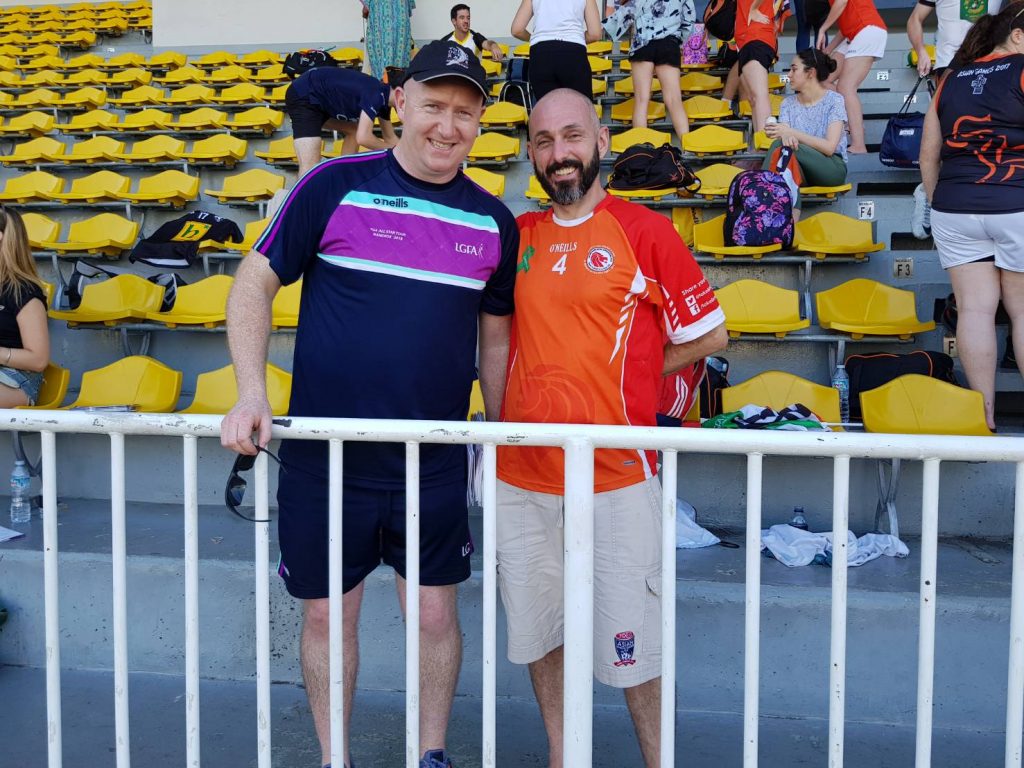 Gaelic football is alive and well far from the Emerald Island, boosted by yet another Irish diaspora that has propelled the sport to its highest membership since its setup in Bangkok. It's also attracting growing interest from expats and locals, which saw the 2016 and 2017 women All Stars travel half the world to play an exhibition match in Thailand.
"It was tough at the beginning because the problem we have in Thailand is we wouldn't have had many Irish people," said John Campbell, Founder of the Thailand Gaelic Athletics Association, or GAA. "It took a while to try to get a bit of exposure, it was a slow burn, there were some lean years with some low numbers."
Lasting two 30-minute halves, Gaelic football combines the explosiveness of rugby and the speed of football on a 145-meter-by-90-meter pitch. Similar to rugby union, it fields two teams of 15 players. The H-shaped goal post has a net beneath the crossbar and is guarded by a keeper. The ball is round.
the community comes first and the sport comes second.
One point is awarded for thumping the ball over the crossbar and three for slotting it past the keeper via a kick or a punch. The ball is carried and must be bounced – on the ground or off the foot – every four steps. Passes can be by kick or volleyball-style punt.
The sport – strictly amateur and very community driven – seems to be essential to the traveling Irish.
Heart of the Irish
The association has grown to become a focal point for Irish people in Bangkok. Unlike sports engulfed in commercial clout, Gaelic football seems more about fostering togetherness than winning or earning money. It also serves as a welcome package for kith and kin.
It's a little bit of Ireland in Thailand.
"As we say to new members, the community comes first and the sport comes second," 26-year-old teacher James Donnellan said.
Campbell, 46, says it's a home away from home. Donnellan says it's the reason he's stayed in Thailand. For 45-year-old Trolan, it's what convinced him to move to South Korea.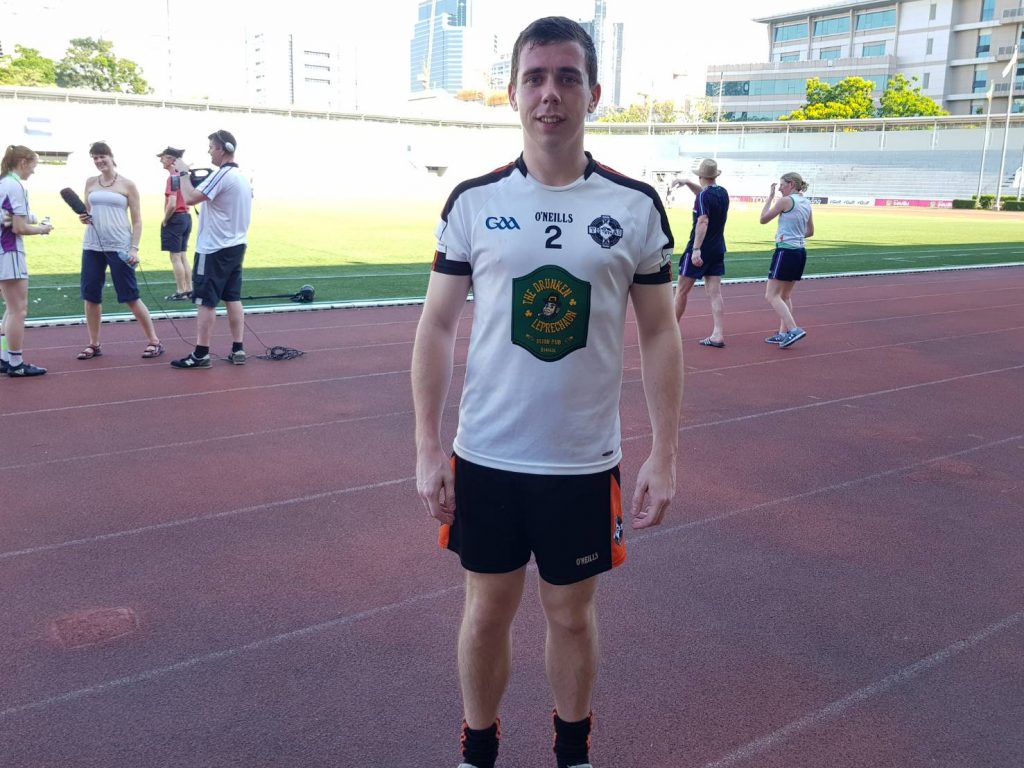 "I left Ireland in '93, went to America; left America in 2009 to come for a job in Seoul. First thing I did, I googled, 'Gaelic football in Korea,' and they had a Gaelic team and I went, 'You know what? I'm taking that job,'" Trolan said.
Trolan added that "community and fun" are the two words used to describe the sport, both palpable at the St. Patrick's Day event. Aside from gatherings and table quizzes, the association holds events for those who remain in Bangkok during important Western holidays and long for home.
"We always try to keep events going. We also have the 12 Pubs of Christmas," Donnellan said with a large grin. "So we basically do a small tour of Bangkok and visit 12 pubs and have a drink in each pub; and that is an Irish tradition, something common at home."
He said more than 100 people joined the outing last Christmas, adding that the event sees a small army "dressed up as something Christmassy – reindeers and Santas – and takes to the streets of Bangkok. It's a little bit of Ireland in Thailand."
Women Lead the Way
Campbell set up the club when the Gaelic football's regional authority was trying to grow the sport. Seeing 500 people gather to play it at the 2006 Asian Gaelic Games in Shanghai convinced him. A year later he founded the team with a handful of players.
But numbers picked up due to the success of the women's squad.
"In 2012 it really kicked on, and that was on the back of our women's team. Some girls came in, mostly non-Irish; American, Europeans… and they went to the Asian games and won every game," he said. "We've had a couple of Thais – we had a Thai-Indian girl who was one of our key players."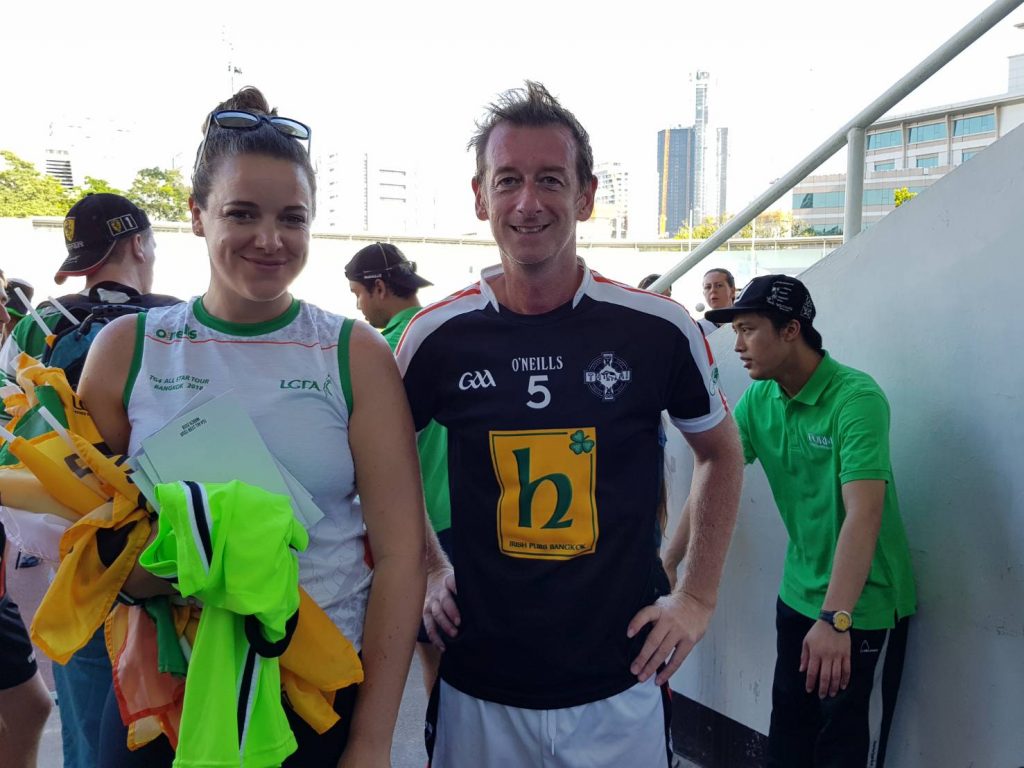 Trolan, who lives in Seoul, traveled to Thailand to watch the women play and explained their role in the expansion of the sport in the country and across the continent.
"The woman's sport is really growing throughout Asia. A lot of the times women don't have the opportunities. In competitive sports opportunities are limited so this gives them an outlet," Trolan said.
Their feats at the Asian games caught the attention of the men.
"Whereas we relied a lot on the girls' team originally, suddenly Irish guys started appearing," Campbell said.
He also attributed this to the 2008 financial crisis, which severely impacted Ireland's economy and increased unemployment, prompting many to travel abroad in search of work.
I had absolutely no idea what Gaelic football was.
"I mean, the Irish have always gone overseas, but more and more they started looking overseas and looking at places like Thailand," Campbell said. "The number of international schools here were growing and there were lots of opportunities."
Donnellan, the teacher, is one of such traveling Irishmen and arrived in Bangkok in 2014, never having played the sport at home. He joined the team after being convinced by those involved.
Today, he does publicity for the association which he says is the heart of the Thailand's Irish community.
Thai Appeal
Campbell said the current membership of 80 drawn from 10 nations, mostly men, is the biggest the association has ever been. He spoke of the inroads Gaelic football had made with Thais.
"We got a Thai lad, Mozz, he does a lot of media for Irish TV because he speaks very good English, and he's been with the club three years," Campbell said, pointing to the pitch's sideline from the stands, where a Thai man was helping out.
Suraphot "Mozz" Piokliang, 25, works at a travel company, and said he was clueless about the sport when a neighbor invited him to join the team three years ago.
"I had absolutely no idea what Gaelic football was," Mozz said, adding that he was nonetheless attracted to its combination of football and rugby rules, something he wanted to show his friends, colleagues and family. But early attempts fell short.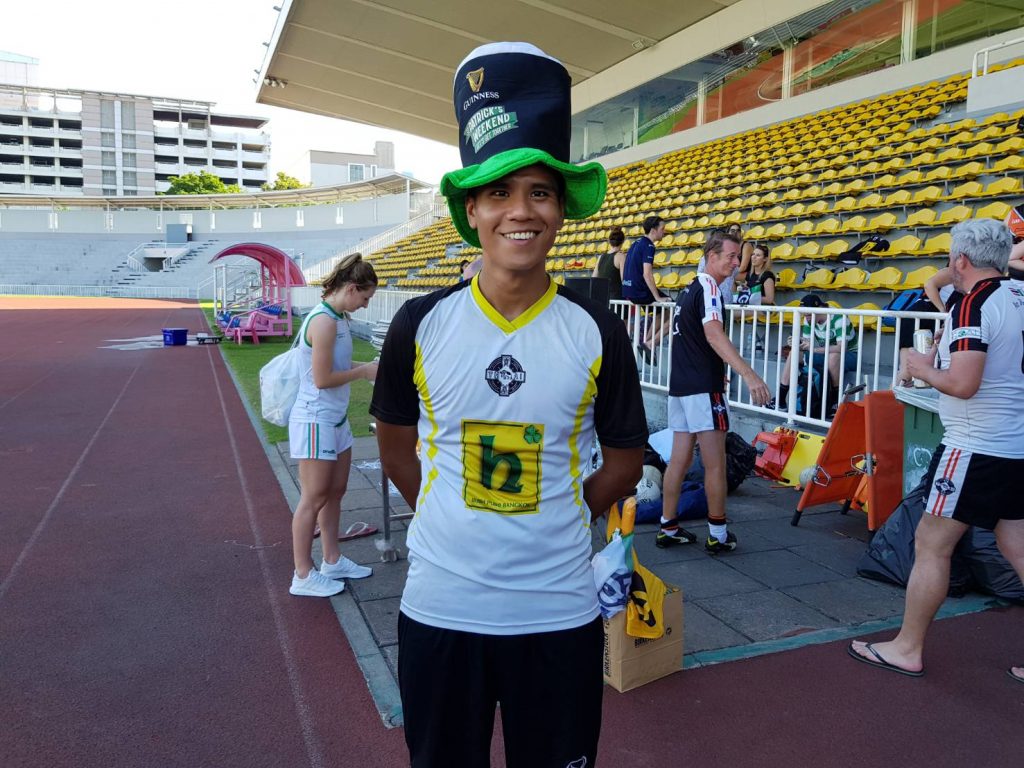 "It hasn't been very successful, I brought some of my colleagues, they came quite a few times but then stopped showing up," he said. Mozz faults the sport's novelty among Thais and the difficulty of teaching them the basics.
However, Campbell said the association did enter an all-Thai men's team for the Asian games in November, which saw 700 players come to Bangkok for a two-day tournament.
"They played an exhibition game against another team made up of players from China, so it was totally non-Irish," he said.
Mozz wants to help get the word out.
We don't receive any payment, everything that we do is all voluntary.
"I'm actually trying to write more information on Wikipedia, I made the page already, but the information is not enough, I could do more but I don't have time," he said, adding however that the sport could be grown by targeting local youths.
"It's a new sport, and I can really see the potential. We have an ice hockey team in Thailand! So if ice hockey works, Gaelic football should work too," Mozz said.
Amateur Ethos
Donnellan credits the club's success to the efforts of its volunteers.
"We don't receive any payment, everything that we do is all voluntary," he said, adding that it is done "to support each other and the love of the sport."
You couldn't do it if you didn't love it.
"Playing football in Ireland – even at the highest level – nobody gets paid," Donnellan said.
This was on display during the match. Players who made up the all-star teams ranged from doctors and accountants to firefighters and students, all of whom play at the national level.
"They play every game and then go to their job in the morning, it's amazing," Trolan said.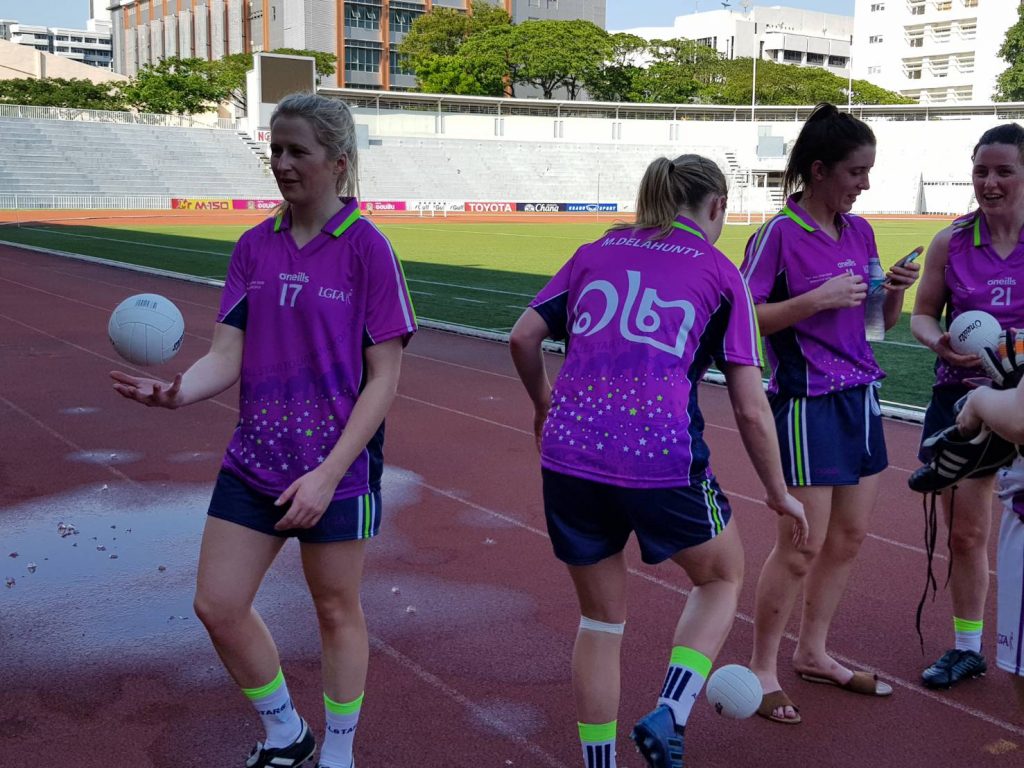 One of them is 29-year-old Mairead Wall, a primary teacher and wingback for the 2016 team, who said playing in Thailand was a career highlight.
"It's incredible," she said. "You never think you'll get a chance to play overseas like this and it's amazing to come out here," adding that days of running, training, going to the gym and traveling had gone into her success.
The 2016 All Stars edged their 2017 counterparts 7-19 to 7-18.
But that's what mattered least.
"You couldn't do it if you didn't love it. Because even in Ireland there's a lot of traveling involved, and out of your own pocket," Wall said.
The team trains 7:30pm on Tuesdays at NIST International School, which can be reached via MRT Phetchaburi. Training is open to men and women and free for first-timers. More information can be found on their Facebook page.