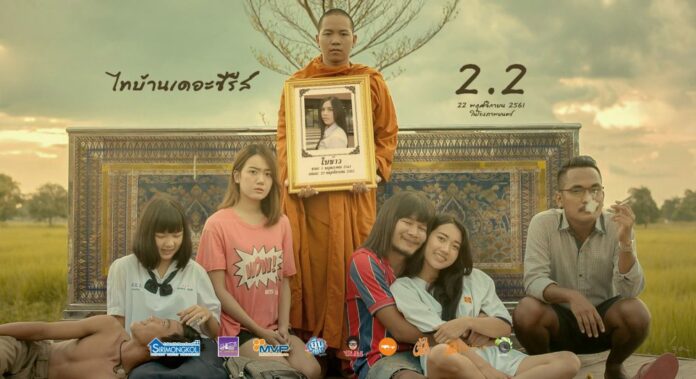 Update Nov. 22: After cutting out the brief scene in which the monk despairs at his ex-girlfriend's funeral, "Thi Baan The Series 2.2" was approved Thursday by the National Film and Video Committee. It will premiere Saturday in cinemas nationwide rated for audiences over 15.
BANGKOK — Only two days before its scheduled release in cinemas, the censorship board indefinitely postponed a Thai film set in Isaan for alleged inappropriate content.
The makers of "Thi Baan the Series 2.2" on Tuesday afternoon announced the film had not been approved by the National Film and Video Committee because it contained "sensitive" content about Buddhism.
Update: Thai Film Minus Crying Monk Approved by Censors 
Surasak Pongsorn, the film's director, told media on Tuesday that poo yai were not comfortable with the scene that depicts a monk character bursting into tears in front of his ex-girlfriend's coffin. As a result, the film's premiere – scheduled for Thursday – will be indefinitely postponed.
The Thai Film Director Association will hold a press conference today afternoon at the Bangkok Art and Culture Centre. The presser will be led by the association's director Thanit Jitnukul and many more filmmakers such as Prachya Pinkaew and Bhandit Thongdee.
"Thi Baan The Series 2" is set in a northeastern province and the third film in the "Thi Baan The Series," following the second part released earlier this year. The third chapter follows story lines involving several characters such as Pong, who opens a vegetarian store, and Phra Siang, a tattoo-clad monk who is heartbroken after learning of his ex-girlfriend's death.
The first film was released last year and became a sleeper hit.
This is not the first time Thai movies aren't fully approved by censors due to "offensive" or "sensitive" content. In 2015, the censorship board banned horror film "Arbat" ("Sin of a Monk") for scenes portraying a novice monk it said behaved inappropriately. The film studio had to re-edit the movie before re-submitting it to the board.
Correction: An earlier version of this story misidentified the new film as the second in the "Thi Baan the Series" franchise. It is in fact the third.
Related stories:
Studio to Recut Movie Banned for 'Defaming Buddhism'