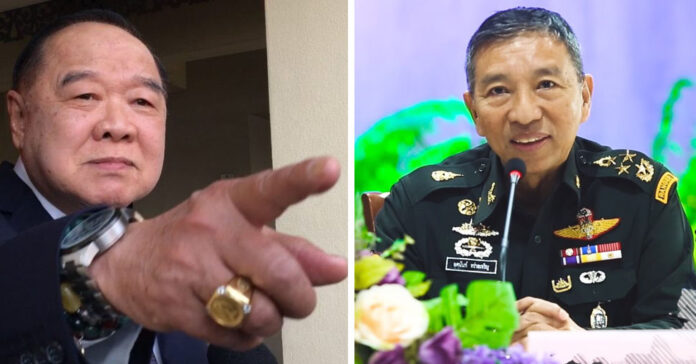 BANGKOK — Deputy junta chairman Prawit Wongsuwan expressed his disappointment Wednesday at an army general who signed up with a political party opposing his regime.
Gen. Yosanant Raicharoen, who slammed the 2014 putsch and called upon the armed forces to "stand with the people" in a speech yesterday, is doing a disservice to the military because of his open criticism, Prawit said.
"Very inappropriate. Very inappropriate," Prawit told reporters today. "I'm very disappointed."
Having served as Deputy Supreme Commander of the Thai Armed Forces until his retirement last month, Gen. Yosanant is the most senior military officer to have joined the Thai Raksa Chart Party, widely recognized as a political proxy for former premier Thaksin Shinawatra.
The general said he joined the party because he believes in democratic principles, and went on to offer harsh criticism of the junta and its work.
"Today, I'd like to call on all soldiers to stand with the people. The era of ruling a country with dictatorial power is over," Yosanant told reporters. "The lesson of the coup in the past four years shows that the country is not going anywhere. People suffer. The economy isn't growing."
In today's news conference, Prawit questioned why Yosanant never spoke against the National Council for Peace and Order, or NCPO, until his political debut.
"He's an adult now. He's already retired. He has so much wisdom and has spent so much time with his subordinates. Yet he's criticizing the NCPO now. Why is he speaking just now?" Prawit said.
A reporter then suggested that Yosanant was likely afraid of losing his job if he would have spoken his mind while serving under Prawit.
"He was always lobbying for a job anyway," the junta No. 2 shot back.
Prawit, who raised eyebrows when he challenged a reporter to a fistfight last week, also chided Yosanant for publicly dissing the force he used to serve.
"Whatever party he wants to join, he can, but bringing out internal matters into conversation in a bad way is wrong," Prawit said.