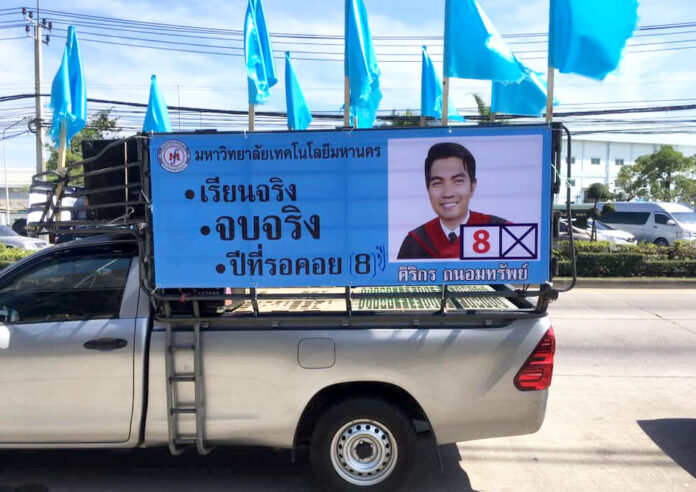 BANGKOK — People were doing double takes in eastern Bangkok at a truck festooned with flags and photos of a smiling man with a number and ballot. Had electioneering already begun?
In fact it was Sirikorn Tanomsup's unorthodox graduation celebration. On Sunday, a truck emblazoned with flags and campaign-like slogans roamed the streets of Bangkok's Nong Chok district, announcing to the world the emergence of a new civil engineer from the halls of Mahanakorn Tech.
"Unlocking a civil engineer!" read one sign next to a photo of Sirikorn in his graduation gown. "Really studied. Really graduated. Eight years of waiting," a series of bullet points read.
The inclusion of a large No. 8 and boxes bore all the hallmarks of that typically seen during electoral campaigns.
Images of the truck spread online, where they have been liked and shared more than 5,000 times. Many saw it as a funny way to fend off nosy neighbors' questions about his education and advertising his job availability.
It was unclear what hardship doubled Sirikorn's university years from the usual four required to graduate. Messages sent to him via Facebook were not returned as of publication time.
The internet, as is its wont, did speculate.
"Maybe he was looked down upon for getting an education and no one thought he would graduate. So when he did, it was time to show them by putting signs up and announcing it all over," user Shigei Tokuda wrote in a comment.