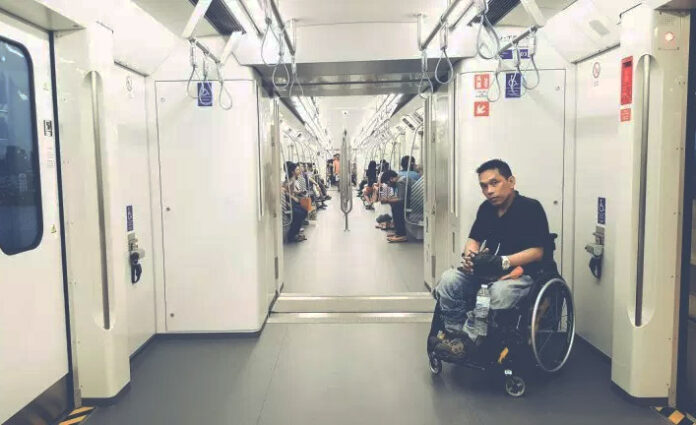 BANGKOK — Four years after they won a historic case against the BTS Skytrain, a network of commuters with disabilities said they will file a lawsuit Tuesday over inaccessibility on Bangkok's MRT subway system.
Manit Inpim of Transportation for All said Monday that they are suing in the Administrative Court because the operator and related government agencies failed to accommodate people with disabilities on the new Purple Line extension despite being warned before construction began. The suit seeks punitive compensation.
"We worked with the public sector from the beginning. I went to observe every station with my wheelchair and made suggestions to all related departments," he said. "There have been some improvements, but it's still not enough."
The Purple Line opened in 2016 after many delays. The activists said they had been trying to work with the city since then on needed improvements.
According to a copy of the suit shared by the group, there are not elevators at each of the 16 stations' entrances, which are about 200 meters to 350 meters apart. Below them at ground level, sidewalks are not navigable for wheelchairs or those visually impaired, it states. It also alleges that some staircase chair lifts can't be operated without staff assistance, and onboard wheelchair restraints are not sturdy enough.
The activists said in a statement they chose to file the lawsuit tomorrow to coincide with the first rally 23 years ago by Disabilities Thailand, whose calls for transportation accessibility, they said, have seen little accomplished despite some important legal wins.
"Although every government has policies to improve rights for people with disabilities, enforcement by related agencies is full of problems and obstructions," the statement read. "The current government has been trying to accelerate the construction and modernization of public transport every day, although the same old problems have yet been resolved. It's making them permanent, creating more inequality in society."
The lawsuit demands 16.8 million baht in compensation for six plaintiffs, all representatives from different disabled right groups. It's based on daily assessed damages per plaintiff since the extension opened in August 2016.
Lawyer Sonthipong Mongkolsawas said they're considering a class-action lawsuit as the next step.
Manit said administrators should try to think of the bigger picture to understand the issue's importance.
"This is actually an investment for everyone. We don't know what will happen tomorrow. There's a possibility for anyone to become disabled," he said, adding that it would be much easier for the operator to have included such facilities from the beginning.
"Let's look at the BTS for example. Fixing the stations later is very difficult, nearly impossible," he said. "The funds spent on additional construction cost them three to four times more than the initial budget."
He then expressed disappointment with progress four years after winning a landmark court victory that saw City Hall, which owns the system, ordered to make all skytrain stations accessible. The city dragged its feet and has delayed full compliance for years.
"When we won on the BTS, we hoped the government would be shaken and hurriedly solve the problem, but nothing happened," he said. "The Transport Ministry also has a 20-year strategic plan that includes constructions of skytrains all over Bangkok and the country, but we have no confidence at all that those plans will be completely inclusive for people with disabilities."
Manit said there has been no further development regarding the BTS case after City Hall in May approved funds for new elevators.
Related stories:
City Hall Approves 256M Baht For BTS Elevators
City Hall and Activists to Survey BTS Accessibility
Disabled Activist Rages after Denied Elevator at BTS Asok
BTS Class-Action Suit Back on Track After Year Delay