Top: Private security carry a commuter's wheelchair down the stairs Tuesday at BTS Saphan Taksin. Three years after the highest court gave the city 12 months to make all stations wheelchair-accessible, the work remains incomplete.
BANGKOK — The BTS Skytrain remains inaccessible to commuters with disabilities three years after the courts ordered City Hall to install elevators, and a class-action suit remains in administrative limbo one year after it was filed.
As of Saturday, the anniversary of both the landmark 2015 court ruling and historic 2017 lawsuit, some stations still lack functioning lifts. Most with elevators connecting to ground level are only available on one side of the street.
"Along BTS lines, new malls pop up on a daily basis," said Manit Intharapim,  the wheelchair user who for years has fought for access to the popular rail service. "It takes them a year to build such malls. How difficult is it then to install elevators?"
Read: Activists Ask Court to Probe City Hall's Failure to Make BTS Accessible
Manit, members of advocacy group Transportation for All and other disabled commuters traveled en masse one year ago today to the Civil Court to file a class-action lawsuit against the Bangkok Metropolitan Administration, or BMA, one of Thailand's first such suits.
Lawyers for City Hall challenged it on administrative grounds. The case has yet to be taken up in any venue.
The BMA's top traffic and transportation official, Thanoochai Hoonniwat, said the BMA would continue working toward fully equipping all stations with lifts.
"This is not about winning or losing. It's our duty to enable access and comfort," Thanoochai said, adding that at least 100 million baht is being sought in this year's budget to install more lifts to satisfy the Supreme Administrative Court's 2015 order.
Siding with the plaintiffs after a long legal battle, the 2015 decision gave City Hall one year to make all stations accessible. That deadline came and went without a single elevator installed. BMA officials, who have come and gone over the years, have cited difficulties in completing the work and promised new completion dates they were unable to meet.
In March, Bangkok's junta-appointed governor, Aswin Kwanmuang, said he'd push for the work to be completed by the end of 2017.
Thanoochai, who recently took the helm of the Department of Traffic and Transportation, said he could not pin down any time frame for when it would be done.
"It would be a lie [to do so]. And this is not an excuse," he said, citing external factors such as complicated underground electrical lines at spots such as BTS Sala Daeng, which requires major work by the utilities and has hindered progress.
Our look in 2016 at BTS accessibility
Half Measures
Of the original Skytrain stations that opened in 1999 – Mo Chit to On Nut on the Sukhumvit Line and National Stadium to Saphan Taksin on the Silom Line – elevators were later added to five: Siam, Asoke, Mo Chit, On Nut and Chong Nonsi.
In August, the activists identified 18 BTS stations as not being fully accessible. (see box for our latest updates on the status of these stations.)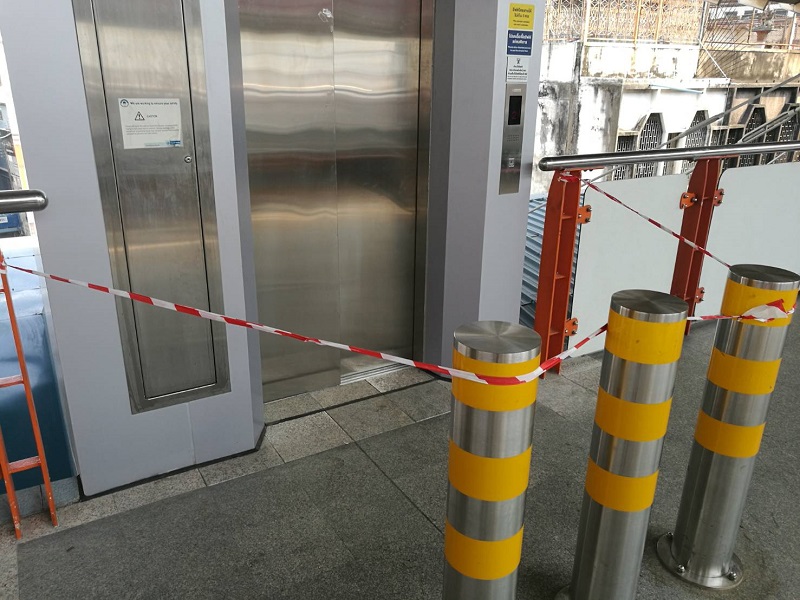 Most stations now have functioning elevators from the street to the ticket-selling concourse, where separate elevators go up to both sides of the platform. But most only have one that goes down one side of the street.
Read: Broken Promises: BTS Still Off Limits to Disabled
BTS Nana has no lift to the street. BTS Chong Nonsi, a station with two elevators from the street is still problematic, according to Sonthipong Mongkonsawat, the activist group's pro bono lawyer.
"Once you take a lift down to ground level on Chong Nongsi station, you are dead … because you will find yourself on a traffic island," he said. "If a disabled person takes the lift, he would probably be run down by a car."
Manit of Transportation for All is particularly outraged by the lack of access to both sides of the street. He acknowledges that the court order didn't spell out that ground lifts must installed on both sides of the traffic, but believes it should be clear to the BMA as necessary to be considered accessible.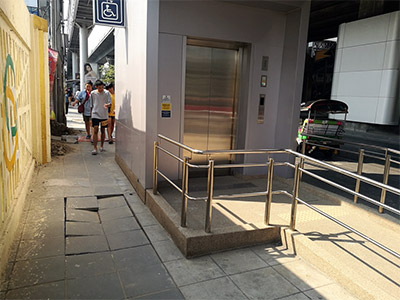 "They told us we should take a taxi to go to the other side," said Manit, 51, who has used a wheelchair since he was in a car accident at 24.
Manit refused to identify which BMA official told him to take a cab.
"Try tying yourself to a wheelchair and flagging a cab to go to the other side of the street and see how complicated life gets. It's been very hard. I want to see sincerity on the part of the BMA."
Return to the Courts
Thanoochai meanwhile said the BMA will eventually install lifts on both sides of the streets, adding that there the BMA does not disagree it should be done. He said City Hall would make its best effort to ensure that all stations lifts on both sides of the street where they are situated.
Still, a slew of unkept promises over the years is what led activists on Jan. 20, 2017, two years after the original decision, to seek another bold remedy from the courts: millions of baht in punitive compensation.
The lawsuit, filed after new legislation allowed class actions, has stalled since the city challenged which court can hear it.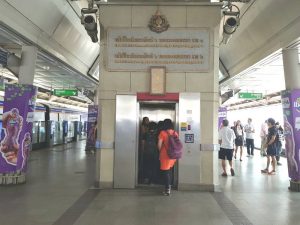 "It's like our side is trapped in a pothole and immobilized," Manit said. "We will probably have to continue using social measures."
Sonthipong, the lawyer helping with the class action, said he expects some clarity on their lawsuit in the next month or two, now that a judicial committee has been set up to decide which court has jurisdiction over the case.
The suit seeks 1,000 baht for each plaintiff to join the class for every day that has passed since the court-ordered completion deadline of Jan. 21, 2016. It seeks 4,000 baht for every day that has passed since the suit was filed one year ago, plus 7.5 percent annual interest.
Sonthipong said some of the excuses cited over the years by the BMA for years of delay are reasonable, such as issues coordinating with the utilities in charge of underground infrastructure.
He also agreed that some stations were not structurally built to accommodate the addition of elevators.
Then there's opposition by shopkeepers in some areas who see an elevator shaft in front of their shophouse as a business-killer. Sonthipong argues that the BMA has the legal authority to relocate and compensate such shop owners to make way for construction, however.
Additionally, as long as there exist access to the elevated stations from only one side of the road, the BTS system does not meet international standards and cannot be considered genuinely accessible, Sonthipong said, adding that his clients are not ruling out further legal action against City Hall.
Additional reporting Lobsang Dundup Sherpa Subirana, Asaree Thaitrakulpanich and Todd Ruiz
Related stories:
Activists Ask Court to Probe City Hall's Failure to Make BTS Accessible
City Hall Challenge Delays Decision on BTS Accessibility Suit
Elevators Unveiled at Four BTS Stations – But Do They Work?
How Long to Install BTS Elevators? City Hall Says 3 Years.
Wheelchair Rally to File Class-Action Lawsuit Over BTS Accessibility at Court
City Hall Fails to Make BTS Accessible 2 Years After Court Ruling
Broken Promises: BTS Still Off Limits to Disabled
BTS Stations Remain Inaccessible to Disabled, a Year After Landmark Ruling