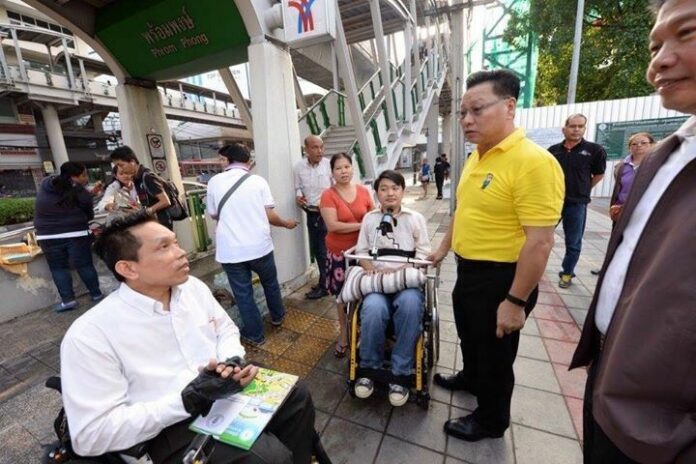 BANGKOK — A disabled activist Thursday welcomed City Hall's budget approval to add more elevators to BTS Skytrain stations.
After years of legal action brought by a network of advocates for commuters with disabilities, the Bangkok Metropolitan Administration on Wednesday approved 256 million baht to install 19 additional elevators at 16 stations as a class-action lawsuit moves forward against it.
Manit Inpim, leading activist of Transportation for All, said the development was likely due to combined pressure from their litigation and a public outcry, adding that the plaintiffs had just completed a court-ordered joint inspection with the system operator, legal officers and the administration.
"We did it one day before the council's meeting," he said. "I felt good about it. … Everyone was in the field together. It was for the court to see with its own eyes, reviewing statements from both the [administration] and people with disabilities."
The council has promised to finish the installation of elevators on both sides of the original 16 stations constructed without lifts within four months once a contractor is hired. After halting efforts, the city last year had managed to get elevators working at most stations, though only on one side of street.
Asked how confident he was the administration would keep its word after years of broken promises, Manit laughed and would only say he will keep encouraging the authorities' good work.
"We of course want it to be complete as soon as possible. The sooner the better," he said, "We'll wait and see."
Disabled commuters claimed victory in 2015 when the Supreme Court ruled City Hall must make all Skytrain stations accessible. After two years went by with little progress, they filed a class-action lawsuit demanding the administration compensate them for not completing the work by the deadline.
That lawsuit has been winding its way through the process and administrative challenges nearly a year and a half.
Related Stories:
City Hall and Activists to Survey BTS Accessibility
Disabled Activist Rages after Denied Elevator at BTS Asok
BTS Class-Action Suit Back on Track After Year Delay