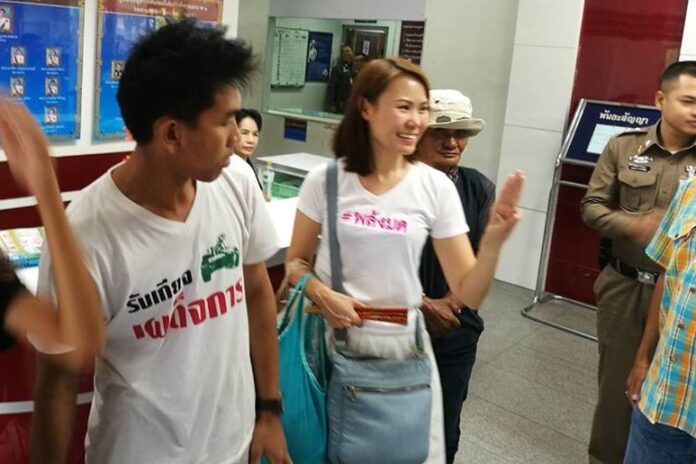 BANGKOK — A criminal court Thursday granted bail to 15 people arrested for staging a pro-democracy demonstration earlier this week on the anniversary of military rule.
After earlier ruling they should be held in custody 12 days, the court granted a request that all members and leaders arrested at Tuesday's rally be freed on bonds of 100,000 baht each on the condition they do not engage in illegal political activities, according to defense attorney Kritsadang Nutcharus.
Kritsadang said at 5pm that they would be released shortly.
He complained that he was not even allowed to speak at today's custody hearing, where at about 3:15pm, the court ruled that participants in Tuesday's rally were to remain behind bars.
"The matter should be deliberated (by lawyers) but the court would not allow it," Kritsadang said, describing the court's refusal to hear from defense attorneys as unprecedented. "They are being treated like heinous criminals."
"I'm very dissapointed," he added. "This is not fair."
Just before 4pm, the defendants petitioned the court for release on bail.
The police earlier said they would ask the court to hold all the suspects – which include key leaders of the anti-junta movement – in prison while the case against them moves forward.
Among the arrested are prominent activists such as Nuttaa "Bow" Mahattana, Rangsiman Rome, Chonticha "Kate" Jangrew, Ekachai Hongkangwan and Sirawith "Ja New" Serithiwat. They were detained following a Tuesday effort to march to Government House to demand an election within this year.
Read: Tense 22 Hours of Tuesday's Thammasat Rally in 22 Photos
Before the hearing, Kritsadang said his clients were in good spirits, but Chonticha said she had a fever and that the only medical attention she received was police handing her paracetamol pills. Nuttaa said the sole squat toilet in her 10-square meter jailroom did not work, forcing her and other detainees to endure a foul fecal odor.
Outside the court, Rangsiman's 21-year-old Indonesian girlfriend came to offer moral support.
"I just feel that it's not right to just arrest people," said Ivana, who flew in last night from Java and asked that her family name not be published. "It's their right to do that. They are not criminals."
For their rally – during the fourth anniversary of the 2014 coup – the 15 suspects were charged with violating the junta's ban on political assembly, sedition, conspiring to commit crimes, illegal use of 120-baht worth of electricity and traffic offenses.
Thammasat University rejected a police request to charge students with property damage for cutting the lock on a gate.
Gen. Srivara Ransibrahmanakul, the police official in charge of the investigation, said 10 police officers were injured in scuffles.
Deputy junta chairman Prawit Wongsuwan on Thursday rejected calls from domestic and international rights group to release the activists and lift the ban on protests.
"We already allowed them to stage a rally, but we told them to stay where they were. Once they moved out, we had to take legal action," Prawit told reporters.
Junta chairman Prayuth Chan-ocha also told reporters during his Wednesday trip to Ratchaburi province that he's committed to keeping peace and order under the current monarch, repeating a similar comment he made in March.
"This reign must be a reign in which the country is calm and safe, and livelihoods are improved," Prayuth said.
Additional reporting Pravit Rojanaphruk, Todd Ruiz
Updated: This story has been updated with additional details.