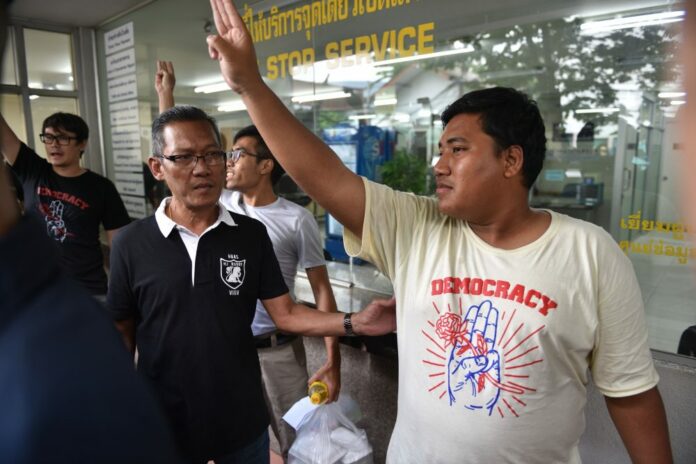 BANGKOK — While supporters of 15 jailed activists gather outside a police station to call for their release, it was a former police commissioner – and political hopeful – who walked in with 1.5 million baht and demanded they be freed immediately.
"If they don't let them go, I'll scold them," Gen. Sereepisuth Temiyavet, armed with a bank book, told reporters at Chanasongkram Police Station.
The former police commissioner's offer to post a 1.5 million baht bond on behalf of 15 activists arrested for Tuesday's anti-junta protest came as prominent rights groups, including the United Nations, lambasted the regime for denying its critics the right to assemble.
Our in-depth protest coverage: #CoupAnniversary Protest Live Blog
As statements of condemnation piled up, it was 69-year-old Sereepisuth, who recently earned a reputation as a firebrand critic of the military regime, who spoke up to support the rights of the activists to demonstrate and call for elections. Those arrested have been charged with sedition and violating the junta's ban on political gatherings.
"I see them like they are my children. When our children want to do something for our country, we should support them, not obstruct them. They were there to express their stance, they want an election, which is within the constitutional rights of expression," Sereepisuth told reporters. "If they stayed home, who would have heard them?"
Fifteen protest leaders and their supporters remained in custody as of Wednesday afternoon. Police have yet to respond to Sereepisuth's request to release them on bail – though there is little chance they will comply. Those under arrest include key activists such as Nuttaa "Bow" Mahattana, Arnon Nampha, Rangsiman Rome and Piyarat "Toto" Chongthep.
They were detained following a tense standoff with the police blocking them from marching on the Government House to demand an election before year's end. The authorities cited the junta's ban on protests which has been in place since the May 2014 coup.
Although no politicians were spotted at the demonstration, which saw flares of anger and scuffles, representatives of two of the parties hoping to contest the next election showed up at the two police stations where the 15 were being held later that night.
Both Future Forward founder Thanathorn Juangroongruangkit and Pheu Thai sec-gen Phumtham Wechayachai told reporters they believe the protesters should not face charges for demanding a timely election.
The latest to step into the limelight was Sereepisuth, who heads Seri Ruam Thai Party. He emerged from retirement to write scathing criticisms of the regime in recent months. On Sunday, he called on the Pheu Thai, Future Forward and Democrat parties to form an alliance against the military.
In today's interview, the man who was the nation's top cop in 2007 made use of his senior rank and experience to belittle the junta and police leaders for their harsh treatment of yesterday's protesters.
"They are dumb," Sereepisuth quipped at the decision to deploy 3,000 officers to contain the small groups of protesters. He then went on to offer advice to his former junior classmate, junta chief Prayuth Chan-ocha.
"When I was police commissioner, I was five years his senior. I still see him as a kid today," Sereepisuth. "If I were Khun Prayuth, I would tell the protesters 'Come here lads. I will listen to you, and I will think about your demands.'"
Rights Groups Put Junta on Blast
While politicians seized upon the moment for rhetorical flourishes, rights groups from the United Nations on down condemned the siege and crackdown on pro-democracy campaigners.
The UN Human Rights Office issued a statement calling "for the immediate release of these activists."
"We have consistently urged the Royal Thai Government, as a party to the International Covenant on Civil and Political Rights, to fully respect the rights to freedom of expression and peaceful assembly."
Amnesty International, ASEAN Parliamentarians for Human Rights and Human Rights Watch also issued statements condemning the response.
The protesters spent much of the day hemmed in by riot police despite having informed the government in advance of their march. When some demonstrators skirted the blockade and made their way to the Government House, they were stopped, surrounded and forcibly arrested.
Their stated legal basis was a special order imposed by the junta after it seized power in 2014. That order remains standing, the military government says, despite it contradicting rights guaranteed in the constitution that came into effect last year.
"The government is required to use the law in keeping peace and order," Prayuth told reporters yesterday. "People can think differently, but they must not violate the law. Mark my words."
Read: Tense 22 Hours of Tuesday's Thammasat Rally in 22 Photos
National Human Rights Commissioner Angkhana Neelapaijit called once again on the National Council for Peace and Order, or NCPO, to lift its ban on political activities and allow people to protest.
"We have told the NCPO again and again to amend or abolish these restrictions," Angkhana said. "The confrontation yesterday was due to this same problem: They refused to listen to our proposal."
So how can an order issued by military fiat trump the law of the land?
An official who helped write the new constitution said the law gives leeway to the junta to enforce its ban on protests, even though those restrictions were put in place before the charter came to effect in December 2016.
"The constitution still permits laws that were issued before its enactment to exist, which includes the NCPO's orders," Amorn Wanichwiwatana, a spokesman for the charter drafting committee, said. "It's just how the law works; that's why those orders are still in effect."
Amorn added that laws passed by the junta were allowed to remain in place in the transition period so there wouldn't be a legal "vacuum" between two constitutions.
"I'm not defending anyone here," the legal scholar said. "I'm just explaining what the facts are."
Protesters who broke away from the blockade at Thammasat University are stopped anew by a police barricade as they march toward Government House. Story: https://www.khaosodenglish.com/news/2018/05/22/coupanniversary-protest-live-blog/

โพสต์โดย Khaosod English เมื่อ 21 พฤษภาคม 2018
LIVE: A protester fainted during a standoff between demonstrators and police outside Thammasat University. Police insist they will not make way for the march.

โพสต์โดย Khaosod English เมื่อ 21 พฤษภาคม 2018