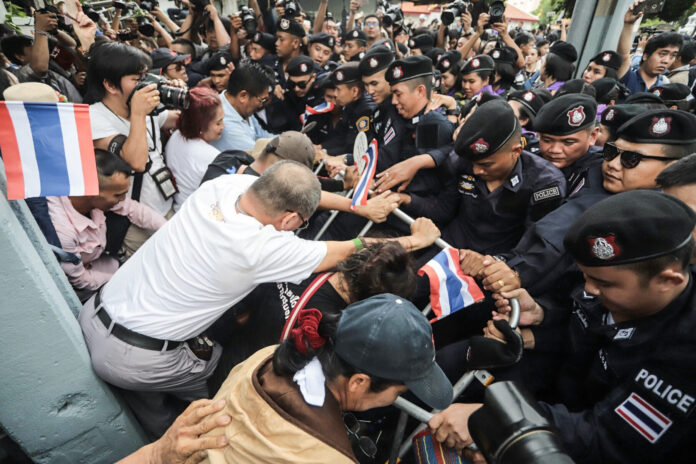 BANGKOK — Twenty-two hours and 30 minutes passed from the moment pro-election activists converged on Thammasat University and its leaders surrendered to police.
Officially beginning at 5pm on Monday, protesters, food vendors, observers and journalists assembled inside Thammasat University's Tha Prachan campus to prepare for a planned three-kilometer march led by the Democracy Restoration Group. The protest aimed to journey from the university to Government House the next morning to mark the fourth anniversary of the May 22, 2014 coup d'etat by calling for elections.
Read: #CoupAnniversary Protest Live Blog
It was not an easy 22 hours as the rally was met with a concerted effort to snuff it out. Officers asked arriving protesters to show their faces and hand over their ID cards to be scanned. Over loudspeakers, police exhorted protesters to go home, warning them that their very presence was illegal for violating a junta ban on political gatherings of five or more people.
Protest leaders shouted back that the police were shamefully following illegal orders and depriving them of their constitutionally guaranteed rights.
Heavy monsoon downpours scattered protesters Monday night and Tuesday morning, followed by a scorching afternoon sun. At least three fainted during the protest after being boxed in by police and prevented from departing Thammasat for the march.
From the start to end, here are some of my images of the people, places and key moments.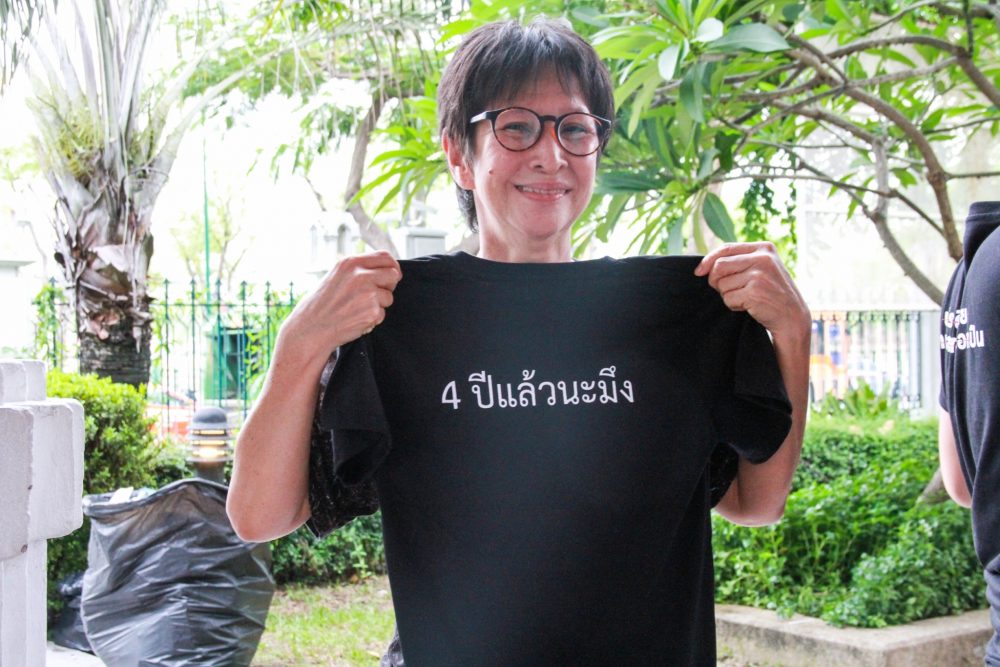 'Don't take over the country too long because it's been ruined so badly already,' Naruemon Warunroongroj says, handing cups filled with her homemade cookies to people. Naruemon is also known as 'The Woman Who Shot the Helicopter' as she was accused of doing as an alleged black-shirted militant during 2010 street protests.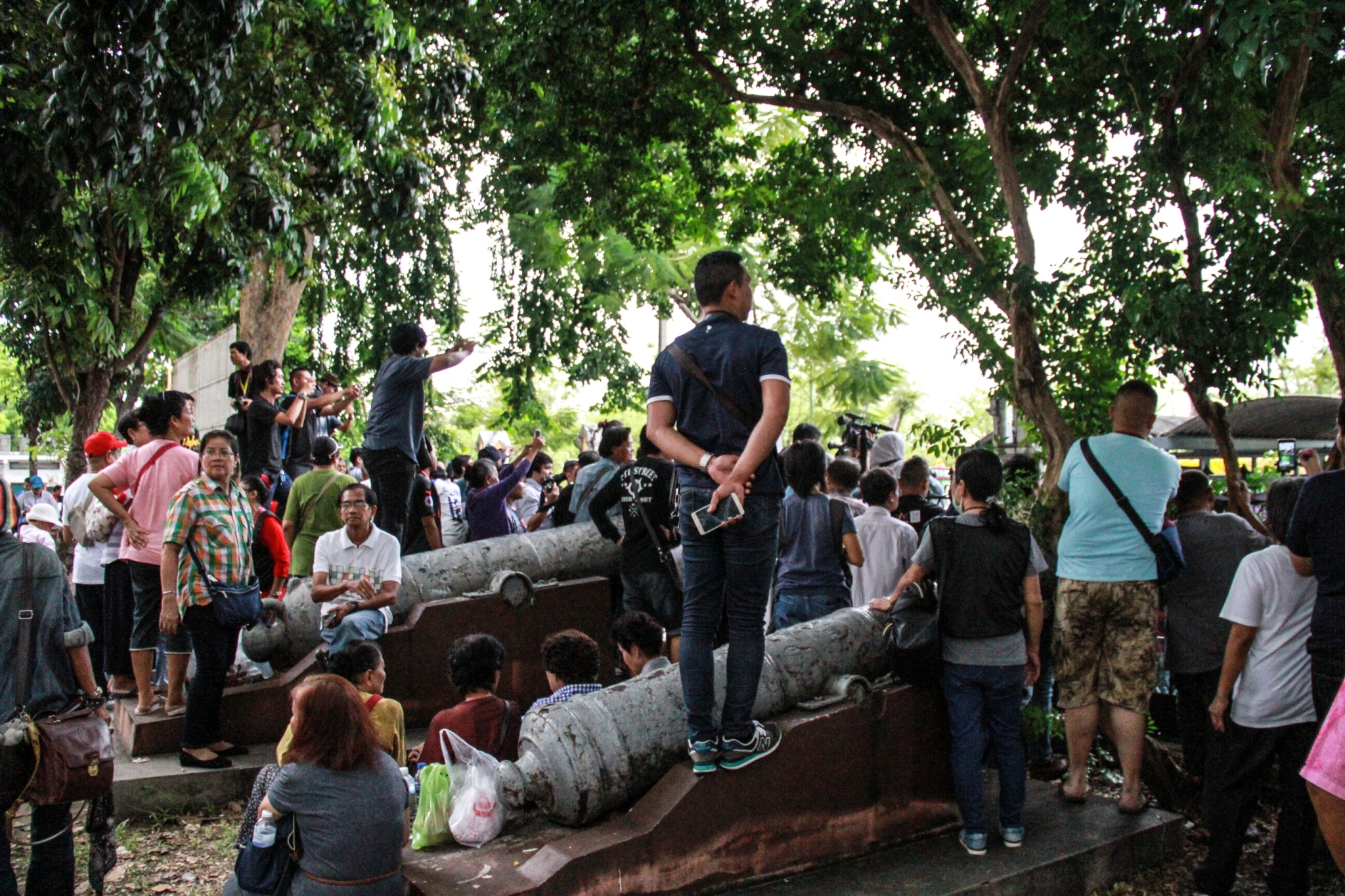 Loud boos are heard. Protesters run to the fence to scold and jeer deputy police chief Gen. Srivara Ransibrahmanakul who has just arrived. Some shout, 'Dickhead Srivara!' and "You servant dog!' despite a protest leader encouraging them by loudspeaker to ignore the presence of an officer they so detest.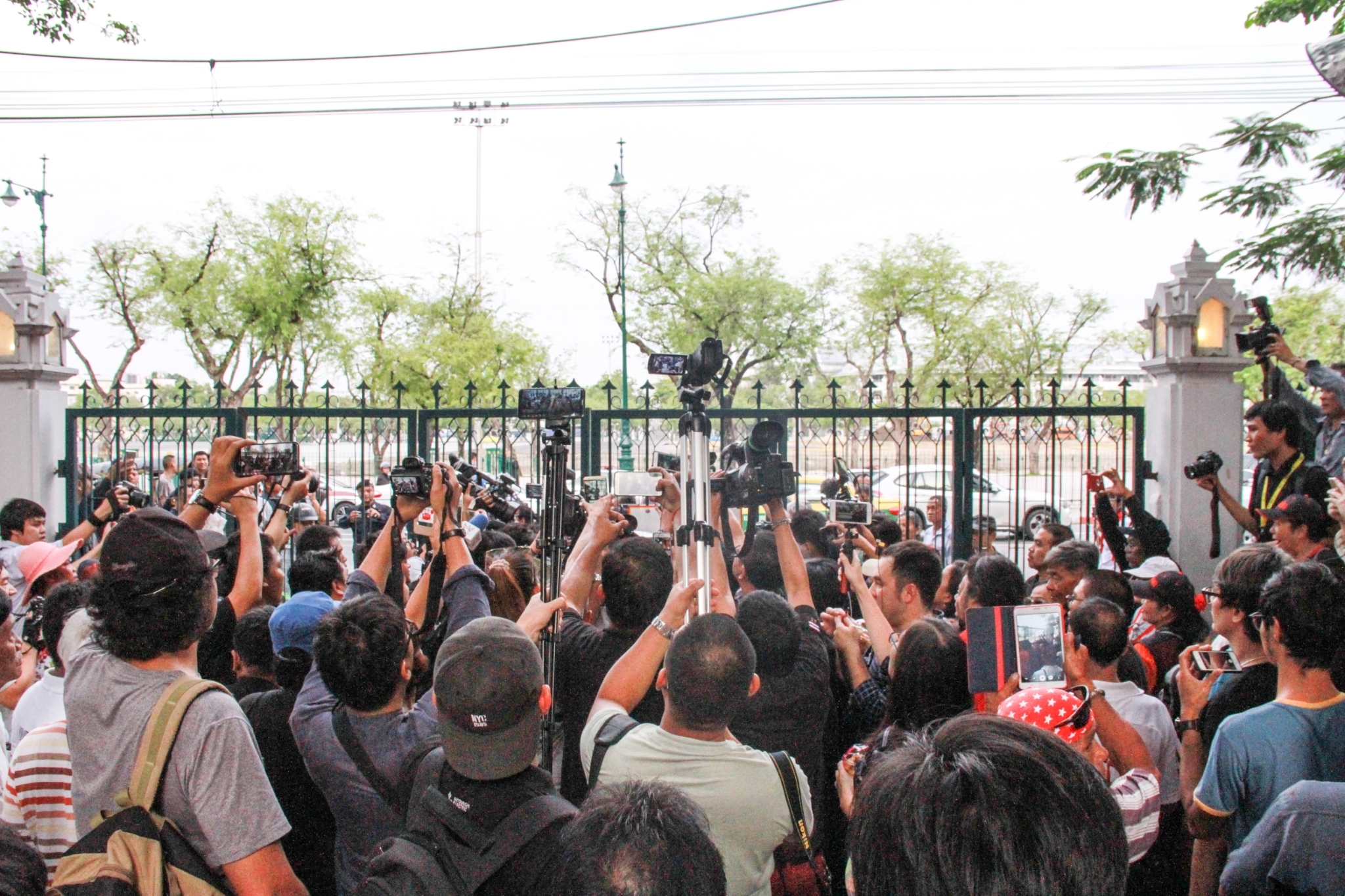 A tense moment starts at about 6pm when protesters swarm Thammasat University's Gate 3. Together, they repeatedly shout, "Open the gate! Open the gate!" The university had shut them earlier, the police say.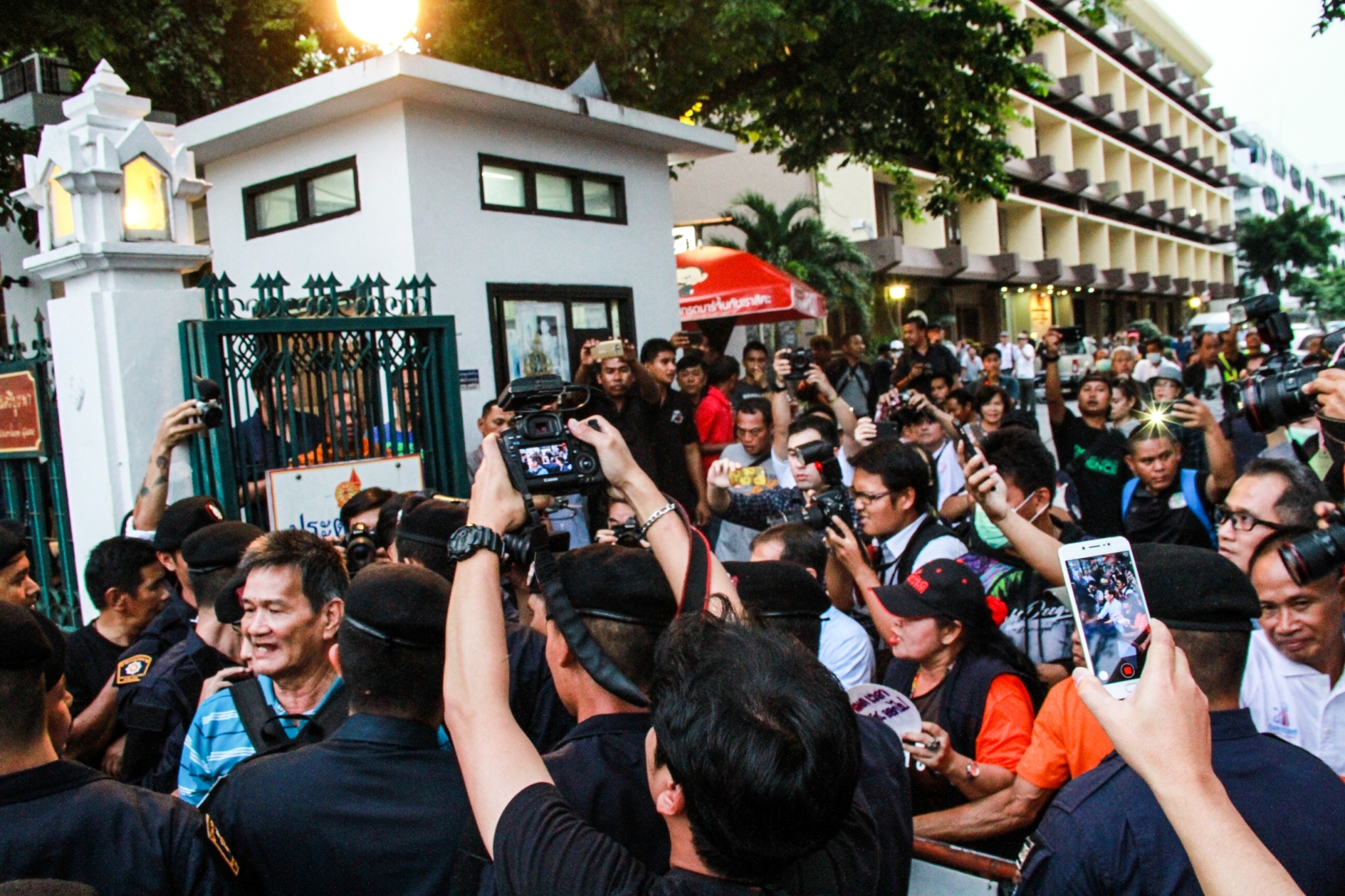 After a protester uses a bolt cutter on the chain, demonstrators cheer in joy and storm out of campus Gate 3, regardless of police attempts to contain them inside.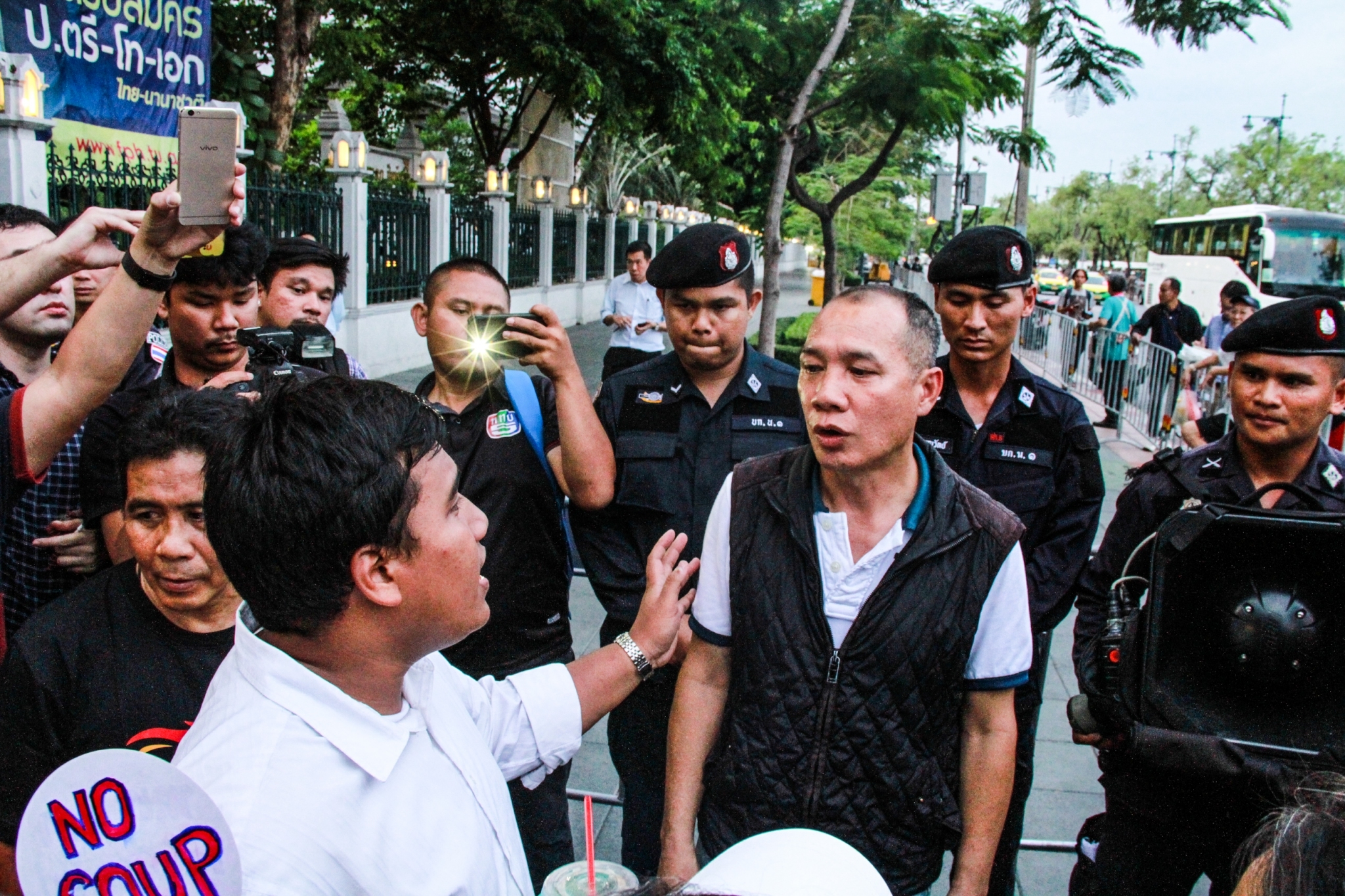 A few minutes later, a scuffle breaks out in front of the gate when a protester is asked by officers to show her face and have her ID card scanned. This leads protest leader Sirawith "Ja New" Seritiwat to step up and negotiate with police. Finally, they settle on a compromise: protesters can enter if they show their faces to police cameras but do not have to show their ID cards.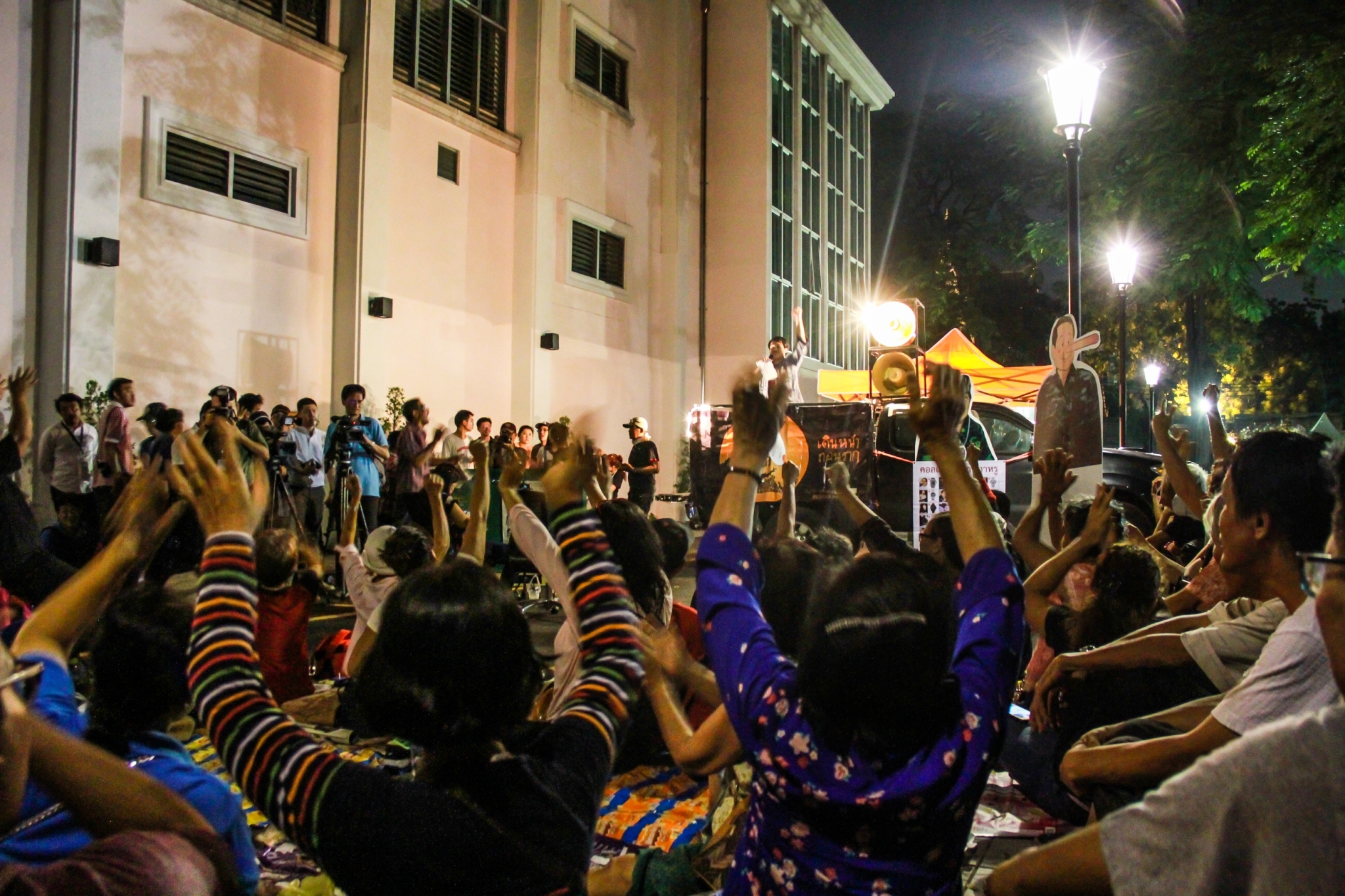 After night falls, a few hundred of protesters congregate next to a campus auditorium. The protest leaders deliver speeches to cheering crowds who vow to go to see junta chairman Gen. Prayuth Chan-ocha to demand an election this year – not the next.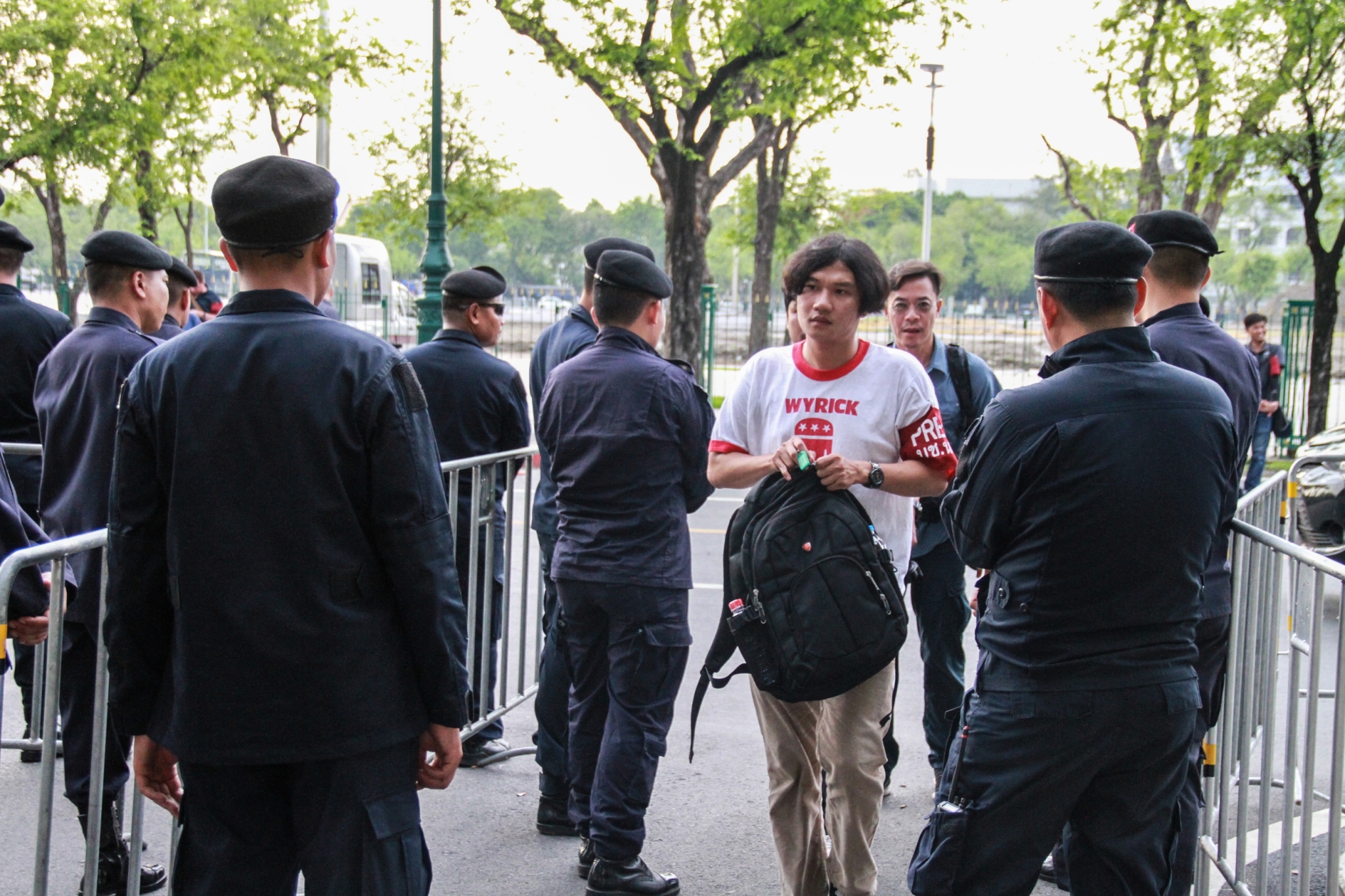 Greeting Tuesday's dawn is a heavy police presence surrounding every gate leading into the campus. Officers are even seen patrolling riverside on the Chao Phraya River. At Gate 3, where protesters had camped, protesters and journalists are allowed to enter, but only after their bags are thoroughly checked.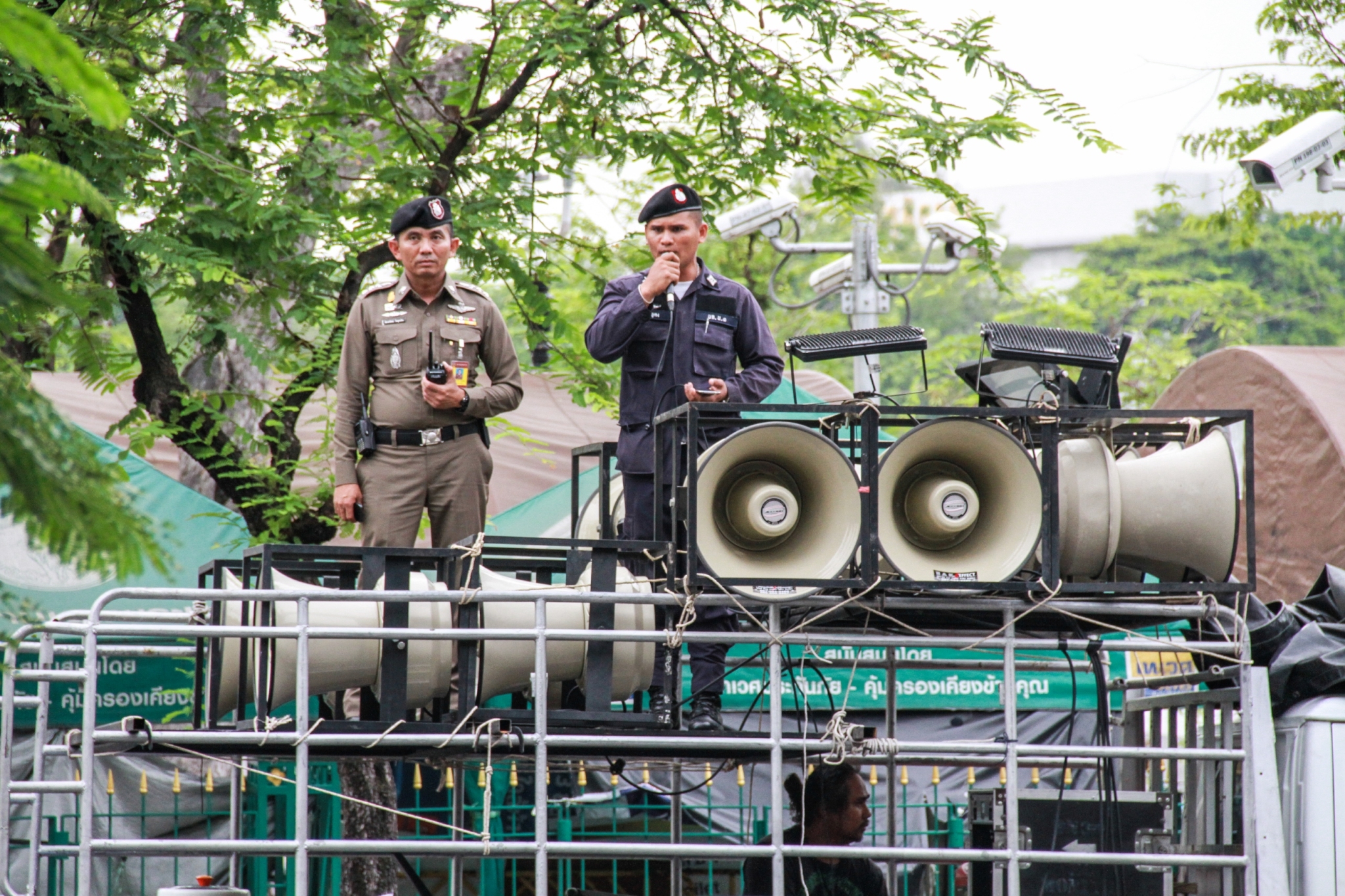 Soon thereafter, loud booing is heard again. A truck has pulled up carrying neighborhood police chief Col. Jakkrit Chosoongnoen, who tells protesters to go home, warning that participating in a gathering of more than four people is illegal.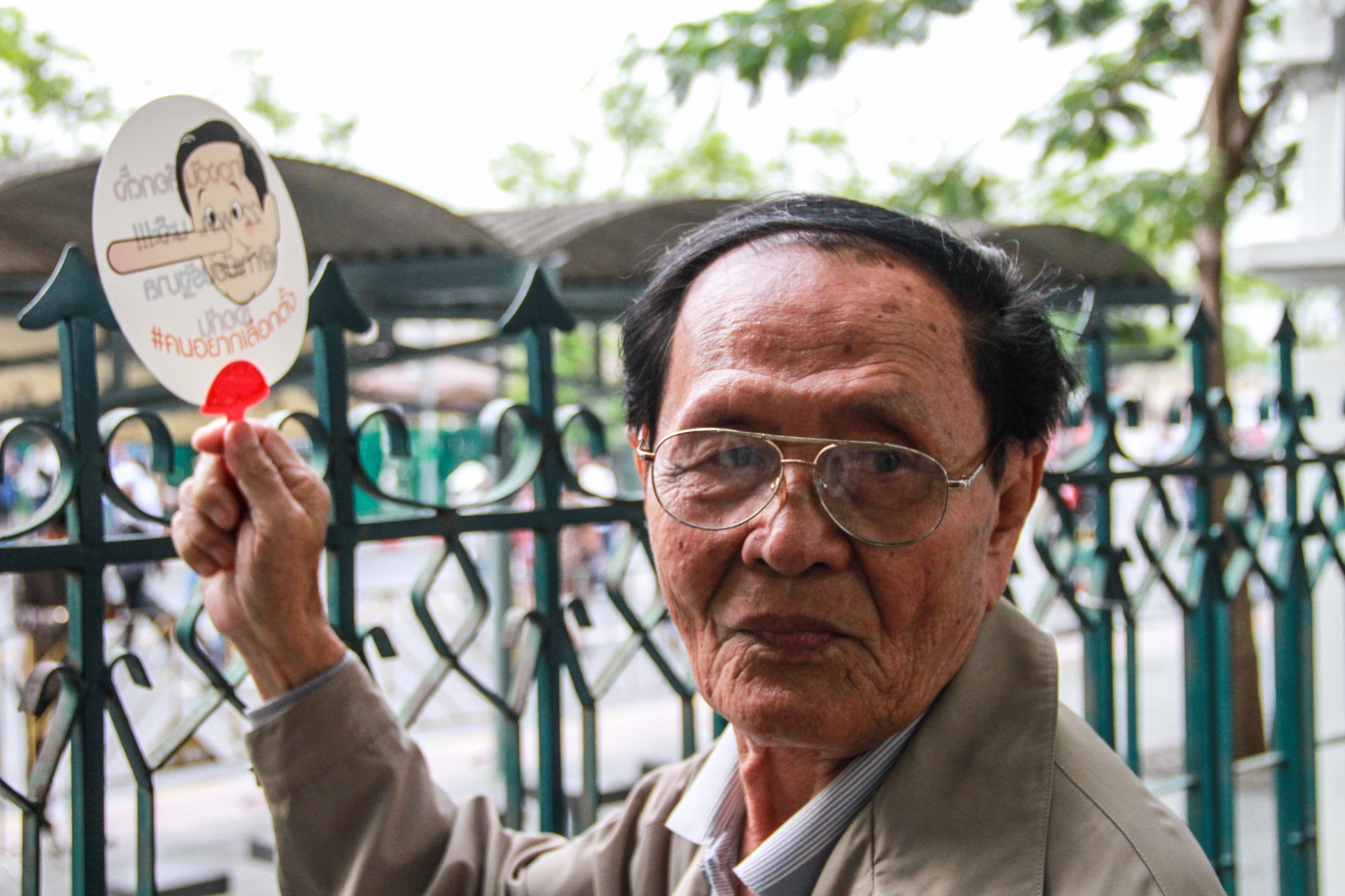 Not a single protester is seen to leave, though. Hearing the warning, some even grow angry. A few teasingly wave back with fans depicting the junta chairman Gen. Prayuth Chan-ocha as a lying Pinocchio.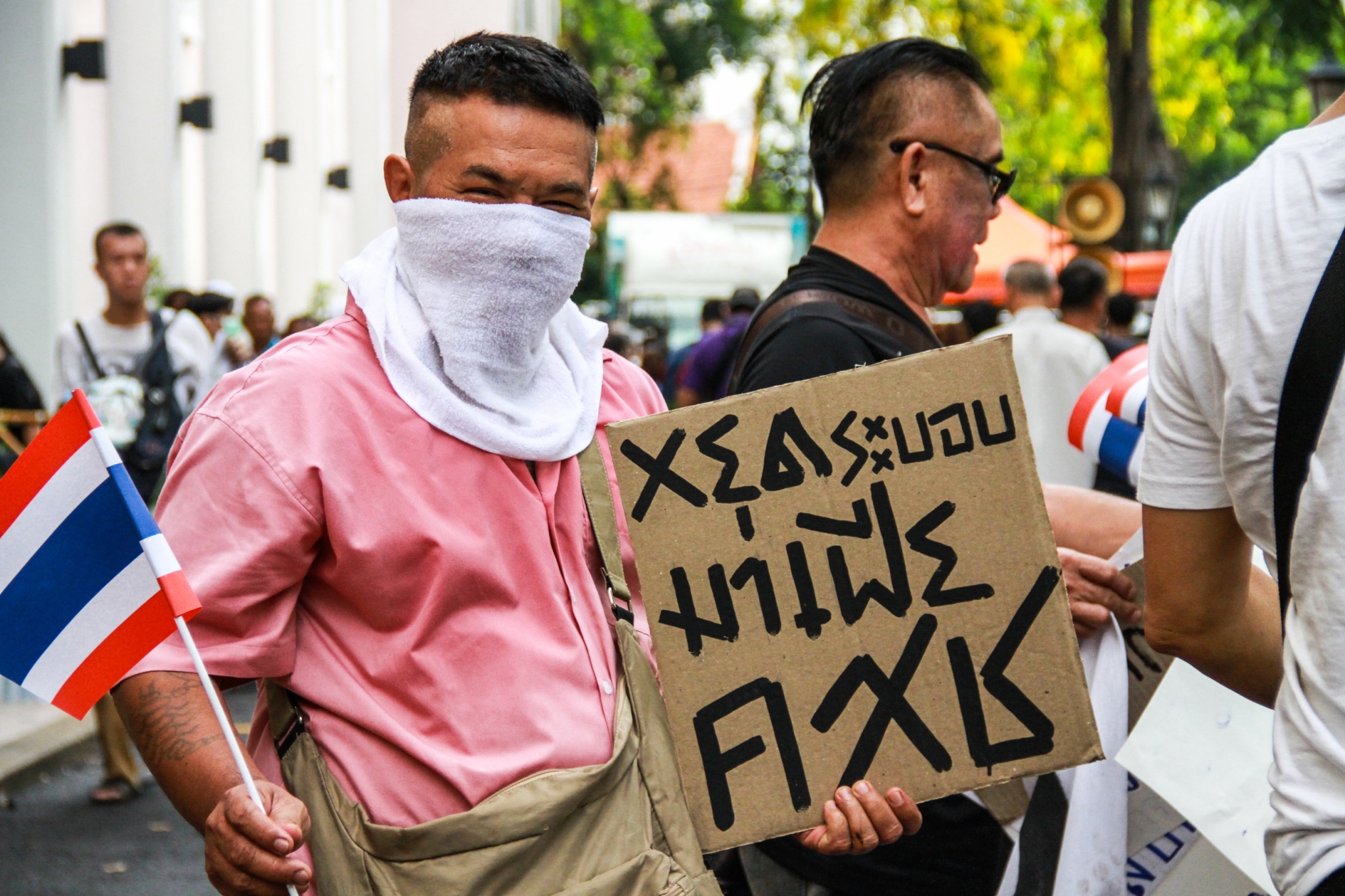 The clock is ticking. At 8:30am, protesters are told to pick up props and line up to prepare to move out.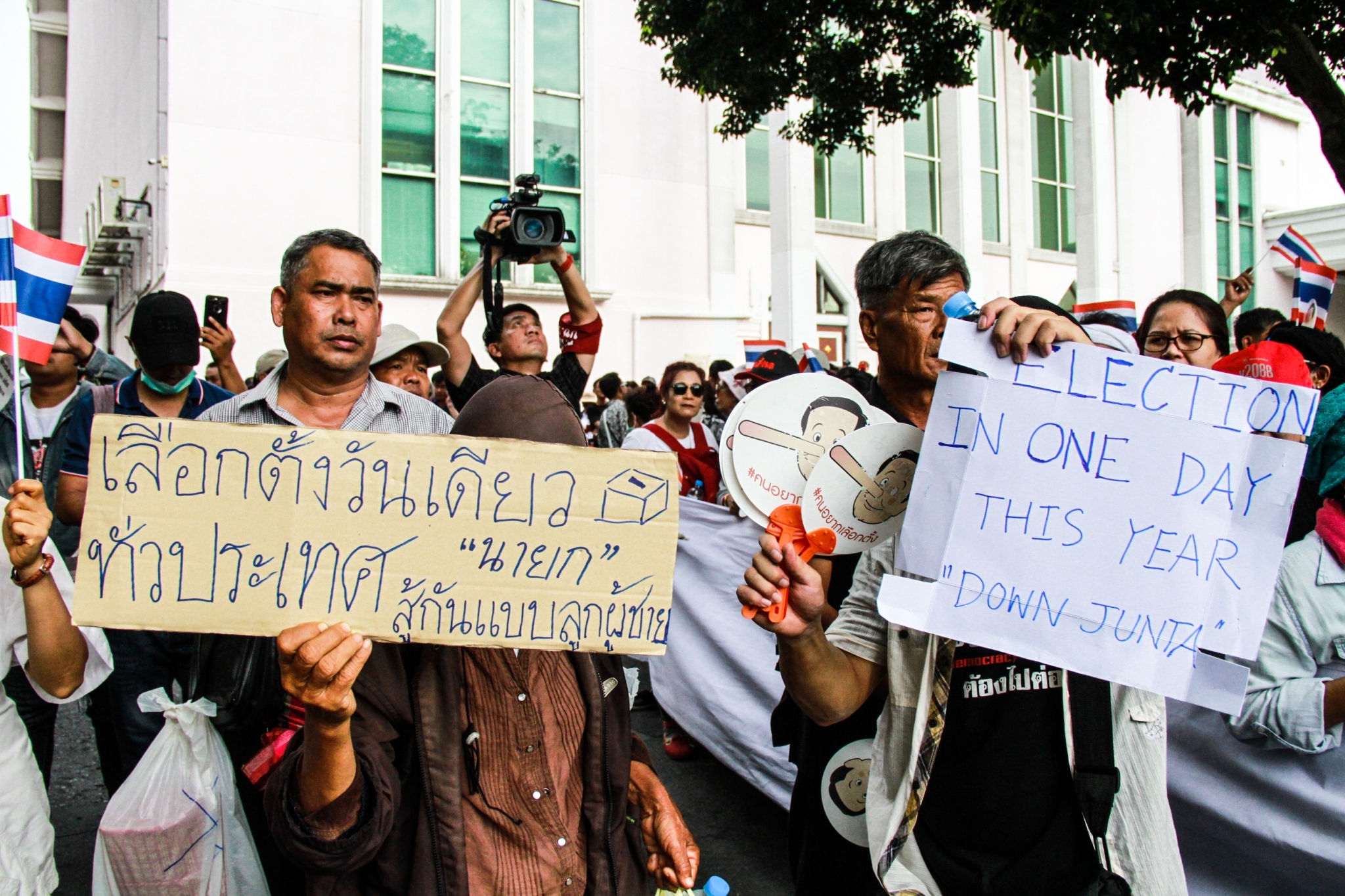 The march begins. The protest finally parades out of the campus. Protesters raise signs, Thai flags and other props. They harmoniously shout, 'I'm not afraid of you.'
The march to Government House goes only a few meters before running into barricades and a horde police officers. Stuck and surrounded by police, they are nonetheless undiscouraged.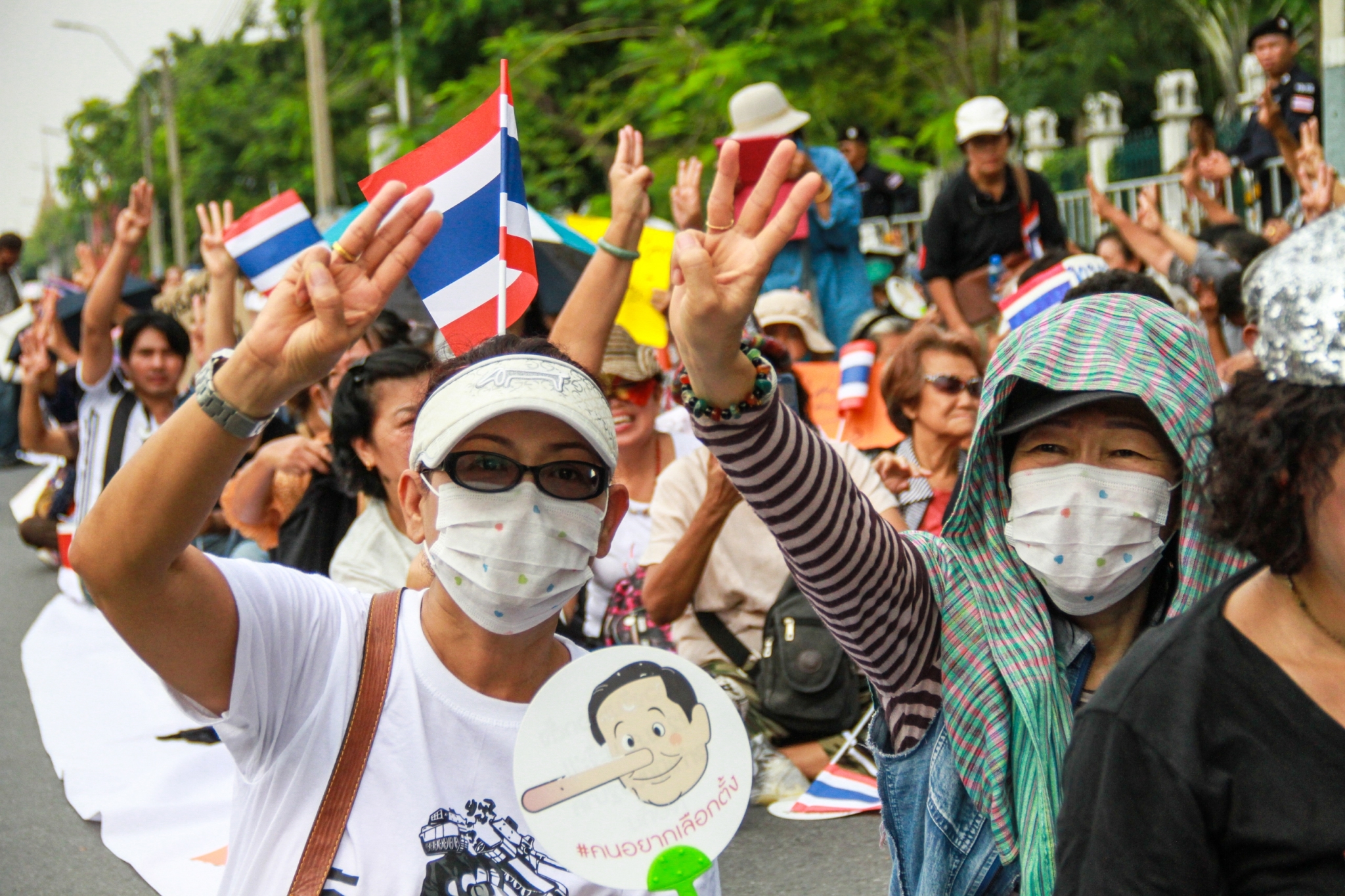 They sit down as if to show they will go nowhere except forward.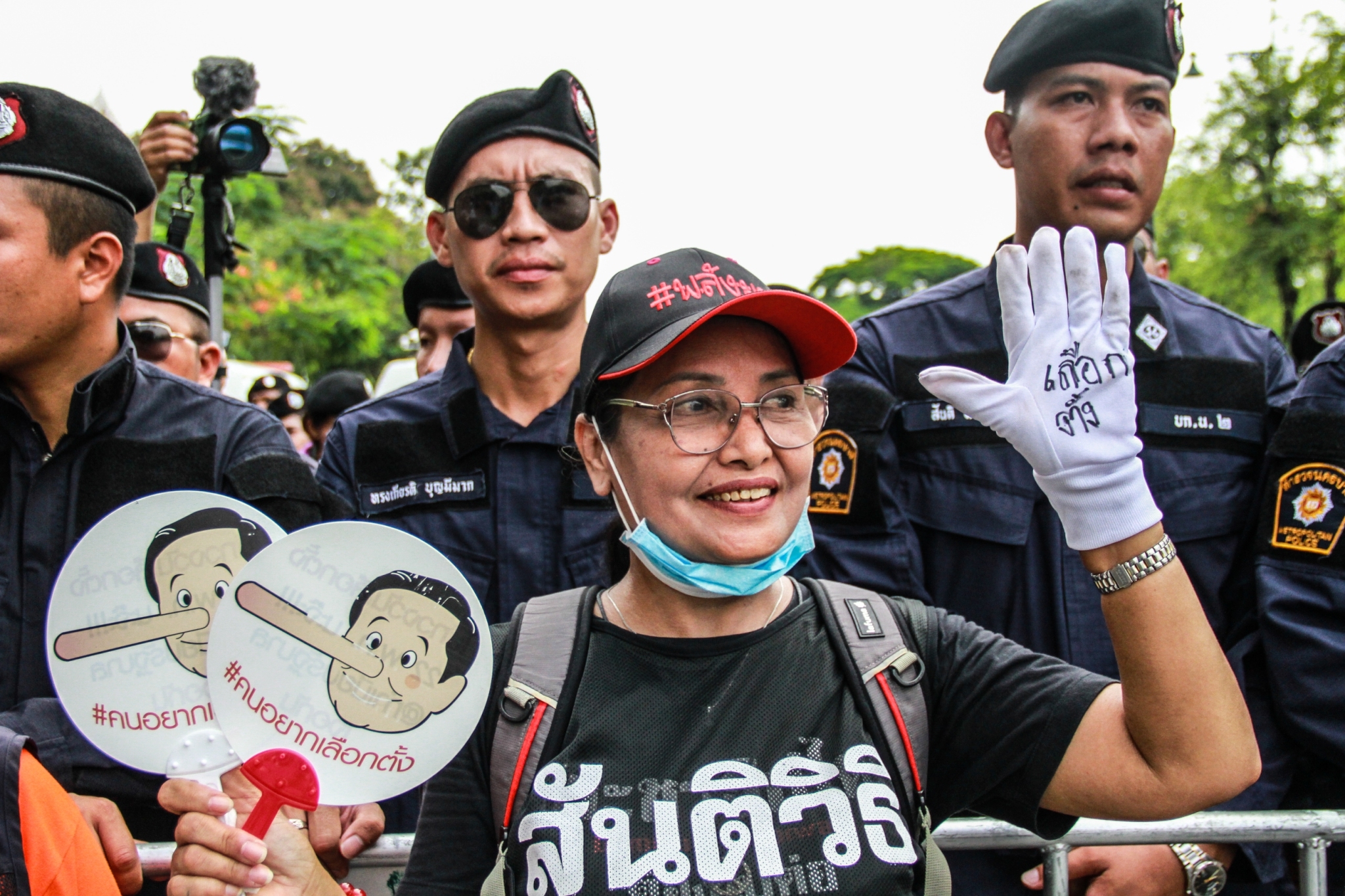 Despite the roughly 10-to-1 ratio of police to protesters, the 'non-violent' coordinators show no fear. Instead, the "aunties" try to befriend the officers by joking, sharing drinks and food with the young cops.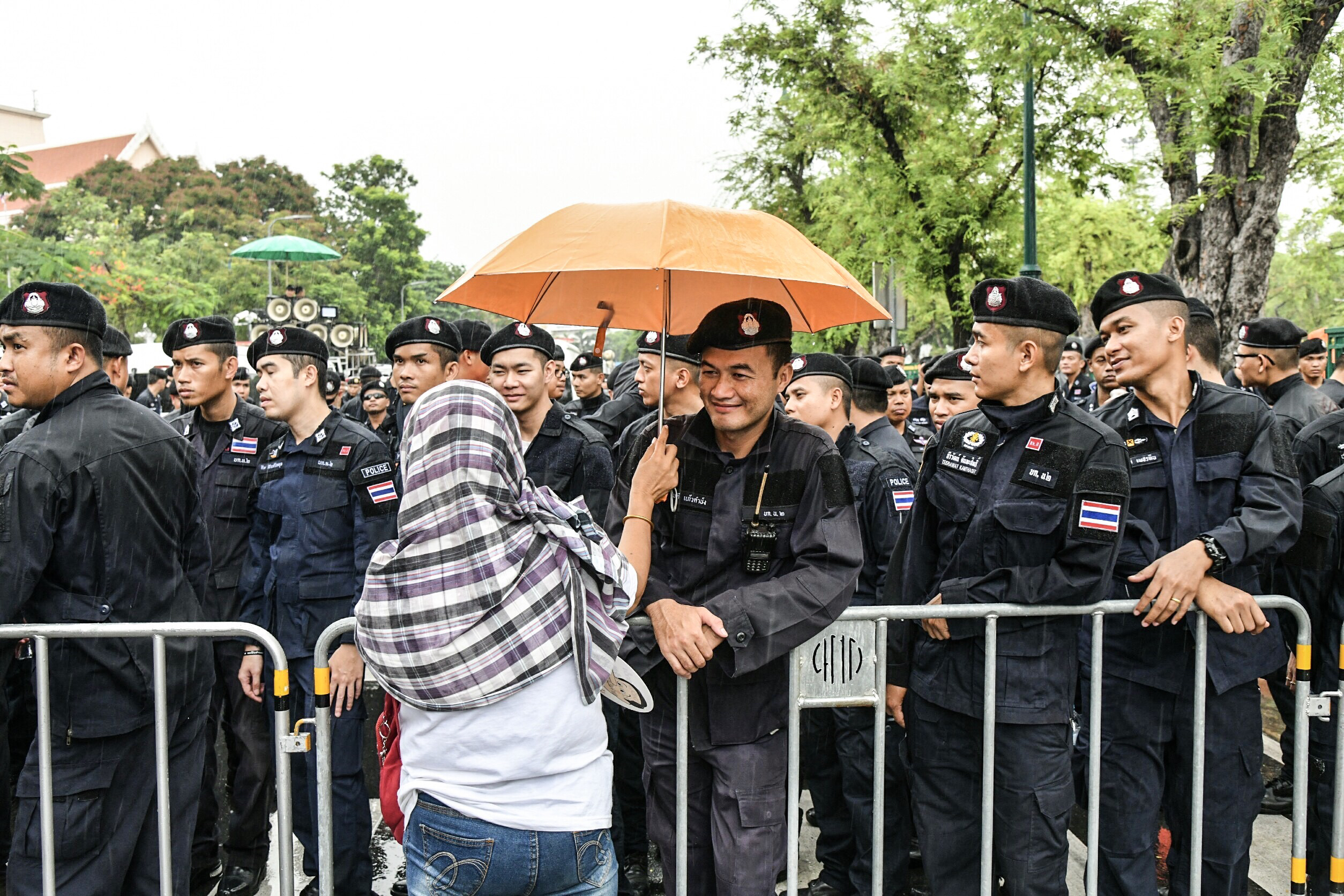 The weather forecast proves accurate. At nearly 11am, the downpour starts. But it fails to drive away either protesters or police. The protesters erect tents over the road, providing shelter for protesters and reporters.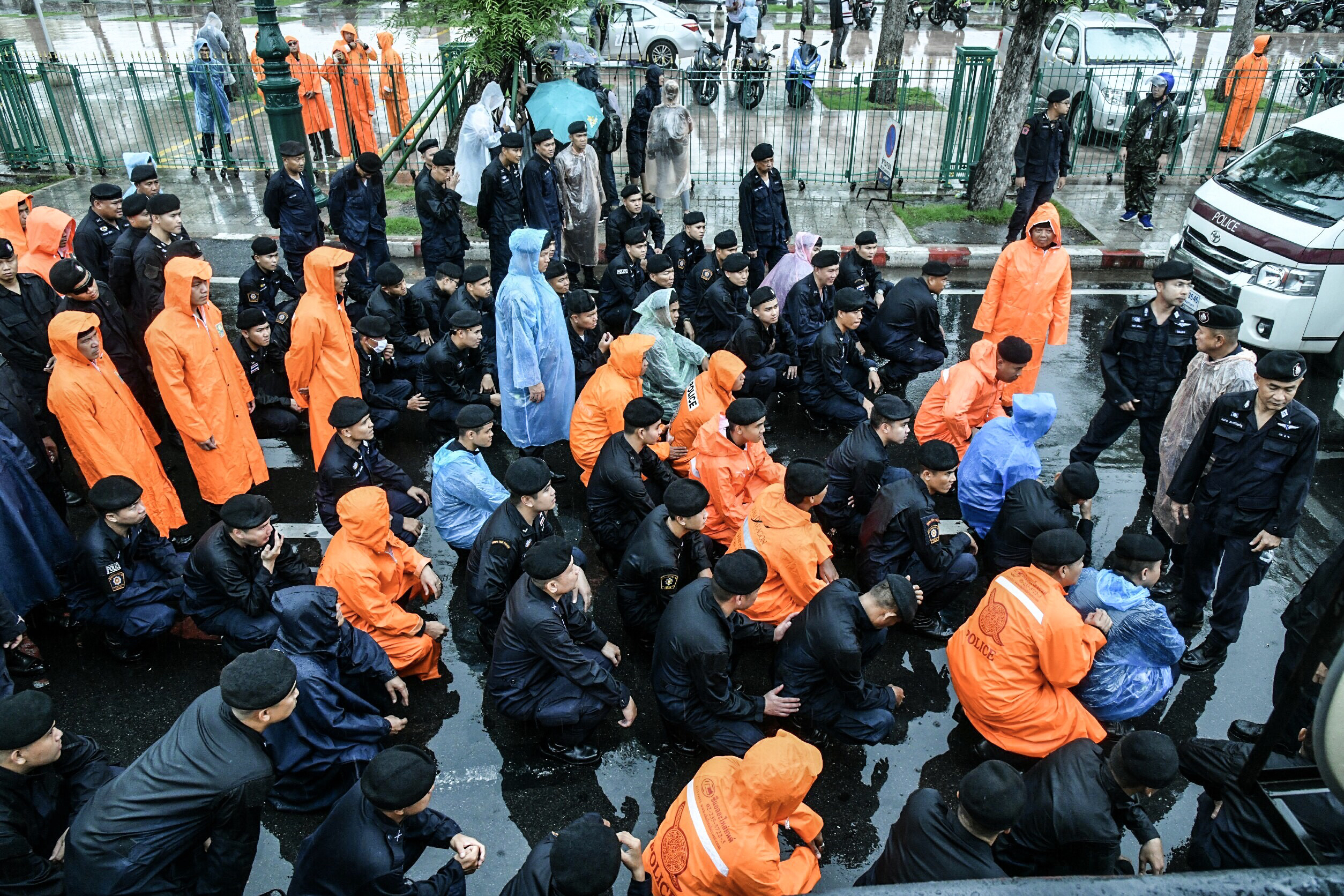 Some police put on blue and orange raincoats. Some sit down to rest as if the rain signals a break in the action.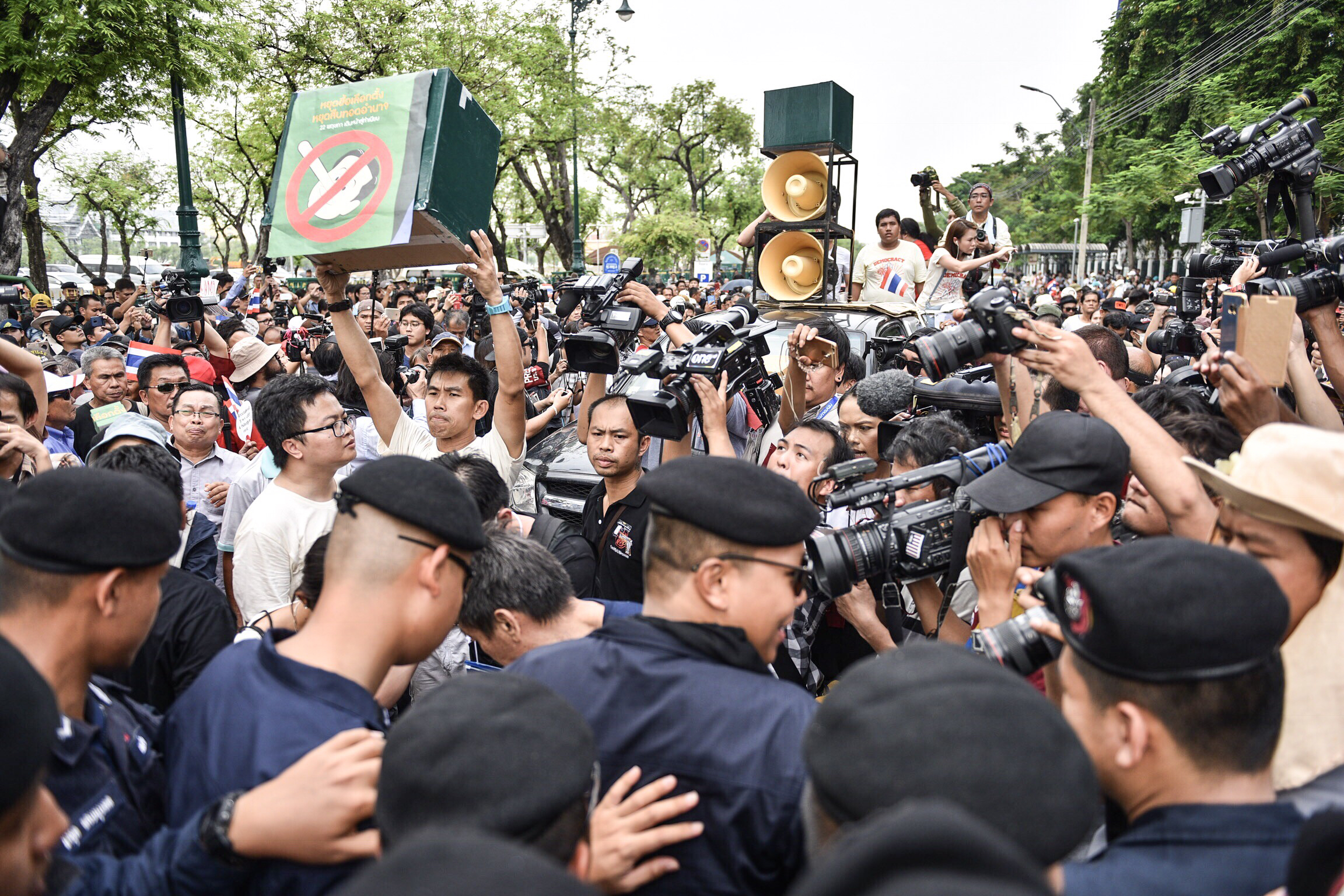 But the raindrops don't fall for long. As soon as the rain stops and stomachs are filled with food, the standoff resumes. Protest organizers announce via loudspeakers that some of the protesters led by lawyer Arnon Nampha have snuck away. Protest leaders at Thammasat University try to negotiate with police again, demanding they to make way so the march can proceed and join Arnon's group.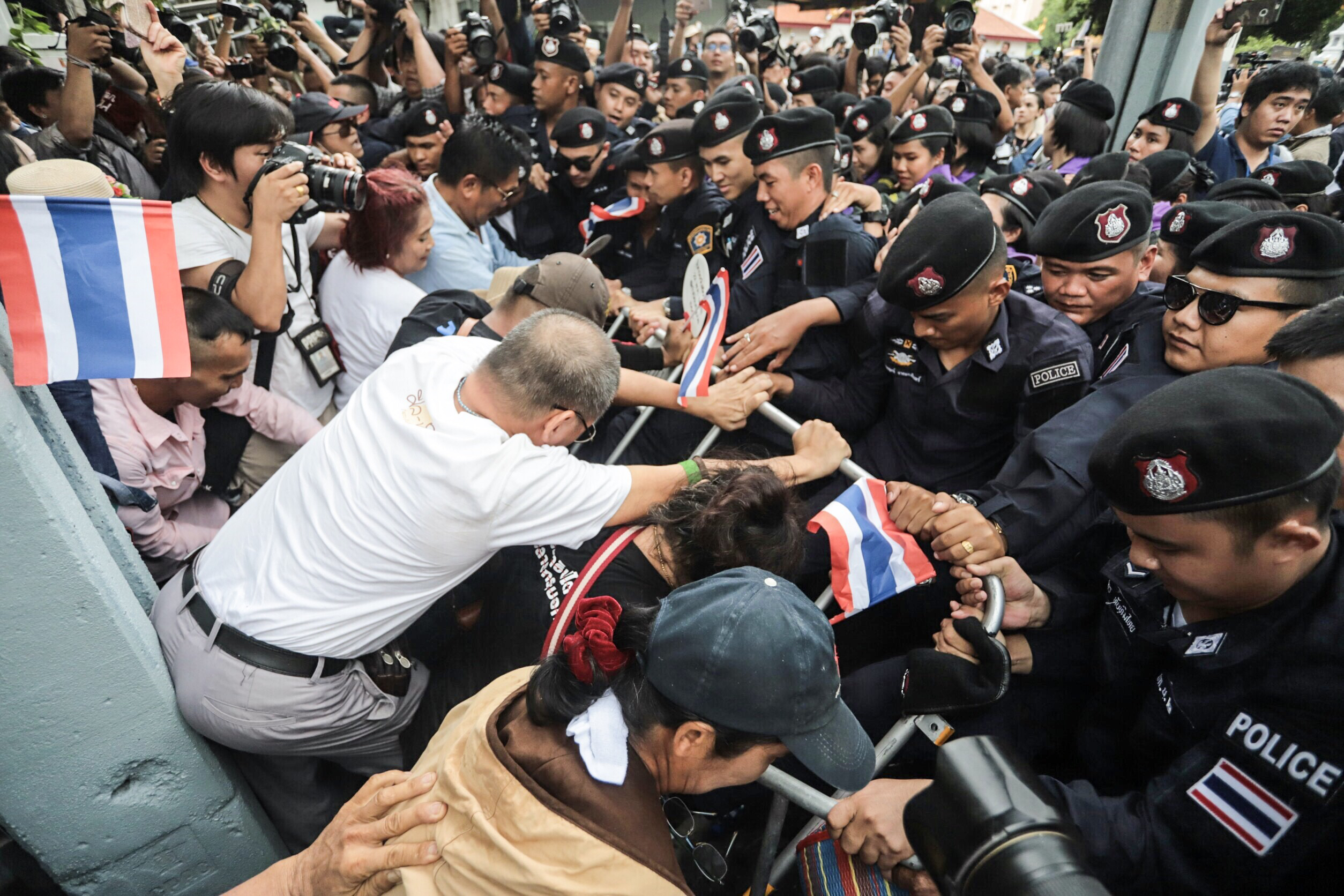 Repeated breakdowns in negotiations eventually lead the protesters to try and push through the blockade. The protest leaders count, '1, 2, 3' and the protesters push.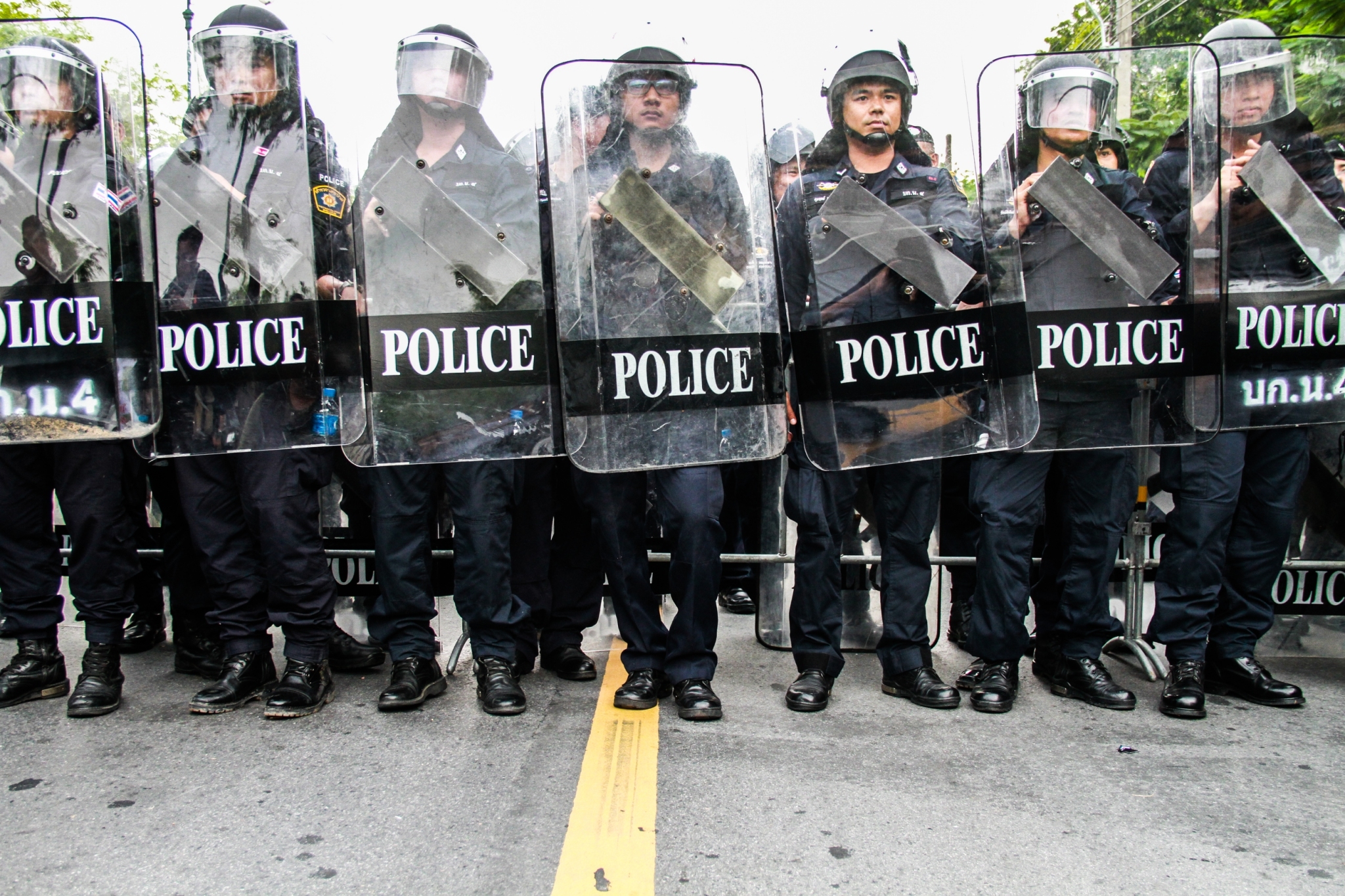 After the clash, more officers, with shields, arrive at the scene.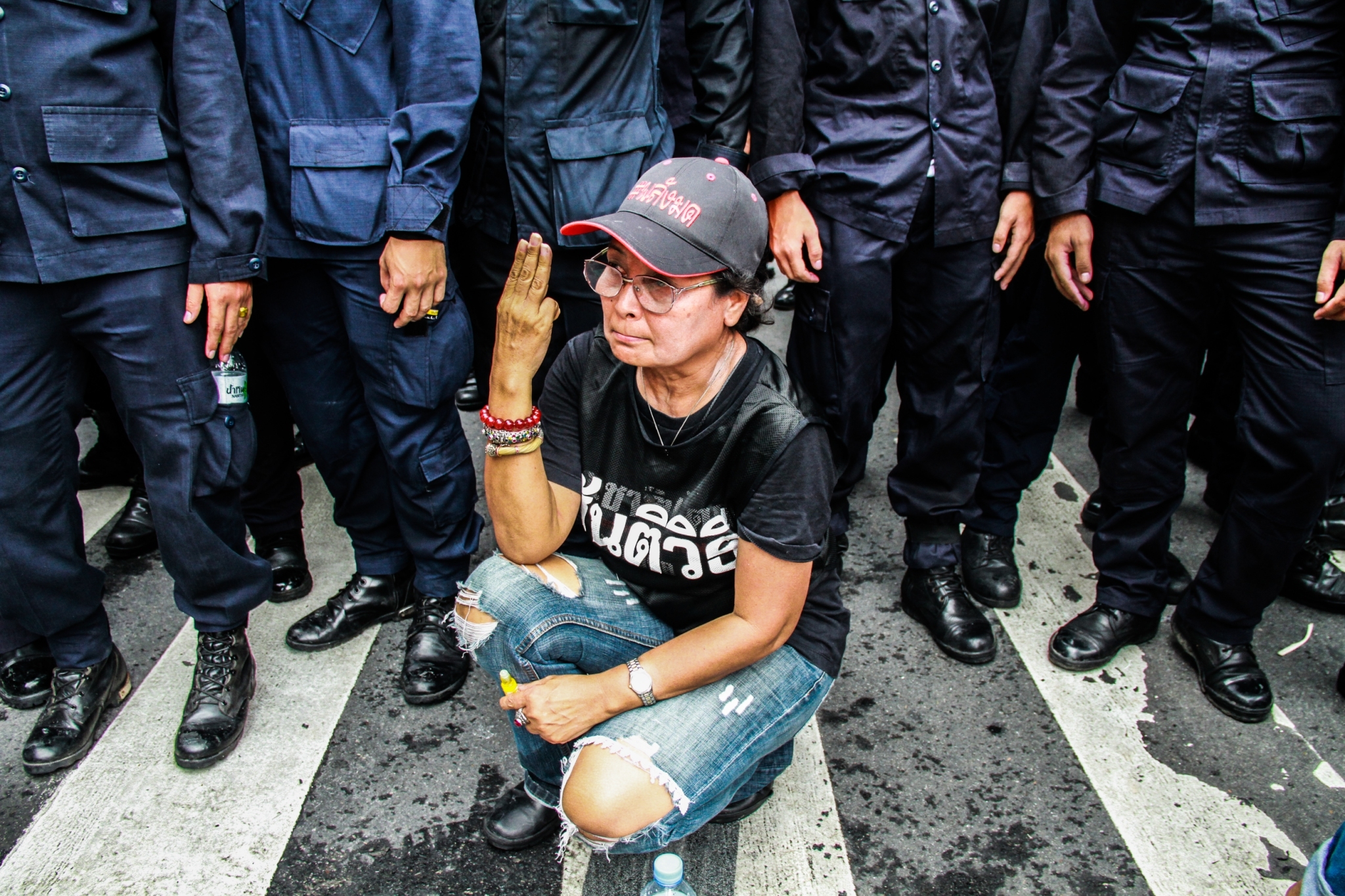 Failing to break through, one woman sits down and displays the group's symbolic three-finger salute. Elsewhere, Arnon's breakaway group has made it close to the Government House before being thwarted by a newly erected blockade. Arnon and other leaders of the small group were seized forcibly by police and taken away in vans.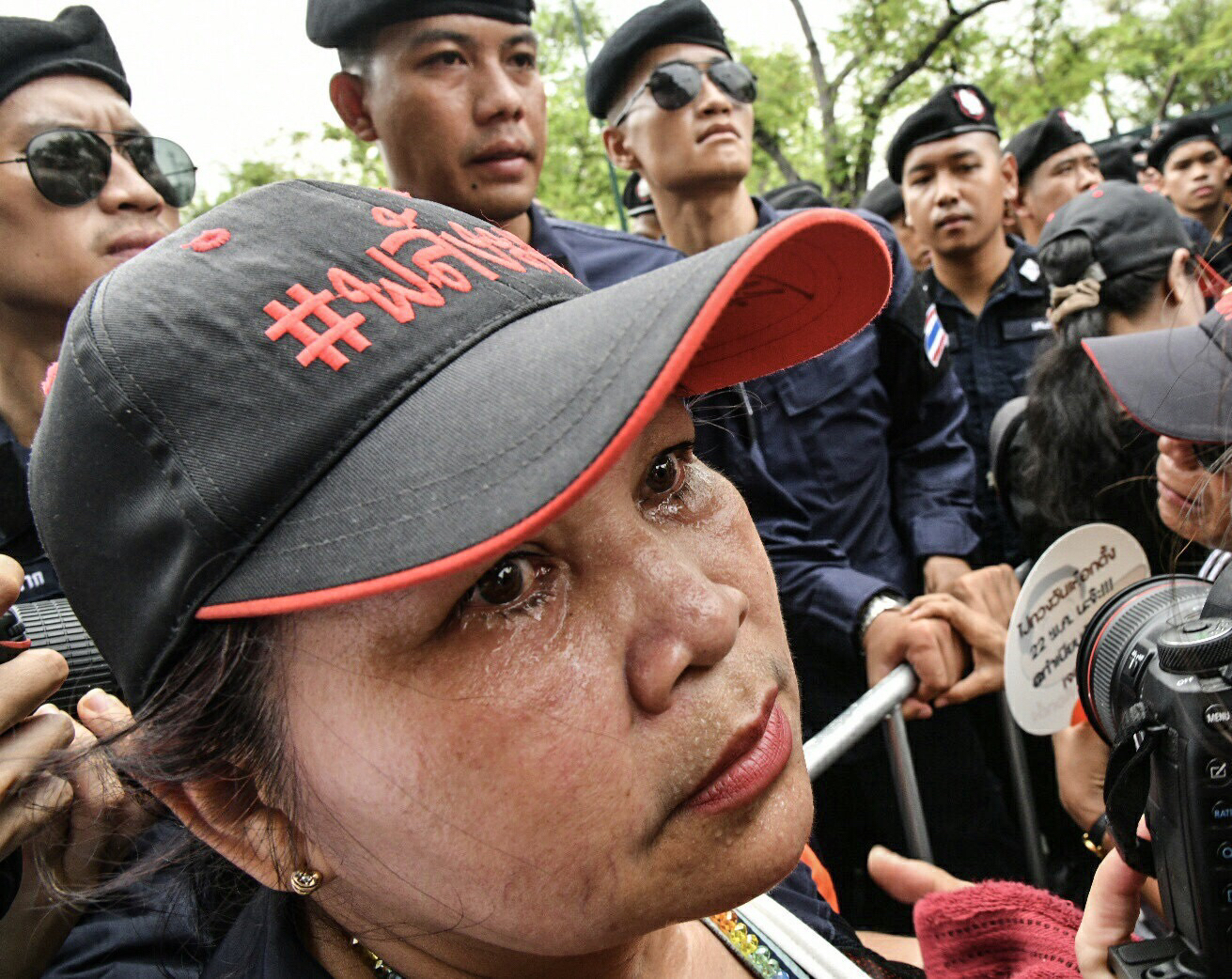 Back at Thammasat, it's past 3pm when activist Rangsiman walks back from another failed talk with police. Fellow activist Sirawith "Ja New" Sertiwat takes the microphone, saying they will turn themselves in so the protesters can go home peacefully. Some protesters scream back in shock and disagreement. One of them faints. A few others break into tears.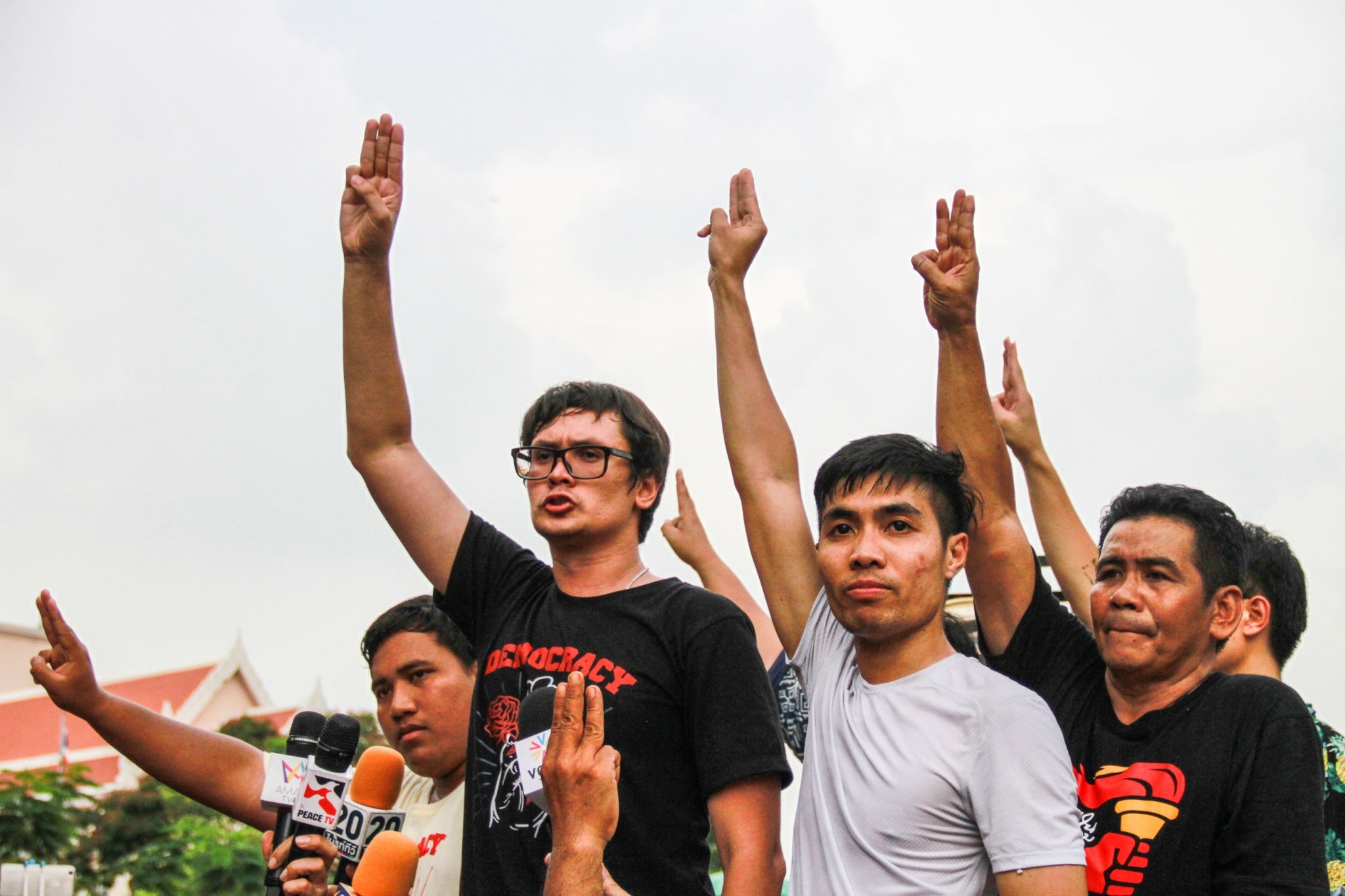 After reading an emotional statement, the protest leaders hug each other in tears before making a three-fingered salute to protesters. 'It's never easy to make a decision,' Rangsiman Rome said. 'For four years, no one has ever challenged and fought for rights and liberties like how it unfolded today. We have done everything. We have tried everything … Please, brothers and sisters, I know you are sad, but this is the only way to end this peacefully, without violence.'
Related Stories:
#CoupAnniversary Protest Live Blog
Live Blog: Protesters Camp at Thammasat on Eve of Coup Anniversary