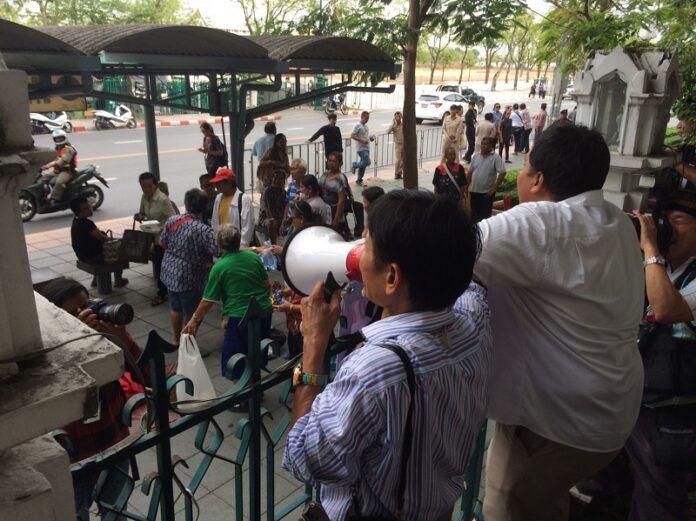 BANGKOK — We're live from Thammasat University where protesters have gathered on the eve before the fourth anniversary of the military coup. A rally is planned to depart Tuesday toward Government House. Editor Todd Ruiz and reporters Teeranai Charuvastra, Chayanit Itthipongmaetee and Jintamas Saksornchai are at the site.
Refresh this page for regular updates.
TUESDAY STANDOFF: Our Live Blog continues here!
---
8:32pm
Teeranai: Activities have been suspended due to the rain. We will continue to bring you updates as they happen.
---
8:21pm
Teeranai: Although protesters succeeded in keeping a gate open, police have effectively established a full control over who is allowed inside. It remains to be seen how activists react if police barricades block protesters from marching to Government House tomorrow.
---
8:15pm
Todd: Student activist Netiwit Chotiphatphaisal attends protest.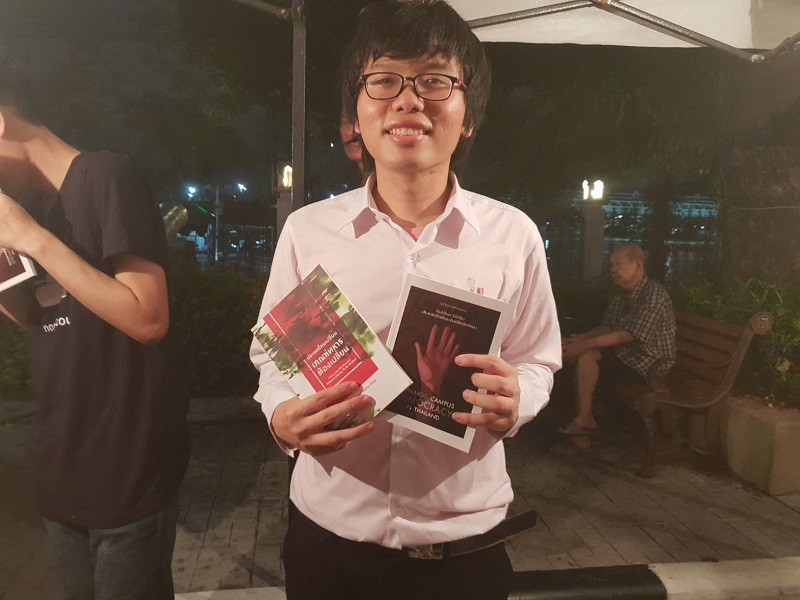 ---
8:11pm
Teeranai: Coordinator of the team, Sunai Phasuk, said rights workers felt the need to wear these identifications because police threatened to prosecute anyone who joined the demonstration, even rights activists and journalists.
---
8:07pm
Teeranai: Wearing bright yellow jackets, demonstration observers made entry for first time to the protests. They are a network of watchdog groups like Human Rights Watch and Amnesty Inter banded together to observe any rights violation.
---
8:05pm
Todd: The stage is cleared as people scramble from the rain.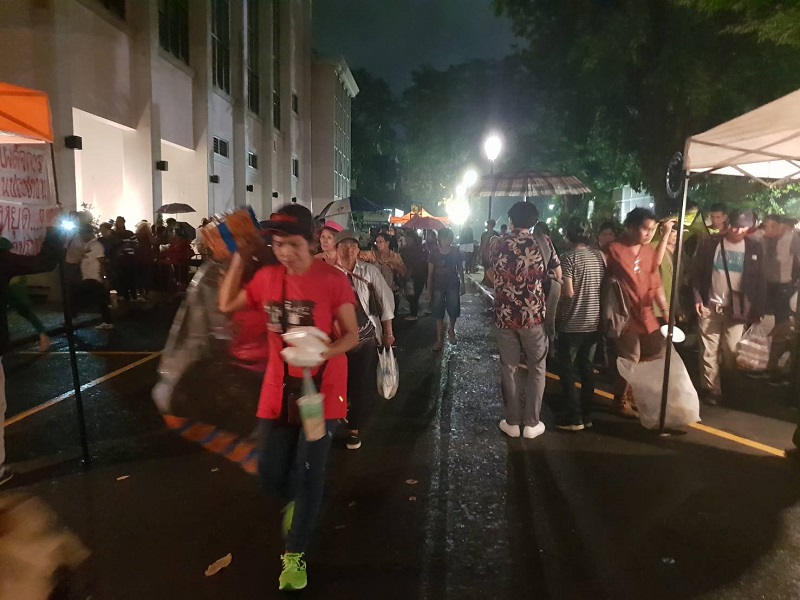 ---
7:41pm
Chayanit: Activists sing on stage.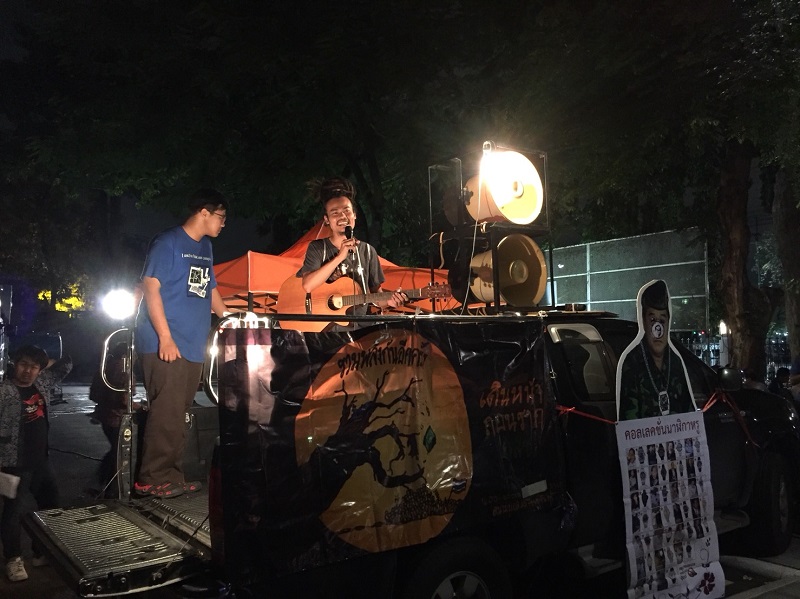 "Let's hear some chilly songs," musicians say, as others reply "No, we want heavy!"
---
7:36pm
Teeranai: Democracy Restoration Group member Rangsiman Rome says police may resort to negotiation to open barricades which they set up to prevent protesters from marching Tuesday.
---
7:30pm
Teeranai: Protesters are entering the premise on condition that they show their faces to the camera, and not their ID cards as police previously demanded. This had earlier caused scuffles.
LIVE: Protesters and police face off at Thammasat

โพสต์โดย Khaosod English เมื่อ 21 พฤษภาคม 2018
---
7:20pm
Teeranai: Protesters inside the premises chant, calling for an end to dictatorship and elections by November, as Junta Leader Gen. Prayuth Chan-ocha promised in October.
"NCPO, return power to the people" and "though my rights are few, you still take them away," protest leaders chant through megaphones.
---
7:09pm
Todd: Protesters being allowed through the gates of Thammasat University, where barriers previously prevented them from entering.
LIVE: Pro-democracy activists struggle to open gates to Thammasat University on eve of protest

โพสต์โดย Khaosod English เมื่อ 21 พฤษภาคม 2018
Related stories:
Protesters Enter Thammasat Day Before Rally to Govt House
Police Warn Against March to Gov't House
Pro-Election March on Govt House Set for Coup Anniversary
Police Threaten Coupversary Charges, Protesters Say 'No Longer Afraid'