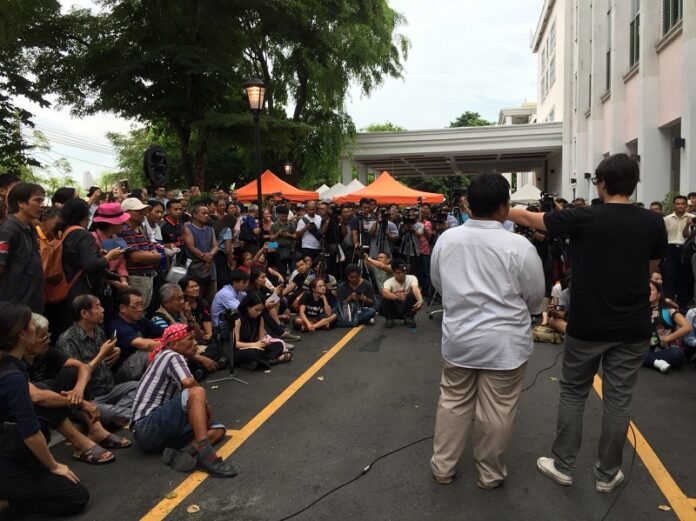 BANGKOK — Pro-democracy activists on Monday made their way through the doors of Thammasat University on the eve of the military coup's fourth anniversary.
A number of protesters who had gathered outside the university to camp the night before a planned march on Government House made their way into the premises joining others inside. The gates had initially been shut, preventing additional protesters from entering.
Marchers, who at first spoke over the campus fence, were allowed in after a tense verbal exchange with authorities, during which only a few meters separated either side.
LIVE: Protesters and police face off at Thammasat

โพสต์โดย Khaosod English เมื่อ 21 พฤษภาคม 2018
"Srivara told me to go home so I shouted back 'I have the right to be here,'" a protester said, referring to Deputy Police Commissioner Gen. Srivara Ransibrahmanakul, who arrived at about 5:30pm.
Earlier on Monday, the university cordoned off the football field on which protesters had planned to camp after allegedly applying fertilizer to remove pests.
"We are worried that the protests will affect the students who come here to take exams. It's exam season," Orapan Poachanukoon, the university's vice rector said.
Khaosod English will be reporting, livestreaming with realtime updates from the scene tonight and tomorrow.
LIVE: Pro-democracy activists struggle to open gates to Thammasat University on eve of protest

โพสต์โดย Khaosod English เมื่อ 21 พฤษภาคม 2018
Story: Teeranai Charuvastra, Chayanit Itthipongmaetee, Jintamas Saksornchai, Todd Ruiz
Related stories:
Police Warn Against March to Gov't House
Pro-Election March on Govt House Set for Coup Anniversary
Police Threaten Coupversary Charges, Protesters Say 'No Longer Afraid'
Note: This story was changed to clarify that there were protesters inside the university premises before the gates were shut.