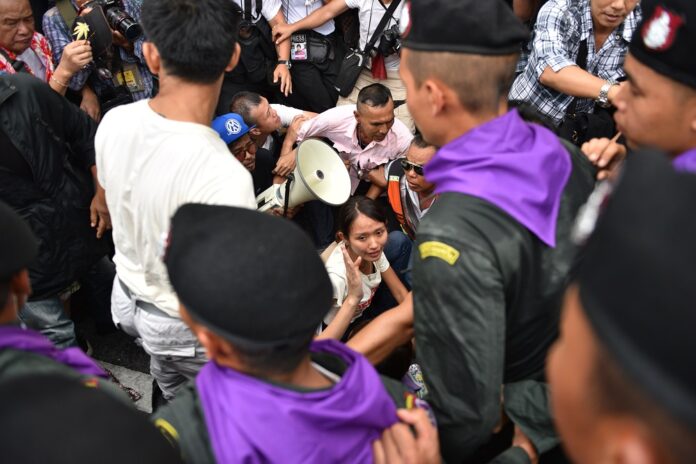 Those who want to see an end to military rule and return to democracy planned a mass rally Tuesday on the fourth anniversary of the May 22, 2014, coup d'etat. After camping out overnight at Thammasat University's Tha Prachan campus in Bangkok's old quarter, they intend to march on the regime's seat of power at the Government House. Reporters Pravit Rojanaphruk, Chayanit Itthipongmaetee and Jintamas Saksornchai are on the scene supported by Todd Ruiz, Teeranai Charuvastra, Asaree Thaitrakulpanich and Lobsang Dundup Sherpa Subirana.
Barring any surprises, that concludes our live coverage for today. Scroll down to bottom and work your way back up for a chronological look at today's events.
---
4:36pm 
Shot through a window, activist Ekachai Hongkangwan is interrogated by deputy police chief Srivara Ransibrahmanakul.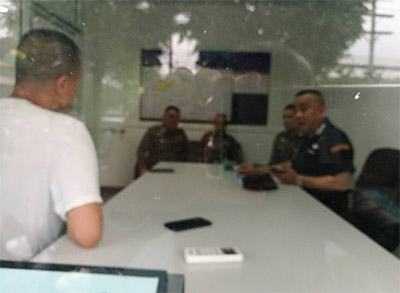 ---
4:25pm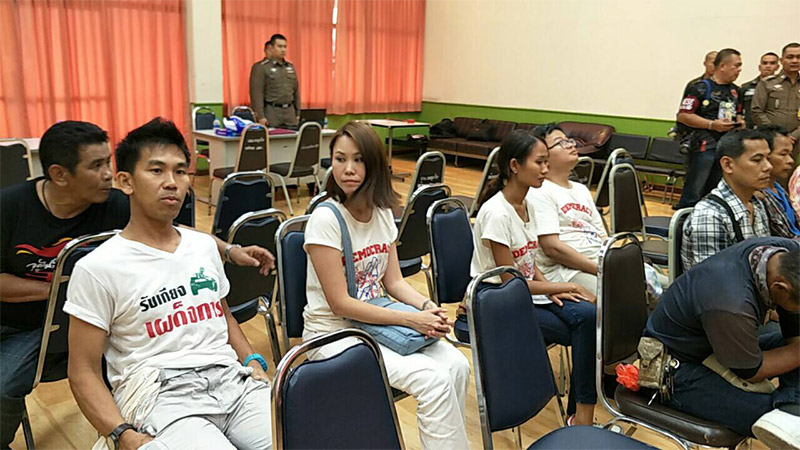 ---
3:35pm
Protest leader Rangsiman Rome has just announced the protest is over in an emotional statement to the crowd.
"It's never easy to make a decision," he said. "For four years, no one has ever challenged and fought for rights and liberties like how it unfolded today. We have done everything. We have tried everything. But in the end, we might not be able to bring change and return to democracy. But in the future, it could be us or other people or younger people who will take up this legacy and build democracy. Please, brothers and sisters, I know you are sad, but this is the only way to end this peacefully, without violence."
He later turned to police and informed them that he, along with Sirawith "Ja New" Seritiwat and Piyarat Chongthep, are now ready to surrender.
Sirawith added: "I have fought the NCPO (junta) for four years. Today is not called the day I surrender. I will fight on!"
Along with the protest leaders, police arrested protesters Keeree Khanthong, Prasong Wangwan, Pattarapol Chantarakot and Phutthaisingh Pimchan.
---
LIVE:
---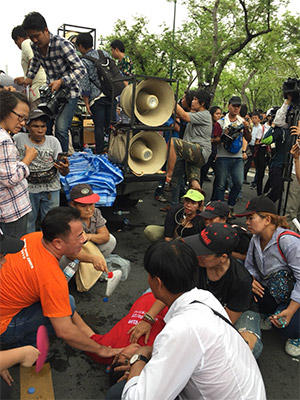 3:24pm ALL OVER?
Back at the Thammasat University encampment, activist Rangsiman Rome said he would discuss the situation with police at 3:30pm and then tell the protesters what to do afterward. Taking the microphone after Rangsiman, protest leader Sirawith "Ja New" Sertiwat signaled he's willing to retreat. Sirawith said the leaders will propose to police that they turn themselves in protesters are allowed to go home peacefully.
His words were met with shouts of disagreement.
"It's a trap! Don't go!" one protester called.
In an attempt to appease the crowd, Sirawith said protesters who do not wish to go home can go show their support for the arrested leaders later at the police station.
"We already won! We managed to go all the way to UN. Give yourself a hand of applause," Sirawith said.
Upon hearing the news, one protester cried and hugged Rangsiman.
---
3:20pm
Protest leader Nutta 'Bow' Mahattana is being allowed to read a prepared statement before she is taken by security forces to an undisclosed location for "interrogation." She condemned the junta and demand the military "disarm" the junta and drop its support. She called on the military government to turn itself into a caretaker government until there are elections. "I would ask all Thais to witness that we tried our best in calling for elections," she said. "The junta still resists these demands."
Police will not say where they are taking Nutta, Arnon and Chonticha.
---
3:18pm
Meanwhile at Thammasat University: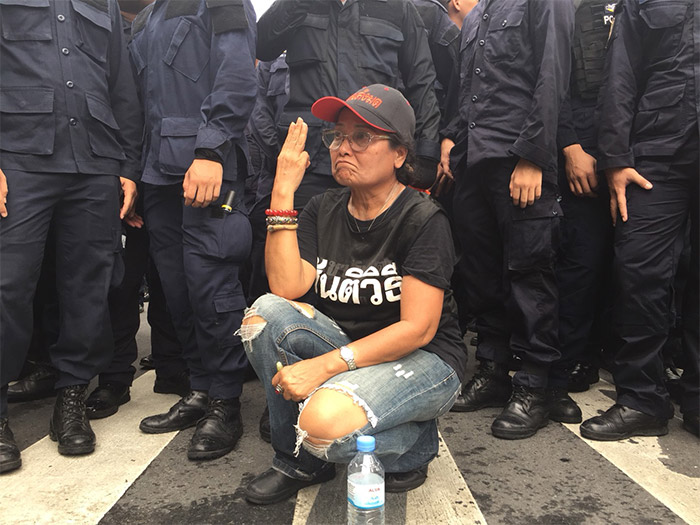 ---
3:15pm
Deputy police chief Srivara said arresting the protest leaders would defuse situation since they "are clearly doing illegal things. What do you want me to do, go wai them?"
"If I don't arrest them, what am I supposed to do? … I'm going on the group myself now. Right now the police have this under control; we don't need military help yet."
---
3:08pm
Protest leaders hemmed in and surrounded by police following melee. A protester briefly grabbed reporter Pravit Rojanaphruk's camera away to better see the scuffle over arresting the protest leaders. The leaders are being led away by police.
"We didn't want to take over anything. We just wanted to submit a complaint. this is too much," said one protester, referencing the fact that anti-government protesters met no resistance when they were allowed to seize control of the Government House in 2014, helping pave the way for the military to seize power.
---
2:57 POLICE MOVE IN
Authorities try to seize the protest leaders as regular protesters defend them.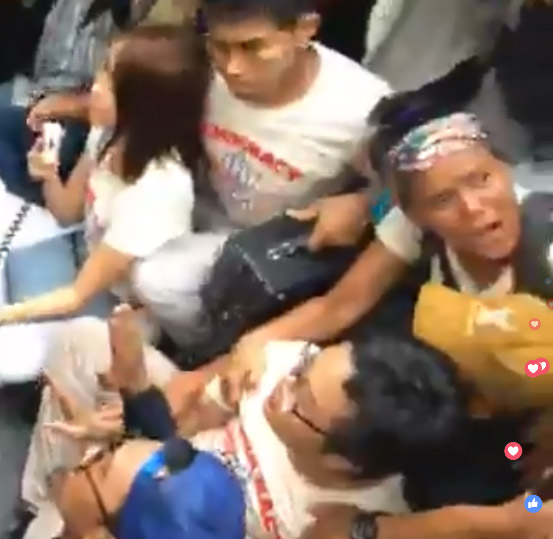 ---
2:50pm ULTIMATUM
Police give protesters 15 minutes to disperse or face arrest, try to corral reporters away from demonstrators. Leader Arnon and the group responded by sitting down in the road and daring police to arrest them.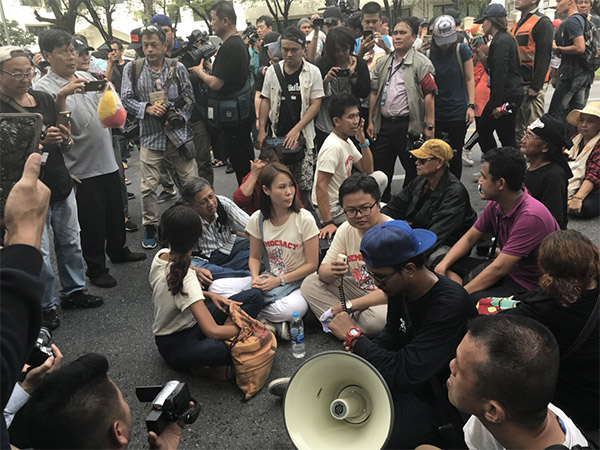 ---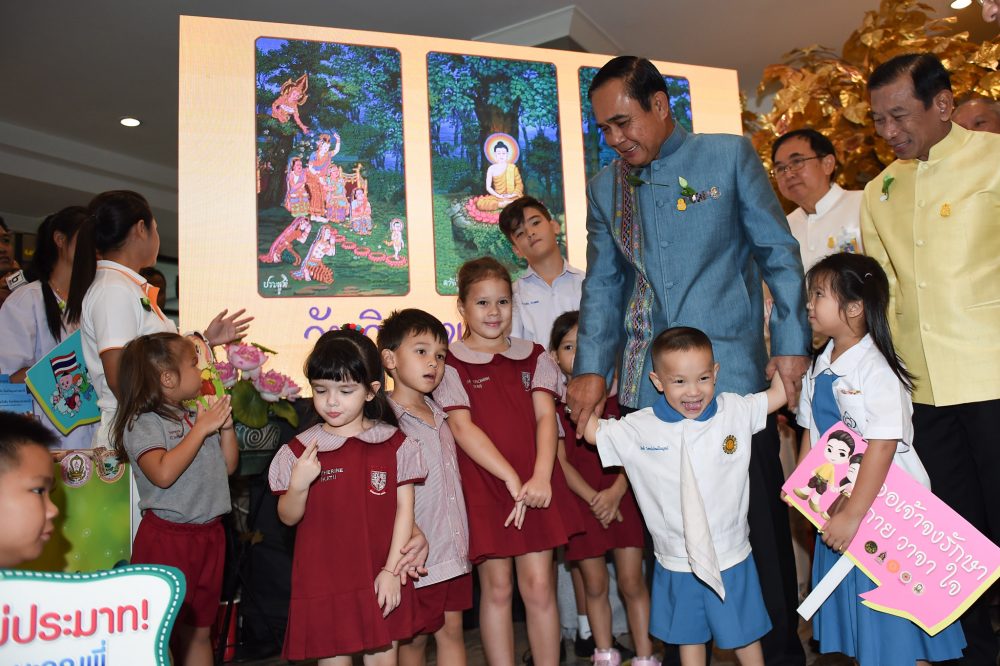 2:47pm What's Prayuth Up To?
Inside the Government House, it's business as usual – except for the metal barricades placed around the facility, just in case the protesters manage to reach it.
Apart from heading weekly cabinet meetings, chairman Prayuth Chan-ocha received visitors to his hall of power, including medical students from Siriraj Hospital who want to raise awareness about CPR procedures, representatives from Buddhist groups promoting the upcoming Visakha Bucha Day and B-actors from an army-themed soap opera, "Cadet Who Aims for the Stars."
Prayuth only made one mention of the ongoing protest once, when reporters asked him how he planned to take care of the demonstration.
"I'll take care of you first!" the general called back.
---
2:36pm
Spread thin? Small police presence now at Thammasat University. Protest leader Rangsiman Rome says "good / bad news" is police won't negotiate with him anymore; protesters almost the Gov't House.
---
2:42pm
Police preventing Khaosod English from filming special branch officers in the field.
---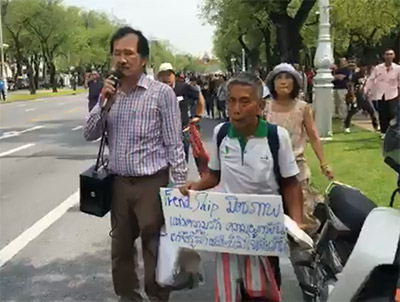 2:37pm
"The Constitution is the highest law of the land!" a protester with his own amp shouts toward police.
A senior police official tells reporters: "They've broken the law since last night by engaging in political gatherings of more than four people and by cutting a chain that locked a gate at Thammast University. … This is the junta's order."
---
2:30pm
The leader of the breakaway group, human rights lawyer Arnon Nampha, said they are pausing to take a rest break and eating lunch for an indefinite amount of time.
---
Map of today's rally
---
2:26pm
'Go home!' police yell at protesters  saying they are violating a restricted zone of 50-meters around the Government House.
Police are now deployed into lines blocking the path across the bridge.
"Please go home! You are causing traffic congestion" a police officer called via a loudspeaker.
---
2:19pm
Police are hastily erecting a new barrier on the Makkhawan Rangsan Bridge. Border patrol police being heard receiving instructions not to use force if the protesters push their way through.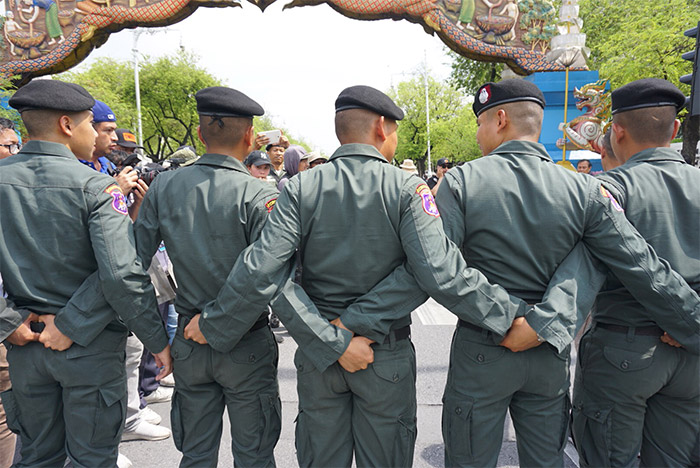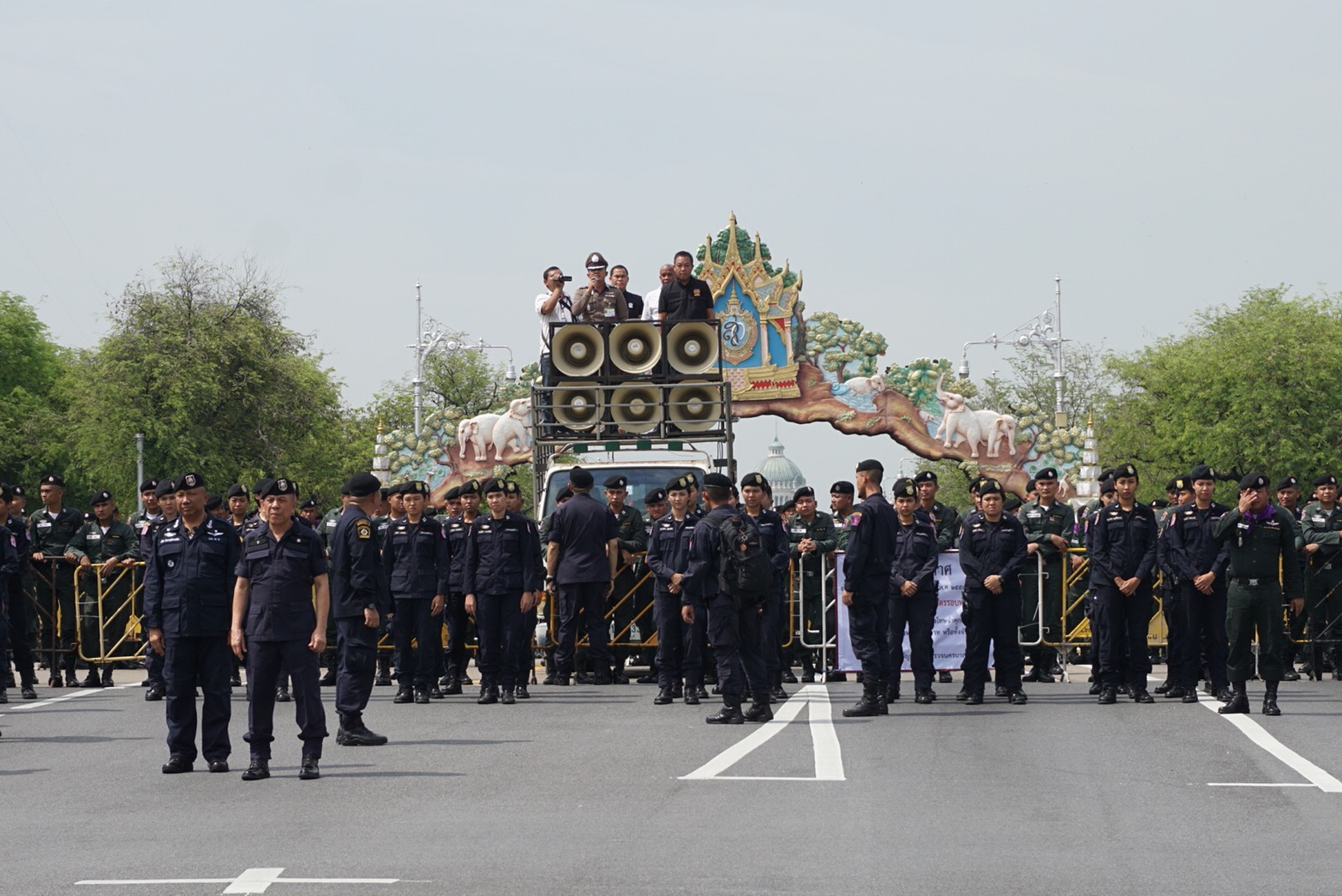 Despite police commissioner Srivara saying earlier that protesters would not be allowed to march to Democracy Monument, the small group is marching without barricades impeding their path. Protest leader Chonticha "Lukkade" Jangrew called the junta "shameless" in their administration of the nation.
---
2:10pm
They have now reached the army headquarters.
---
2:05pm
Police are not blocking the way of the breakaway group of protesters who are now about 15 minutes by foot from the Government House. Will they get there? Will they depart after protesting or remain there?
Word that the march was underway was met by cheers by protesters still trapped at Thammasat.
---
1:59pm
Protest leader Sirawith Seritiwat at Thammasat University says activist Rangsiman Rome will return in 15-20 minutes after negotiating with police on whether the rally will be able to move beyond the campus premises and join the others outside.
---
1:57pm
Catching police by surprise, protesters broke away in small groups and regrouped at Democracy Monument to resume their march on the Government House.
---
1:42pm
About 20 minutes ago Deputy Police Commissioner Gen. Srivara Ransibrahmanakul said protesters wont be allowed to march to Democ Monument, adding that they'd only be able to make demands from within the university premises.
---
1:36pm
Some groups of protesters have reported broken off to try to begin secondary rallies away from the main group contained by a physical wall of police officers and barriers on the road between Thammasat and the Sanam Luang.
---
12:16pm
The tense mood of earlier has now settled into a relaxed stalemate. Protesters are resting under umbrellas and tents. Many are singing classic "protest songs" passed down from the Cold War years such as "For the People" and "Starlight of Faith." – Teeranai
---
11:56am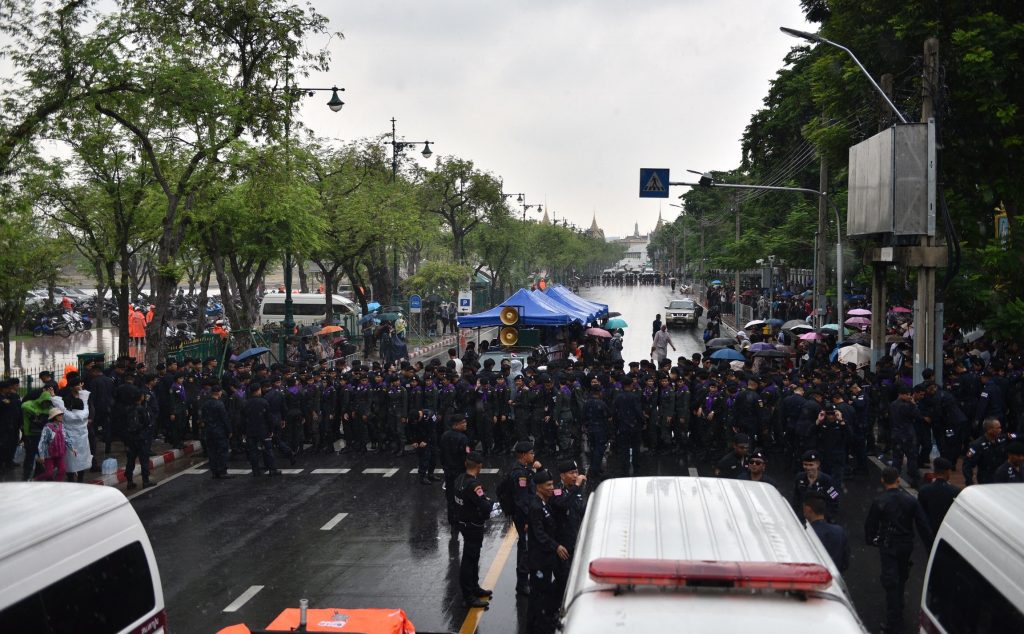 The government's counter-insurgency agency, the Internal Security Operation Command, said it counted 370 demonstrators today.
If true, it would fall far short of the 2,000 people expected by the protest leadership. – Teeranai
---
11:38am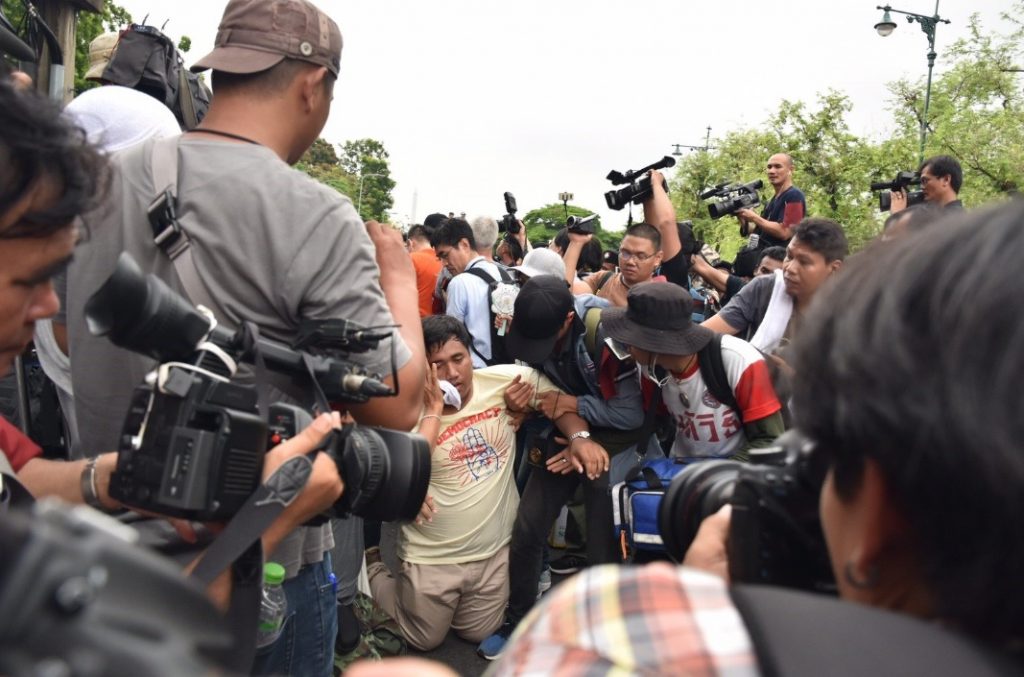 Protest leader Sirawith Seritiwat briefly fainted after speaking for hours under the heat.
---
11:37am OUTNUMBERED
Rally organizer and human rights lawyer Arnon Nampha confirms they will wait and see if more people join them in the evening. – Jintamas
---
11:21am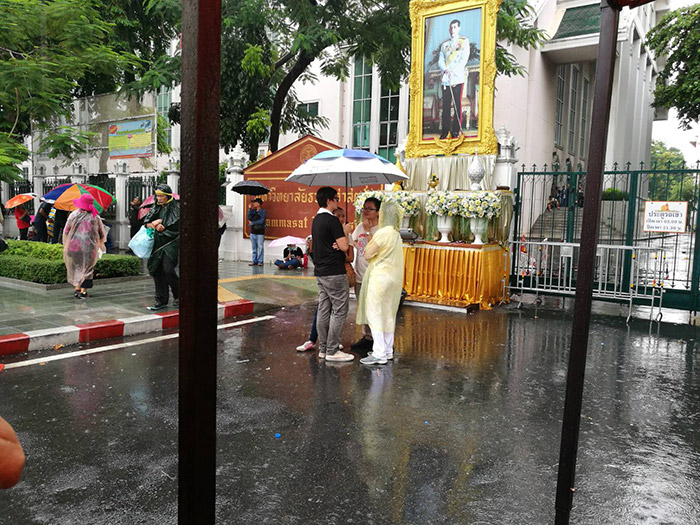 Protest leaders huddle to mull their next move. Afterward, they acknowledged that they are unable to break through the police barricade. They said they may try to hold out until evening for reinforcements. Hundreds more protesters are outside the cordoned-off area.
---
11:17am
Adding to all the criminal charges they've been targeted with over the years, five protest leaders this morning are charged again with violating public assembly laws. Police spokesman Krissana Phathancharoen said the five leaders to be charged are: Rangsiman Rome, Sirawith "Ja New" Seritiwat, Nuttaa "Bow" Mahattana, Ekachai Hongkangwan and Piyarat Jongthep.
Asked by reporters if the overwhelming number of police was meant to intimidate the protesters, Krissana said, "I don't view it that way. If you look at crowd control measures in other countries and according to our laws, no one brings fewer police than there are protesters. We determined what the situation is like. We won't hurt them, because the state isn't in conflict with anyone." – Asaree
---
11:10am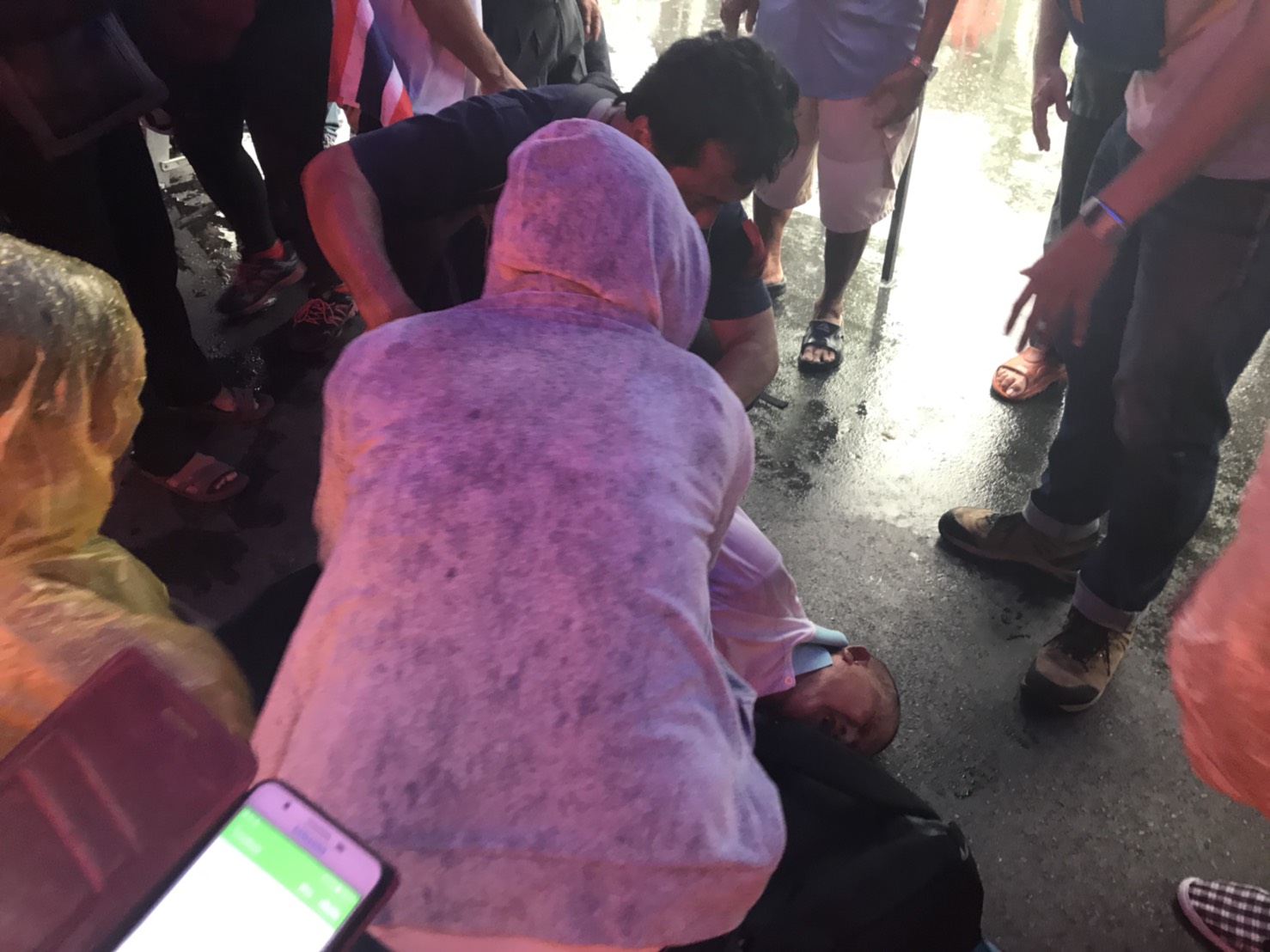 Amid the downpour, another protester has taken ill. This time a man is convulsing on the ground with a seizure.
---
11:08am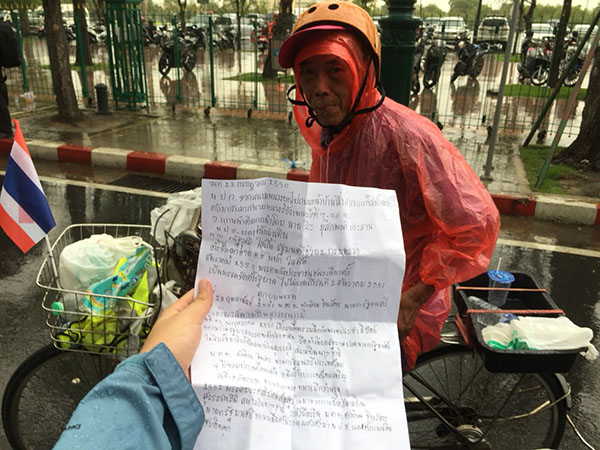 Ahor Sae-Ngow, 70, on his bike refused to seek shelter from the rain. He carries a personal statement printed on paper.
---
LIVE: PROTESTERS ATTEMPT FAIL TO BREAK THROUGH
---
10:54am
Protest leaders are pleading for people to leave their jobs and join the rally.
A scuffle broke out, a protester has a head wound, he says from a thrown object. His friends say he was climbing a fence and something, maybe a branch, hit his head. However, there is no ambulance for the man. Another protester reportedly fainted.
Police are saying they should lay the wounded under a nearby tent instead of evacuating them. They're now shouting about what to do with the ill protester.
Rain has begun to fall.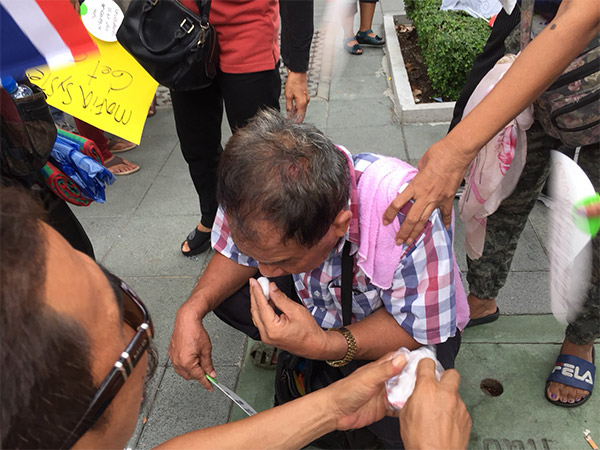 ---
10:40am Photo gallery
---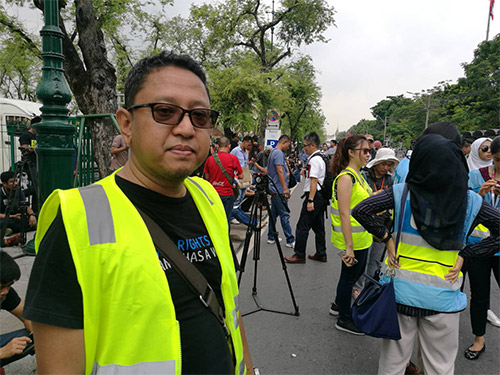 10:30am
Sunai Phasuk of Human Rights Watch said the handling of today's rally does not bode well for democracy in the kingdom.
"There is no open space. How can Thailand have a free and fair elections?"
"We can't trust any promise made by Prayuth."
A number of observers are present as well today. Six United Nations observers were in the field alongside nine from rights groups Amnesty International and Human Rights Watch. – Pravit & Jintamas
LIVE:

---
10:10am
Chayanit Itthipongmaetee and Jintamas Saksornchai are live again at the scene where a protester was carried away in an ambulance after a tense exchange with the police blockading them in Bangkok's old quarter. "This is due to the stubbornness of police. We should be sitting in the cool under the trees," protest leader Ja New said after the woman, identified only as Kawinrat, was taken away.
Their ire continues to be directed at deputy police chief Srivara Ransibrahmanakul.
"The person most responsible for this is Srivara!" The police apologized and are now being drowned out by the booing crowd.
---
10:08am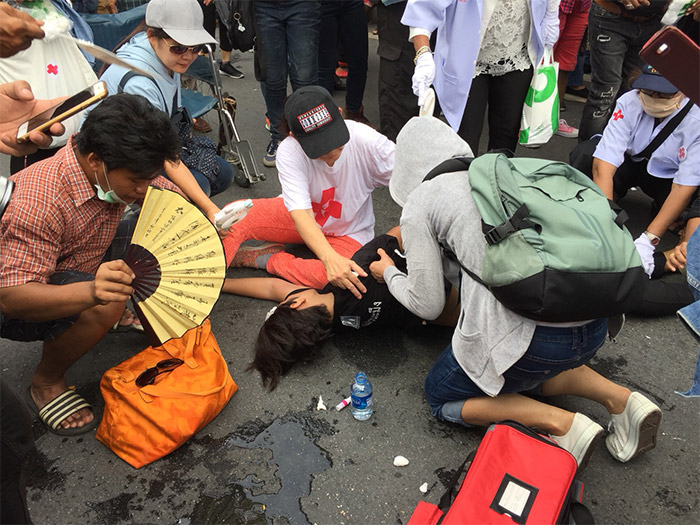 Police are refusing to open the barricade to allow an ill protester be evacuated. Protest leader Rangsiman Rome says she is in critical condition and is giving an ultimatum that they open the way in five mins. If not, he says they will move the truck next to the barricades.
---
10:05am
Reporter Chayanit Itthipongmaetee is sending in 360 images from the front line of the protest and around the vicinity. Click the arrows to change images.
---
10am 
Some protesters A protester has fainted. Speakers are demanding they open the way to take them out. – Jintamas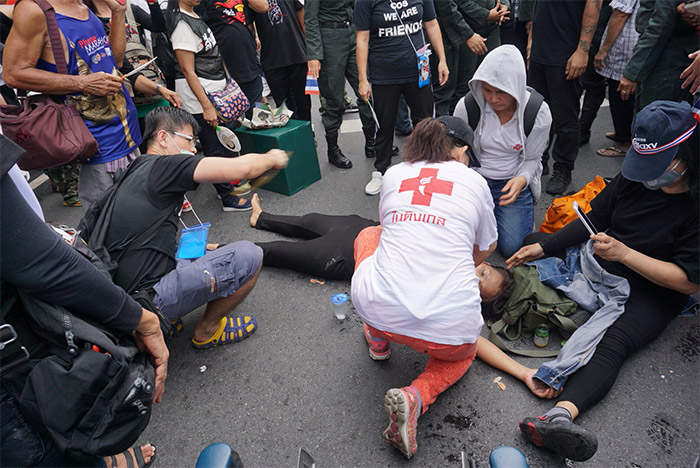 ---
9:49am
The standoff continues with police blocking protesters from leaving the campus of Thammasat University to march on the Government House to demand elections. The protesters are refusing to disperse as ordered. Our live stream team will be back with more street-level coverage soon.
LIVESTREAM:

---
9:41am
Armed with dueling public address systems, protesters and police have been locked in psychological warfare all morning, each side blasting messages urging the other side to stand down, at times trying to drown the other side out.
Apparently running out of things to say, police at one point resorted to playing the theme song from retro soap hit "Buphhesanniwat," causing much bemusement.
"I'm tempted to lead the protest dressed up in traditional costume," protest leader Karn Pongpraphapan wrote online. – Teeranai
---
9:40am
Negotiations have failed. Protest leader Rangsiman Rome has departed from talks with police and has re-entered the protest area. – Jintamas
---
9:36am
Protest leader Nuttaa "Bow" Mahattana suggested it may not be possible for protesters to camp out till evening, let alone for another night.
"It's simply about logistics," Nuttaa said. "We don't have food or water." – Teeranai
---
9:30am
A locator map for the protest site.
---
9:21pm
Activist Ekachai Hongkangwan asserted to Khaosod English his suspicion that police vans are equipped with Long Range Acoustic Devices (LRAD) which can blast soundwaves that disorient protesters.
It appears this is true. Deputy Bangkok police chief Pakapong Phongpetra told reporters police have a range of equipment in case of clashes today: from tear gas to LRADs and rubber bullets.
---
9:23am
Deputy police chief Srivara Ransibrahmanakul, one of the most hated figures among the protest movement, has arrived on the scene.
---
9:18am
A longer protest to be expected? Pro-democracy activist and human rights lawyer Arnon Nampha told Khaosod English just now that they might remain on the streets till 6pm.
---
9:16am
Civil rights lawyer Arnon Nampha disputed the police assertion that demonstrators cannot march to Government House because they lack an injunction from the Administrative Court.
If police want to stop the protesters from walking, they would need an order from a Civil Court, Arnon said.
"Now they have no power. They are only blocking the road on their own," Arnon said.
---
9:10am
Deputy police commissioner Srivara Ransibrahmanakul, who's been put in charge of monitoring the protests, arrives at Government House to report the latest developments to the junta. Srivara personally witnessed the confrontation yesterday, when he was booed by protesters during his visit to police positions just outside Thammasat. – Teeranai
---
9:14am
Waving Thai flags and shaking ballot boxes, the protesters are trying to shout down police.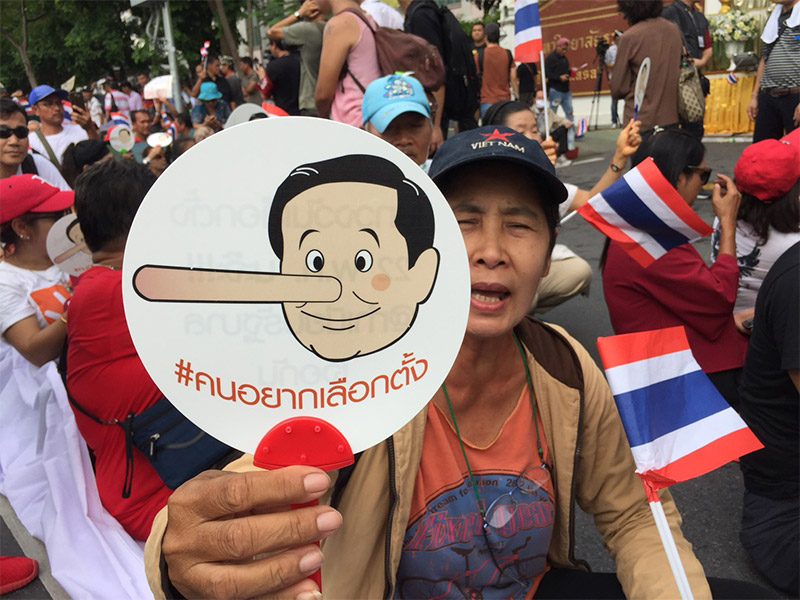 ---
9:07am
The hashtag "People Who Want Elections" or #กลุ่มคนอยากเลือกตั้ง in Thai is trending on Thai Twitterverse today, the fourth anniversary of the coup. Here are some of the conversations taking place:
"I also want election. I think the government should finally return power to the people," @Onjitteke wrote. "But I don't thinkk the rallies by #PeopleWhoWantElection have innocent agenda, judging from reputation and attitude of them that they expressed to the media."
"Demand election, protest election result, coup, keep the loop going," @Noo_aon tweeted.
"I'm 18 now. I want election," @Pe_ar14 wrote. – Teeranai
---
9:04am
Protesters are refusing to disperse and sitting down.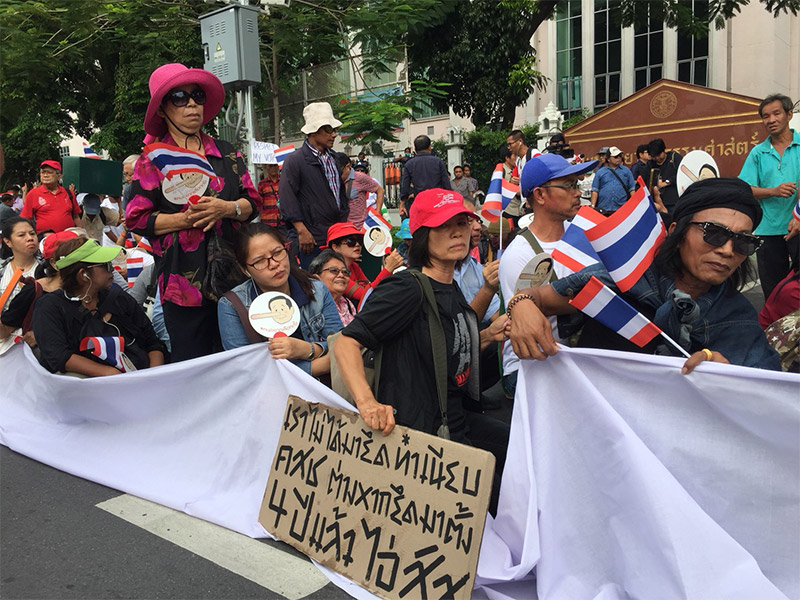 ---
9:02am
A combined force of 20 police companies, numbering about 3,000 officers, are deployed to contain the protesters today. They seem to far outnumber the demonstrators, who appear to be in hundreds. – Teeranai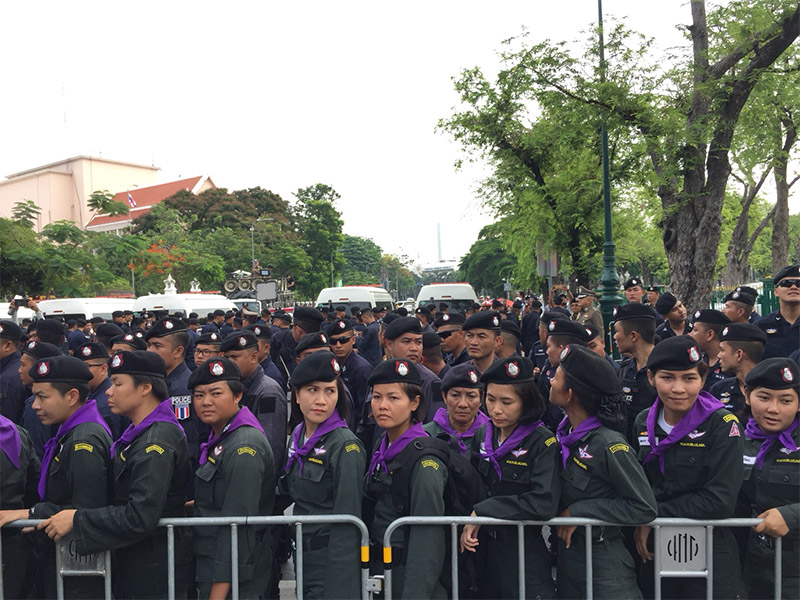 ---
8:59am
A border patrol police woman confirms their orders are to prevent protesters from getting through.
---
8:57am
Police are blocking the march. At Government House, deputy junta chairman Prawit Wongsuwan said he would order police to arrest any protester that steps foot outside Thammasat University.
"If they come out, we'll arrest them," he said.
Gen. Prawit said the junta would only allow the demonstrators to send representatives to Government House and hand their petition.
---
8:53am
"I don't want to see my grandchildren starve," said a protester from Rayong province who works in the fishing industry. She blamed the junta for taking away many fishing boats, ostensibly in their crackdown on illegal fishing practices.
A new measure to control press coverage was put in place by police yesterday. Police commanders require reporters who wish to cover today's protest to register and receive a brown-colored press armband in person at Metropolitan Police Bureau. Reporters are also told not to mingle with protesters. Any reporter who shows up without armband may be prosecuted, according to police.
The Thai Journalist Association rejected that regulation, saying reporters don't need any police-approved armband to do their job. – Teeranai
---
8:49am
March is getting underway. Police are trying to get reporters to leave the campus. Protest leader Nutta is delivering a fiery speech denouncing police as carrying out illegal orders and exhorting protesters to not be afraid. 9am is the time.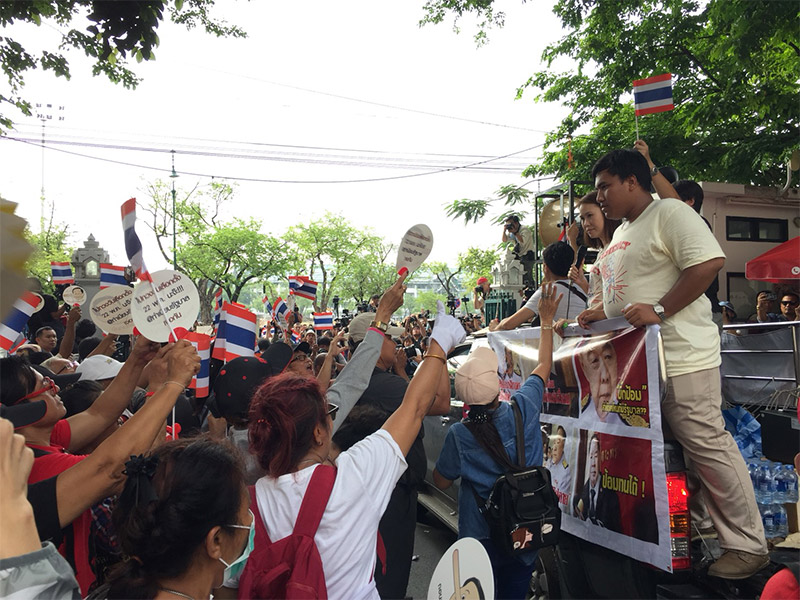 ---
8:46am
The protest movement was hit with a legal blow this morning: The Administrative Court declined to issue an injunction to protect their march today as requested by the activists. The court has issued such protections in the past, most recently the civil rights march from Bangkok to Khon Kaen in February. Story: Rights Marchers Accuse Police of Disobeying Court Order – Teeranai
---
8:40am
Female riot police now seen manning the barricades just in front of Thammasat University, reinforced by male officers in the back. All six lanes of northbound Ratchadamnoen Avenue leading from the university are blocked. – Teeranai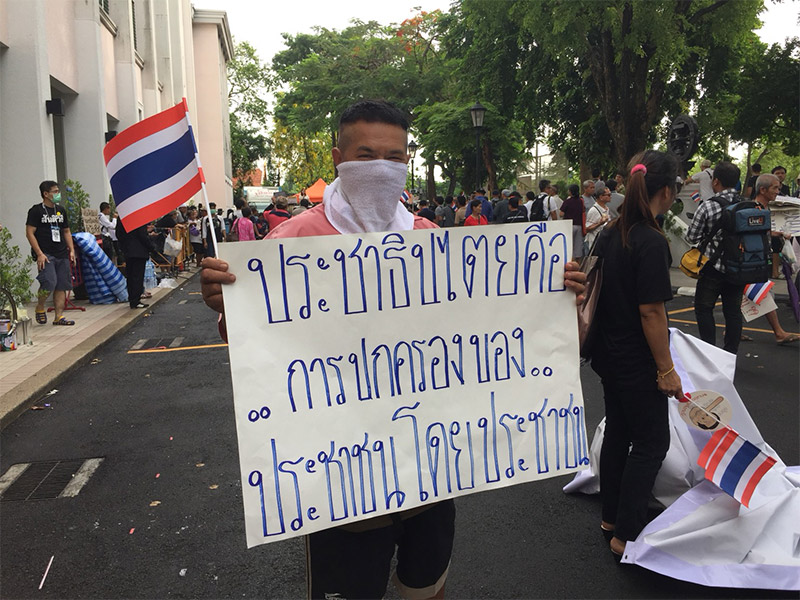 ---
8:38am
Police are citing an Administrative Court refusal to issue an injunction against the ban on political gatherings to exhort people to go home. Protesters are preparing to march on. A voice, sounding like Nutta 'Bow' Mahattana, calls back on loudspeaker that they don't need a court injunction to exercise their civil rights.
---
8:30am 'Activists Failed'
Chulalongkorn University student activist Netiwit Chotiphatphaisal gave a scathing appraisal of the pro-democracy movement's ability to organize.
"In this situation if you know that if you come to protest soldiers may come to your house, so people are afraid … but I think that until now, four years, activists failed for me. Failed to organize very well. I'm not leader of the movement, and I expected more than this, expected more people to come. So the activists failed."
Protest leaders are urging those who could not enter Thammasat University to wait for the march in front of the former Government Lottery Office on Ratchadamnoen Avenue. – Teeranai
---
8:28am
LIVE: Reporter Pravit Rojanaphruk is broadcasting live on location.
---
8:24am
Protester leader Ja New is telling reassuring protesters that the police cannot threaten them. He says they will form three lines to walk out of the Sriburapha Auditorium Gate. – Chayanit
---
8:14am
Rangsiman says they have gotten approval to march to Gate 4 of the Government House.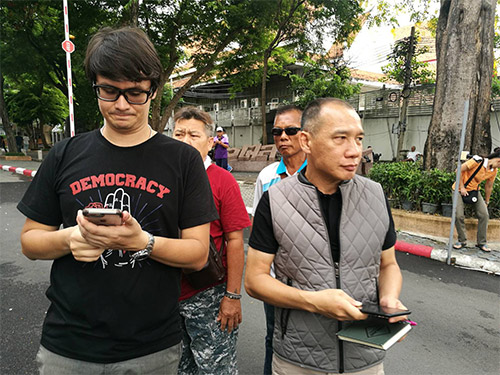 ---
8:10am
Police are telling the protesters to leave, warning them that it is illegal for more than four people to gather. Protesters are booing them. Protest leader Rangsiman Rome is going to talk to the police. – Chayanit
Police tell protesters to go home. Protesters boo police.
---
8:02am
Blocked? Word has it three barricades have been erected along the Sanam Luang and Ratchadamnoen Avenue to prevent them from reaching the Government House. Boy Liew, a protester trained to maintain nonviolence, said they will try to at least make it to the Democracy Monument or Phan Fah bridge. He said the protest would end at about 1pm due to security concerns.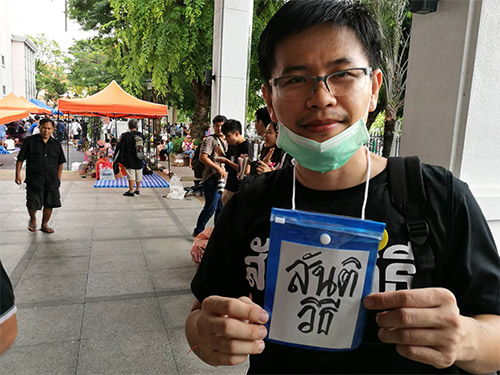 ---
7:56am
Protest leader Sirawith "Ja New" Seritiwat says the march will now begin at 9am.
---
7:48am
Four years ago today, Gen. Prayuth Chan-ocha and his coterie seized power with a terse apology and vowed a brief stay in power. Today, there is little threat to his rule, at least outside of the ballot box. Read this Sunday news feature from reporter Teeranai Charuvastra: Prayuth's Staying Power Owes to Fear of Resumed Discord.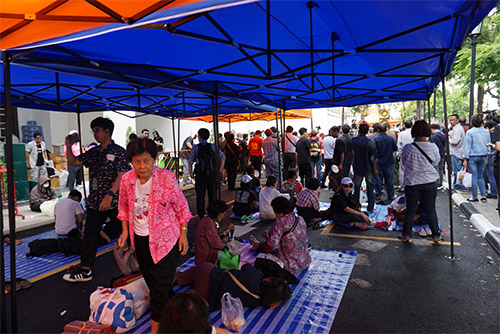 ---
7:39am
Leaders of the Democracy Restoration Group, a confederation of pro-democracy groups that has led recent rallies calling for elections, are speaking from their stage on the campus, just across from the Sanam Luang, or Royal Field. They plan to being their march shortly at 8am.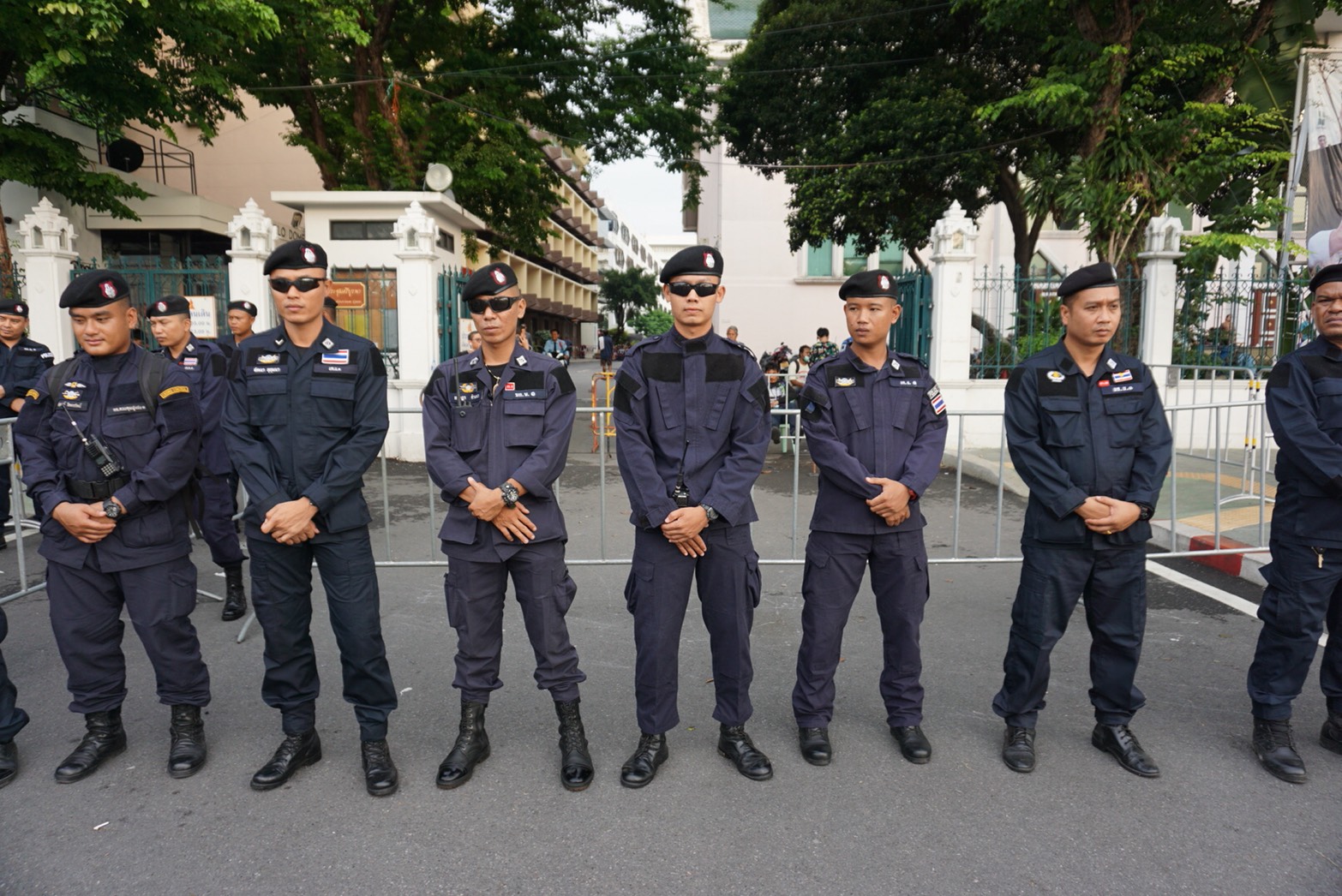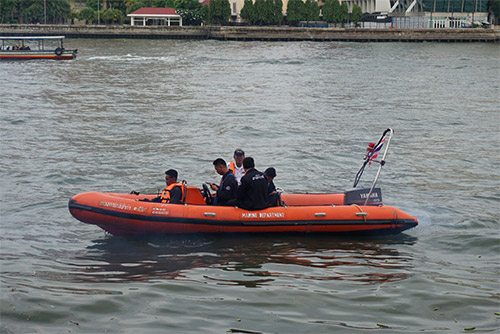 ---
6:57am There's a heavy police presence around the campus from which the protesters plan to head out. Officers are searching the bags of everyone entering the Thammasat campus. The road is closed to vehicle traffic and marine police are patrolling the riverside.