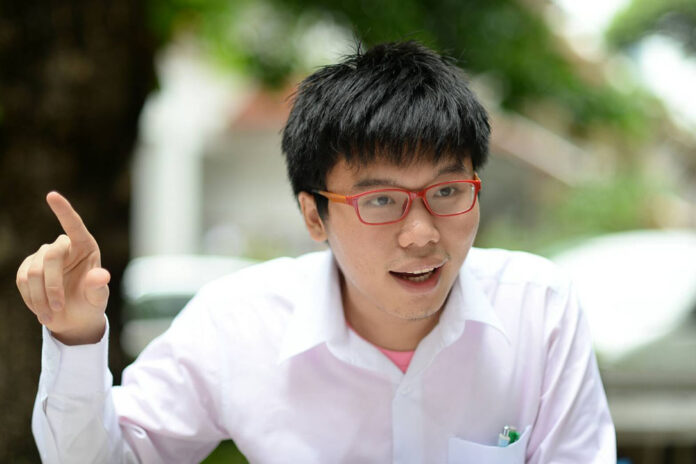 BANGKOK — Student activist Netiwit Chotiphatphaisal was removed from his position as student body president Thursday by Chulalongkorn University.
Four weeks after Netiwit and other student council members decision to walk out of an initiation ceremony, which resulted in one student being assaulted by a professor, the university ruled that Netiwit had acted inappropriately, according to a university order posted by Netiwit.
Four other students were also removed from the student council for participating in what the school and its defenders have described as a stunt to disrupt the ceremony, the document said. Netiwit, who was elected to the post in May, vowed to contest the decision.
"We will fight and appeal to the university," he wrote.
Read: Chula Investigates Student President Over Initiation Altercation
Netiwit, aka Frank, is known for his campaigns to abolish school regulations that he believed to be outdated and inconsistent with liberty, such as compulsory haircuts and uniforms.
The Aug. 3 ceremony was an annual freshman induction ritual in which all members of the incoming class are required to prostrate to statues of two past monarchs.
Netiwit insisted the students are required only to bow. The organizers for this year's event said students may go down on their knees without having to grovel.
When Netiwit joined Chulalongkorn University in 2016, he caused controversy by declining to participate in the ceremony, in which students swear oaths to statues of kings Rama V and Rama VI, citing past royal admonishments against groveling.
The ceremony at Thailand's oldest and prestigious university was introduced in 1997.
When Netiwit and his fellow council members walked out of the same ceremony this year, a professor became enraged, hurling obscenities at Netiwit and placing 21-year-old Supalak Damrongjit, a fourth-year economics student, into a headlock.
The university said it was reviewing the conduct of the professor, Ruengwit Bunjongrat. Netiwit wrote that the disciplinary investigation is still underway.
It's not the first time Netiwit had his electoral victory stripped. He was removed from his post as a student president in his high school in 2013 after having won a landslide vote.
Related stories:
Chula Investigates Student President Over Initiation Altercation
Chula Retracts Statement Sliming Student, Yet Bad Taste Lingers
Chula Admin Apologizes for Student Put in Chokehold
Chula Professors Tackle Student Trying to Leave Initiation (Video)
Citing Trump and Prayuth, Student Activist Rejects American Invite
Prayuth Unloads on Election of Student Critic to Council
Thorn in the Pillar: Freshman Makes Enemies Upsetting Tradition. Allies Too.