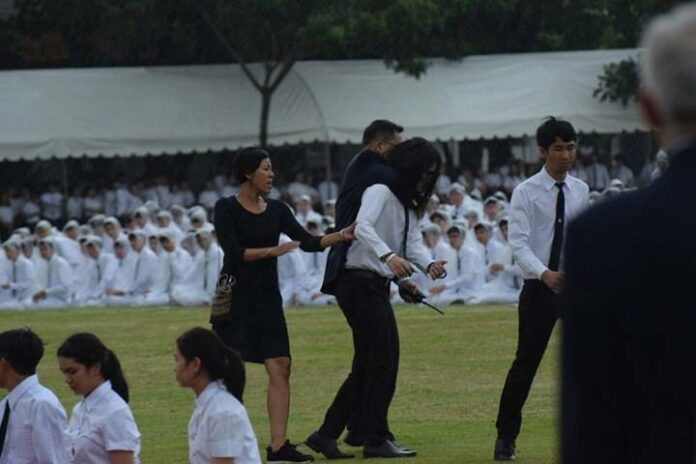 BANGKOK — Students who attempted to leave a freshmen initiation ceremony Thursday afternoon at Chulalongkorn University were tackled by professors, some of whom then tried to take the phones away from students who filmed the incident.
During the ceremony, in which all incoming freshmen prostrate themselves before statues of past kings, a fourth-year student attempting to leave was placed in a headlock by a professor, according to witnesses. They said another professor attempted to confiscate the phones of those filming what happened.
"My friends and I couldn't stand it, so we walked out," activist and student council president Netiwit Chotiphatphaisal wrote in a post Thursday describing what happened. "A professor assaulted my friend and headlocked another of my friends. He pulled his hair and yelled at him like he wasn't a professor."
The university vice president in charge of student affairs acknowledged what happened but disputed the circumstances that led up to the professor restraining the student, Supalak Damrongjit, a fourth-year student at the Faculty of Economics and vice president of student council.
"The freshmen paid respects three times, recited their oath and sang the song. But during the ceremony, Netiwit and his friends came out to pay respects in an awkward way as the student council. This made the officials overseeing the ceremony come out and pull them aside, and thought it looks like an assault, it wasn't," Bancha Chalapirom said.
Bancha identified the professor who put the student in a headlock as assistant professor Ruengwit Bunjongrat, who he said was hospitalized for stress after the incident went public.
"He's a person who loves students and didn't want anything to happen, so he went to pull out the students. Since the video leaked, he's been very stressed and is recuperating at Chulalongkorn Hospital."
Netiwit said by phone that the student who was headlocked plans to file a complaint with the police.
Netiwit became a campus lightning rod when he declined to participate in the ceremony last year as a freshman, citing past royal admonishments against groveling. He was elected student president earlier this year.
According to Netiwit, university vice president of student affairs Bancha promised ahead of time that the event would be cut short if it started to rain. However, when rain began to fall, the professors continued to make the freshmen complete the prostration ritual while passing out sheets of plastic to protect them from the rain.
"We planned that the 2017 initiation ceremony would include three shows of respect without prostrating," Bancha Chalapirom, vice president of Chulalongkorn and head of student affairs said in a statement Thursday. "While the ceremony was going on, the rain wasn't falling hard, just in little drops. The kids could still sit down on the ground."
The complete ceremony involves multiple prostrations, and some students, including sophomore Netiwit, decided to leave.
"You asshole, where's Nene?!" an angry voice can be heard shouting at the student in the video, asking about Netiwit's whereabouts.
Today's incident has been largely panned across social media.
"Is this Chula or a military barracks?" wrote Facebook user Pairach Pansakul in the comment section of a video posted by Fahroong Srikhao of the event. "Confiscating phones, too. I guess this is totally affecting security."
Chulalongkorn University is the kingdom's oldest university and a bastion of the conservative elite, although it is not without progressive elements.
The swearing-in ceremony, at which freshmen prostrate to statues of Rama IV and Rama V in a symbolic gesture of fealty, has come to be treated by many as a sacred obligation since it began in the late '90s.
"This ceremony is only 20 years old, how sacred can it be? What a cruel, sick joke, having to prostrate to someone who abolished prostration," wrote Facebooker Kwanchai Phuntee in a comment on Netiwit's post.
Netiwit Chotiphatphaisal is a famous student activist who infamously walked out on his own swearing-in ceremony, citing that Rama V had banned prostration.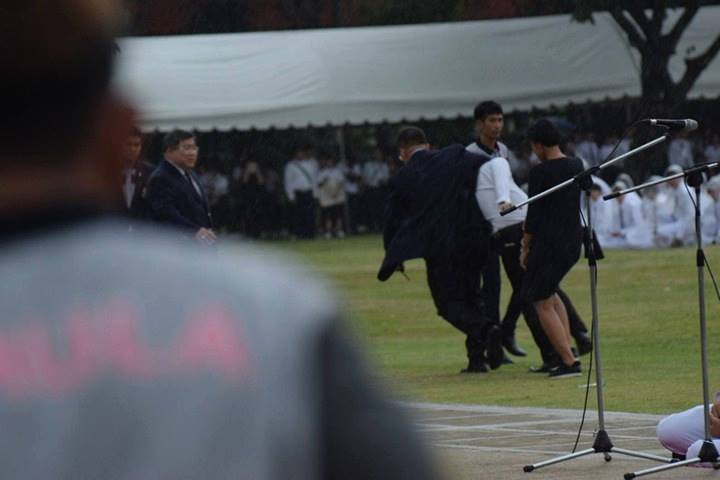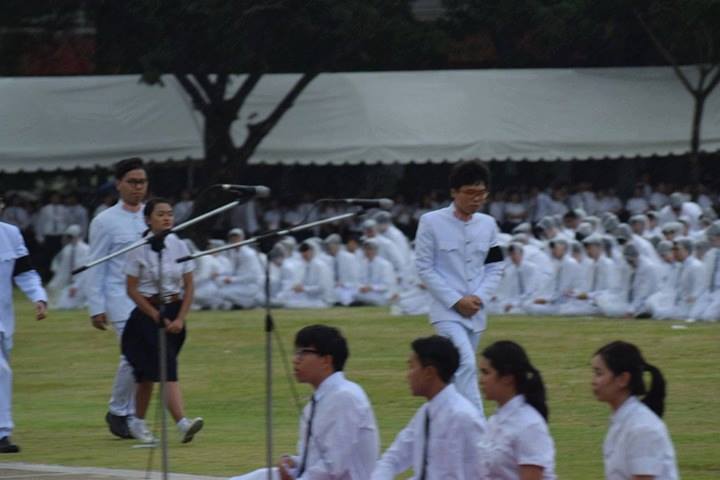 Related stories:
Thorn in the Pillar: Freshman Makes Enemies Upsetting Tradition. Allies Too.
Chula Students Want #ChulassicPark-Era Uniform Rule to Go Extinct