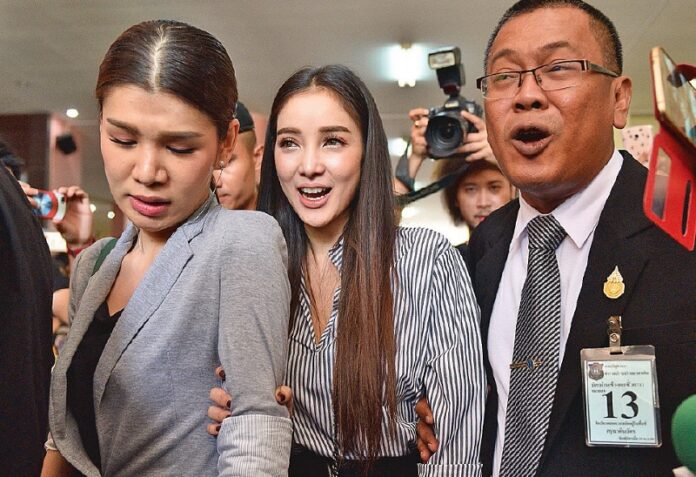 BANGKOK — Prosecutor said Thursday they dismissed money laundering charges filed against a famous television actress.
Prosecutors said they could not find a link between 30-year-old Napapa "Patt" Tantrakul and those who laundered money for a regional narcotics kingpin, despite the fact her husband, who was indicted on the same charge, deposited large sums into her bank account 18 times between April 2016 and February.
Read: Actress 'Patt Napapa' Meets With Police, Denies Charges
The account has also been long used by Patt to receive payments for her work, said attorney general spokesman Prayuth Phetkhun.
He also said the transactions seemed routine for a couple sharing finances, adding that Patt did not transfer the money received from her husband to other accounts.
Patt's newlywed husband, Akarakit Worarojcharoendet, aka Benz Racing, was arrested in February for aiding alleged Laotian drug lord Xaysana Keopimpha conceal his illicit wealth. Xaysana was arrested in January at Bangkok's Suvarnabhumi International Airport. Akarakit remains behind bars without bail.
Patt denied the charges, saying she did not know the 1.9 million baht in her bank account was linked to the cartel, as alleged. She was released May 15 on a 500,000 baht bond after police sent the case to the Criminal Court.
Pat said she only learn about the good news today when a reporter called her.
"I have known all along what I did or did not, that's why I said since the first day to please trust in me," she said Thursday. "I don't know what other people think about me. If they want to judge, I can't help it."
Related stories:
Actress 'Patt Napapa' Meets With Police, Denies Charges
Actress Defies Summons in Narcotics Ring Probe
'Benz Racing' Charged For Lambo Link to Laos Drug Lord
'Pai One Point' Denies Link to Drug Lord Suspect as More Celebs Swept Into Net
'Benz Racing' Denies Having Connections to Laotian Drug Lord