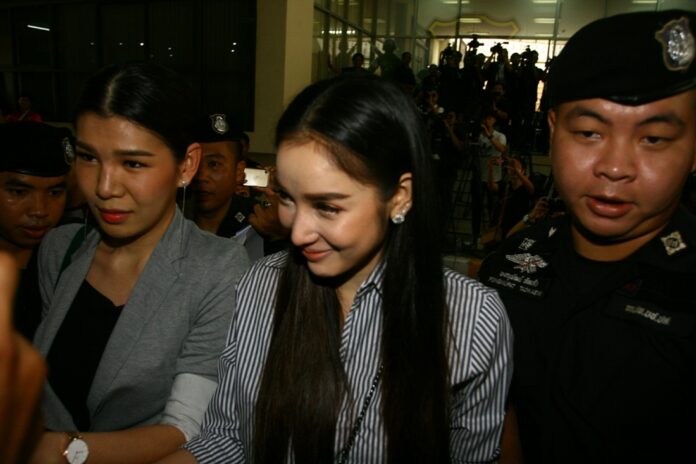 BANGKOK — A celebrity charged with money laundering turned herself in Monday to police to hear charges she aided a transnational drug ring in laundering money, which she denied.
Napapa "Patt" Tantrakul told police she wasn't aware the 1.9 million baht in her bank account was linked to the Thai-Laotian cartel whose alleged leader was arrested in Bangkok earlier this year. The 30-year-old actress met with police after ignoring an earlier deadline set last week.
"She denied the charges," Sommai Kongwithaisook, commander of the narcotics police, said by telephone. "She said she received the money from Benz. She didn't know where it came from."
Lt. Gen. Sommai was referring to her husband, Akarakit "Benz" Worarojcharoendet, who is also accused of aiding the Laotian drug lord Xaysana Keopimpha's money-laundering scheme. Like his wife, Akarakit denied the allegation.
Sommai said her claim is plausible.
"It's possible that she wasn't aware of it," Sommai said. "All she knew was that her husband gave her the money."
Napapa was charged with two counts related to her alleged involvement in helping to conceal Xaysana's illicit wealth through purchase of a 20 million baht Lamborghini.
Since Xaysana was arrested at Suvarnabhumi International Airport in January, police have implicated over a dozen suspects, including businessmen and police officers.
Xayasana is described as having been the biggest drug kingpin in northeast Thailand. He's currently held in prison and police say they aim to try him in Thailand.
Sommai, the drug task force commander, added that police will not seek to keep Napapa in custody when she's brought to court later today.
Related stories:
'Benz Racing' Charged For Lambo Link to Laos Drug Lord
'Pai One Point' Denies Link to Drug Lord Suspect as More Celebs Swept Into Net
'Benz Racing' Denies Having Connections to Laotian Drug Lord