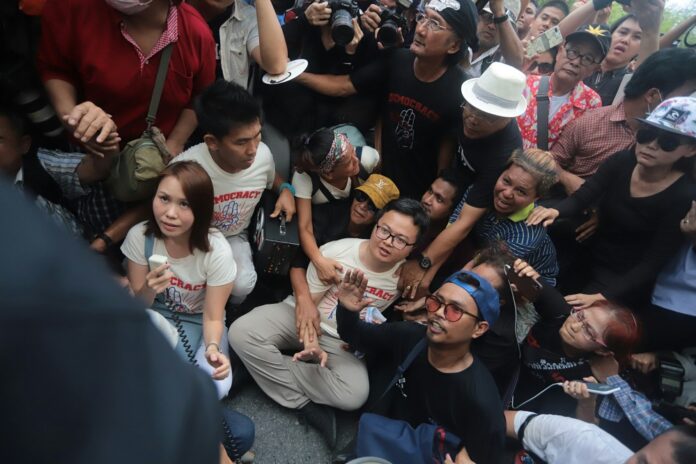 BANGKOK — A protest marking the fourth anniversary of the military coup ended in tears Tuesday afternoon with the surrender and arrest of all key activists.
After Nuttaa "Bow" Mahattana, Chonticha Jaengrew, Arnon Nampha and Ekachai Hongkangwan were seized by police during their attempt to reach Government House, three other leaders – Rangsiman Rome, Sirawith Seritiwat and Piyarat Chongthep – announced they would also turn themselves in, bringing hours of confrontation to an end.
"It's never easy to make a decision," Rangsiman said. "For four years, no one has ever challenged and fought for rights and liberties like how it unfolded today. We have done everything. We have tried everything. But in the end, we might not be able to bring change and return to democracy."
Read blow-by-blow coverage: #CoupAnniversary Protest Live Blog
Some protesters broke down in tears upon hearing the announcement. However, the leading activists vowed to continue their fight against the junta.
Since early morning police have hemmed in the majority of pro-democracy demonstrators at Thammasat University, where they had camped overnight, preventing them from marching to the military regime's seat of power as they planned.
Led by Nuttaa and Arnon, about 100 protesters later slipped from their main encampment marched down Ratchadamnoen Avenue. The protest leaders said they want to march to Government House and demand an election be held within this year.
The group was barred by ranks of police officers just before they reached Makkawan Rangsan Bridge. After a standoff, Nuttaa and Ekachai were surrounded and taken to a police station. Rangsiman, Sirawith and Piyarat surrendered themselves shortly after.
Deputy police chief Srivara Ransibrahmanakul has said he would not allow the demonstrators to take to the streets, and promised legal action. By late morning, the junta filed complaints against the protest leaders, accusing them of staging unauthorized demonstrations.
Nuttaa, Chonticha, Arnon, Ekachai are being held at Phayathai Police Station, while Rangsiman, Sirawith and Piyarat were taken to Chanasongkram Police Station.