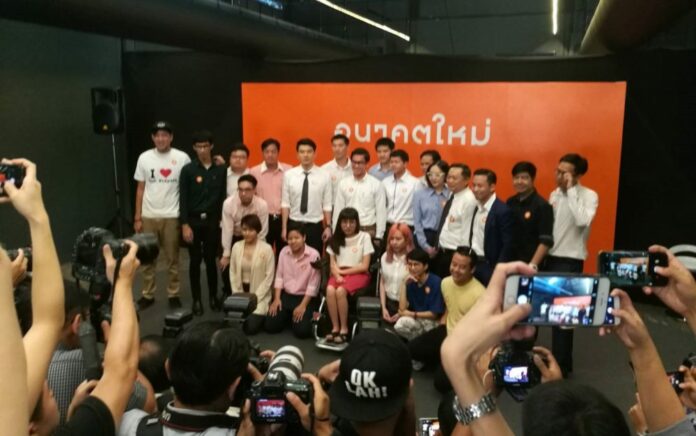 BANGKOK — A new political party led by a multi-billionaire and a prominent law lecturer formally launched Thursday in a bid to win support from those fed up with the decade-long political paralysis.
The newly established "Future Forward Party," or Anakot Mai, led by auto parts billionaire Thanathorn Juangroongruangkit and Thammasat law lecturer Piyabutr Saengkanokkul, wants to offer itself as a choice for people – particularly the young generation tired of political division – to break the long-running political impasse.
"Thailand has been caught in a deep political rift for more than a decade, causing enormous economic and social damage. Political polarization has hindered dialogue and consultation, while dictatorial politics have suppressed the rights and liberties of citizens, putting under lid all the problems and being incapable of ending the division," the party said in a statement released before the press conference that formalized its establishment.
Thanathorn: New Party Will Practice What it Preaches
Thanathorn, 39, who presented the party as the voice of the young and the progressive, said during the Thursday morning press conference in Bangkok that barbaric laws and unjust manners have been used "to shut the mouth of those who think differently."
Thanathorn and other party executives plan to register their party name with the Election Commission after the early morning press briefing concluded.
Until recently Thanathorn sat on the executive board of Matichon Group, which owns Khaosod and Khaosod English. He resigned from the board yesterday.
Co-founder Piyabutr vowed that the party will become a new choice and prove to the public that democracy can work and "is normal and that people alone can solve problems by themselves."
Piyabutr talked about people who will not give in to the problems of Thai society, and about social welfare and equality.
"Future Forward Party has every citizen as owners. Thai politics will not be about destroying enemies but creativity," Piyabutr said, adding that the party's politics will not be about self interest but public interest, and will not be limited to the elites.
"The past will not be determine the future. … Thais must have better livelihoods," the co-founder said, adding that this was a "historical moment" and that "if we don't walk away from the lost decade, we will suffer more damage and it may be too late to redeem."
Chamnan Chanruang, a Chiang Mai-based former law lecturer said he became one of the 26 co-founders of the party because he wanted to see genuine decentralization. Electing provincial governors and ensuring that 70 percent of the local taxes are kept in the provinces and not sent to Bangkok.
"I have been waiting for Future Forward Party for my whole life," Chamnan said.
Other party co-founders include university lecturers, a freelance translator, a filmmaker, a craft beer brewer, a "digital agriculturist" and a number of activists campaigning on a variety of issues, from women's welfare and the environment to rights for the LGBT community and the disabled.
The news conference was held a day after a junta spokesman publicly warned Thanathorn not to violate the ban on political activities imposed by the regime.
Related stories: