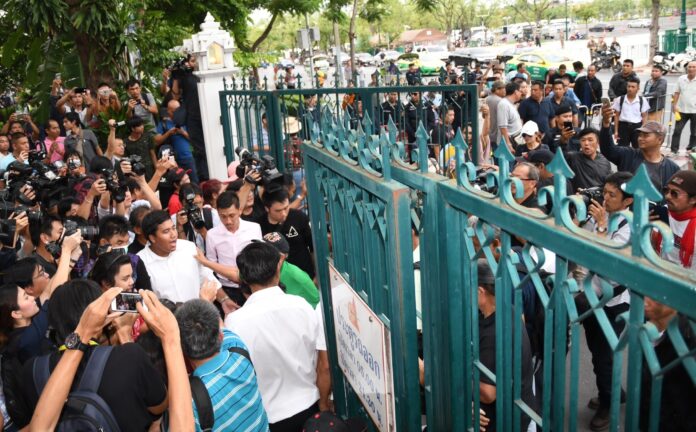 BANGKOK — Thammasat University said Wednesday it would reject a police request to press charges against protesters for "minor" property damage.
A day after Chana Songkhram police asked the university's dean to "cooperate" by formally filing charges against the Democracy Restoration Group for cutting a lock to force the university's gate open, the school issued a statement at about noon saying it would not do so.
Read: Protest Called Off After Police Seize Leaders by Force
"The university sees that the incident happened in a chaotic situation, and the damages were only minor," read the unsigned statement. "Therefore, we will not file charges against the students and protesters."
It went on to thank the police for their "advice" and said it will try seek improved communication with the protest group.
Thammasat, once a bastion for the democratic values upon which it was founded, has been faulted for playing a role in suppressing the pro-democracy rally that took place on its grounds Monday evening and Tuesday morning.
A day before it began, the university closed the football field where protesters initially intended to camp for "fertilizing and pest removal." When protesters arrived Monday evening, the gates were barred to them, a decision police said was made by the school.
Tuesday's rally, a planned march to the Government House on the fourth anniversary of the coup to call for an election this year, ended abruptly when police surrounded protesters and hauled off their leaders by force. They remained jailed Wednesday morning and have been subjected to a raft of legal actions large and small.
On Tuesday, the electrical authority filed charges against protesters – also after a police request – for "stealing" more than 100 baht of electricity from university outlets.
Thitipong Somboonsin, a utility spokesman, said protesters powered their lights and speakers for 21 hours at the university's expense. He said the estimated cost was 122.50 baht.
Update: This story has been updated to reflect Thammasat's decision announced at noon.