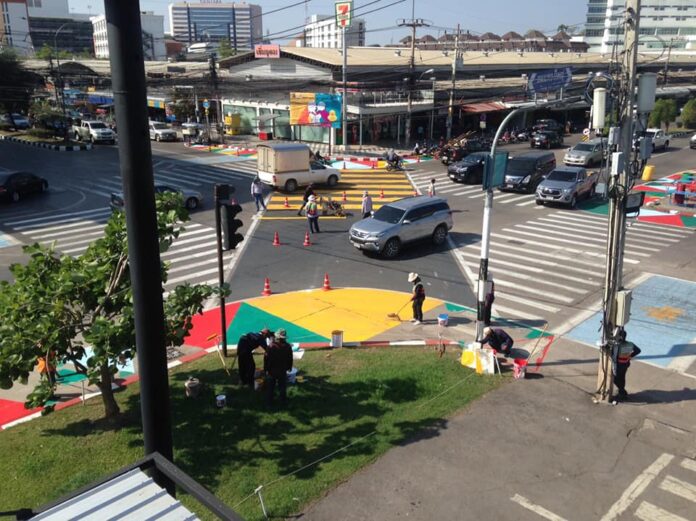 UDON THANI — Travelers to Udon Thani City may be forgiven for momentarily thinking they've stepped out of Isaan and into the beating commercial heart of Tokyo.
A new pedestrian crosswalk near the provincial center's train station was completed today featuring a large diagonal zebra crossing, and it didn't take long for comparisons to Tokyo's bustling Shibuya Crossing to start rolling in.
The crosswalk is part of the an urban planning project organized by the Thai Association of Town Planning along with various architects and developers. It aims to reorganize roads and increase safety for pedestrians.
A member of the project said the inspiration indeed came from the Shibuya Crossing.
"The intersection was mostly filled by motorbikes, buses and food stalls which cause traffic congestion," a project member who would only identify himself as Ton said. "So we wanted to enlarge the pedestrians' footpath space."
The large diagonal crossing makes it convenient for people to walk between several attractions in the area, including a KFC, 7-Eleven, shopping mall and the train station.
"Now people do not have to cross twice to get to their destination," Ton said.
The project took months of study and experimentation at many intersections before the U.D. Town intersection design, named for a nearby shopping center, was chosen.
The new intersection was set to undergo a "test run" at 4pm today, with pedestrians invited to come try it out.