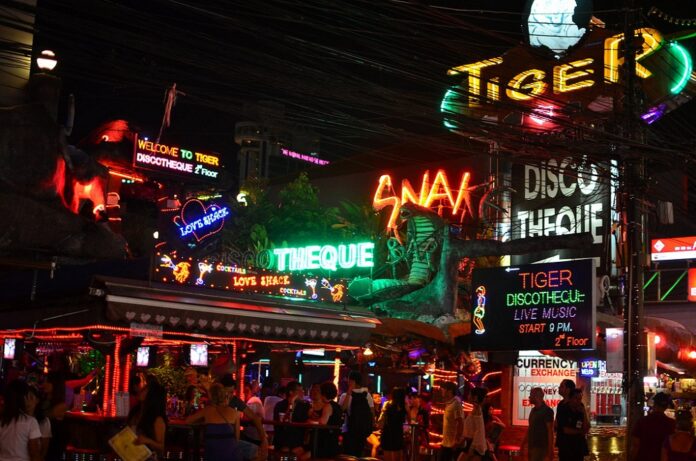 BANGKOK — Twenty-two provinces were named in an updated list of areas where no new pubs, clubs or other entertainment venues can be opened, an official said Tuesday.
The ban, first enacted during a populist morality crusade waged by then-Prime Minister Thaksin Shinawatra, was renewed in a Royal Decree published Thursday. Although existing bars and pubs are allowed to continue operating, new business licenses, theoretically, cannot be issued.
"They can't open new ones," said Wisitthipat Anantarasuchart, who oversees the Interior Ministry's legal division. "The ones that are already there can renew their licenses every Dec. 31."
The 22 provinces are Kamphaeng Phet, Chai Nat, Chumphon, Nakhon Nayok, Nonthaburi, Nan, Pathum Tani, Pattani, Phayao, Phang Nga, Phichit, Phetchaburi, Yasothon, Ranong, Sakon Nakhon, Satun, Sing Buri, Sukhothai, Suphan Buri, Nong Khai, Ang Thong and Uthai Thani.
The ban was based on a law passed by the military government in 1966, which grants authorities the power to regulate drinking and entertainment venues "to protect public morality."
In 2002, the administration of populist premier Thaksin laid the ban over 26 provinces. Bueng Kan was later added to the list when it was established.
The military government in 2016 reviewed the list and asked the affected provinces whether they wanted to remain or opt out of the prohibition, Wisitthipat said. Five wanted out, so they were exempted in Thursday's order.
The five provinces were Kanchanaburi, Bueng Kan, Ayutthaya, Nong Bua Lamphu and Si Saket.