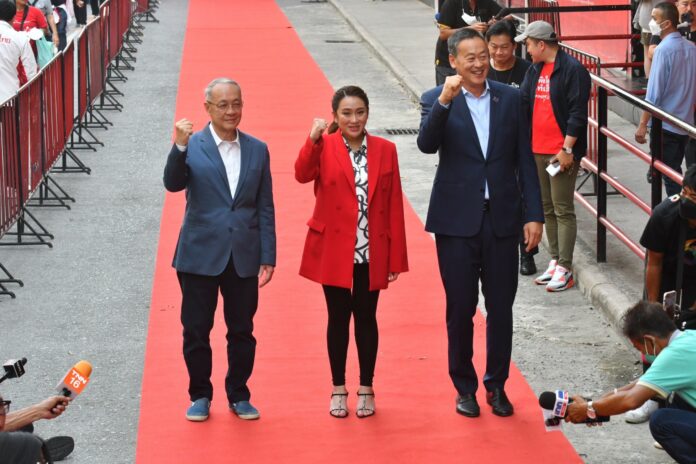 The attack against the third PM candidate for Pheu Thai Party Chaikasem Nitisiri by former secretary general of the disbanded Future Forward Party Piyabutr Saengkanokkul, who said Chaikasem's pledge at a major campaign rally to dealt with former junta leaders swiftly is an act of futile bragging that cannot be materialized, reminds us how the issue of the military as a state within a state continue to haunt Thai society.
Not that Piyabutr is against sending the army back to the barracks and prosecuting people like former junta leader Gen. Prayut Chan-o-cha and his deputy, Gen. Prawit Wongsuwan who staged the May 2014 military coup, but because Piyabutr thinks Chaikasem was all bragging and no action – that the Pheu Thai Party was incapable of delivering it given the fact that it did little or nothing to reform the army when they were in power.
One can also view it as a competition between the two pro-democracy parties, Pheu Thai and Move Forward (the latter being the successor of Future Forward Party) in vying for votes among those who want to see the military out of Thai politics and strictly placed under civilian control.
Much easier said than done. The military, the army in particular, is a state within a state and presents itself as the most loyal institution to the monarchy. They do not just interfere in politics by running the government after staging military coup (as both caretaker PM Prayut and caretaker deputy PM Prawit is a living proof eight years after the May 2014 coup and both now competing to become the next PM next month), but lesser prominent generals sit at many boards of state enterprises and the sitting army chief is always treated by most of the mainstream Thai media as a bonafide person to comment on political affairs.
For example, last week saw army chief Narongpan Jitkaewthae commenting in front of reporters on the incident in which a man spray painted an anti-lese majeste message and an anarchy symbol on the wall of the Grand Palace complex. His comment was widely reported though that should have been the job of the police chief.
This is why in Thailand, people are acquainted with the names (and characters) of army chiefs as the press mistakenly seek political comments from the sitting army chief and not just asking him about whether there will yet be another putsch soon or not.
BTW, there has been 13 "successful" coups since the 1932 revolt, which ended absolute monarchy, so basically we are talking about on an average of one military coup every seven years. The last one led by Prayut and Prawit was in May 2014, so it has been nearly nine years now and another one is statistically speaking overdue.
Relying on political parties to ensure that the army will behave and quietly return to the barrack would not suffice. The now supposedly defunct military junta still have 250 senators selected by Prayut when he was the junta leader, and they will jointly vote with the 500 elected MPs to choose the next PM.
No matter who ends up as the next PM, the specter of yet another military coup in the future cannot be ruled out. On Friday, an authentic-looking army order instructing all its units not to allow the Move Forward Party to campaign about their pledge to abolish compulsory military conscription was leaked.
Clearly, the army views the Move Forward Party as a threat if not an enemy. (Some now say if Move Forward ends up in the government there could be another coup)
Putting the armed forces back to barracks will be most difficult. It will most likely take many years if not decades to succeed as they are deeply entrenched.
The aftermath of the last coup saw just a few thousand Thais resisting putsch on the streets. Not enough people were willing to publicly resist or say no to military coups, most of the leaders of both parties today, and their current PM candidates, including Chaikasem or Move Forward Party leader and PM candidate Pita Limjaroenrat have exhibited little or no courage to publicly oppose junta leader Prayut when the Pheu Thai administration was ousted.
Back then, if half a million Thais were willing to be detained without charge for opposing the junta, there would not be enough space to detain them all and I do not think both Prayut and Prawit will still be running to become PM today.