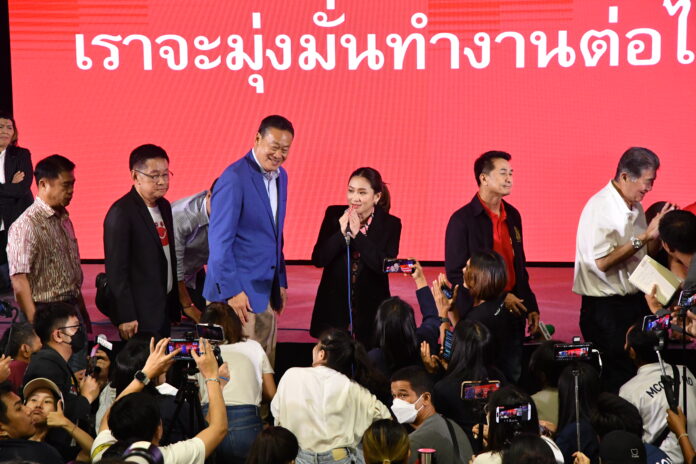 The Pheu Thai Party Headquarters early on the election night was unusually mute unlike four years ago as early poll results showed the party was neck-to-neck against rival opposition Move Forward Party.
A key party supporter who was influential on social media still insisted to me at around 8pm that night the party would win around 220 seats, while Move Forward would get about 100. He could not have been more wrong as his face started to turn pale in disbelief and bitter as the following hours saw Move Forward eventually leading and emerged the biggest winner with 152 MP seats versus Pheu Thai's 141.
What went wrong with the Pheu Thai Party?
For a long time Pheu Thai (and its previous avatars) had no serious competitor in the pro-democracy camp – but not anymore. (Back in the good old day in 2011, they won 265 MP seats and Yingluck Shinawatra became PM)
I am slightly surprised with Sunday's results but not too surprised as Move Forward has been very popular with young voters in the pro-democracy, monarchy-reform camp from the very beginning, while the majority of key Pheu Thai candidates and leaders are much older and unable to communicate effectively and relate with young voters.
Pheu Thai chose not to push for the amendment of the controversial lese majeste law. That's mean Move Forward is left as the only major and viable party with the pledge to amend the law and thus 90 percent if not more of the monarchy-reform camp have only Move Forward as the choice.
There were three million first-time voters. The vast majority of young monarchy-reformists are young to very young. Move Forward got 14 million party-list votes compared to 10 million of Pheu Thai. Go figure.
Pheu Thai also made a few major missteps in the weeks leading to the general election day, however.
First, they were ambivalent until the very last minute whether they entertained the idea of forming a coalition with the ruling pro-junta Phalang Pracharath Party or not. The party is led by former deputy junta leader Gen. Prawit Wongsuwan and had supported Gen. Prayut Chan-o-cha to become PM after the previous election in 2019.
The mixed message costed them dearly and even on the election night, a reporter still asked Pheu Thai leaders that they were still considering a coalition with Phalang Pracharath, a clear sign that some reporters were not convinced even after the repeated denials in the last week before the election.
The party also fielded three PM candidates but have never made it clear which one would be their first choice as PM candidate. On the other hand, Move Forward only has one candidate and its candidate, Pita Limjaroenrat, presents himself as the next prime minister at various debates.
What's more, the de facto party leader, ousted and fugitive former premier Thaksin Shinwatra,  tweeted a few days before the election that he wants to come home from his self-imposed exile, reminding some voters that perhaps Pheu Thai is more about the Shinawatra clan than about them.
The Pheu Thai Party is basically getting older, while pro-democracy young voters felt the part has been given several chances in the past and when it got most seats in 2019 were unable to form a government.
It cannot be denied that there is also something attractive about a novelty. Many voters wanted to give this new party called Move Forward a chance to run and change the country as it promised. For the meantime, Move Forward and its leader-cum-PM-candidate Pita is as popular as the newest imported donut chain which has just been opened in Bangkok and has many people queuing up for hours to sample the taste of the new sweet in town.
Thaksin himself admitted on Tuesday during his weekly online talk that Move Forward offered a better packaged product than Pheu Thai, more savvy on social media with many organic promoters, while party supporters said Pheu Thai needs rebranding. Crude as it may be to compare political parties to products, such analogies offer a glimpse on why Pheu Thai did not win most seats and won much less than their own projection.
First, Pheu Thai, if it is a business, is a family business under the control of the Shinawatra clan with Thaksin as the patriarch and some consumers (voters) feel they are not really listening or genuinely responsive to them and the final say is with Thaksin, the de facto party leader, who is in Dubai.
Move Forward, meanwhile, is more like a co-op with much greater participation from customers and shareholders (voters and party members) and that can be seen with the fact that the party received the largest public donation (through tax deduction) to fund them out of all parties despite it being one of the newest parties and no single family or clan owns the party.
One can think of the Democrat Party not being under the control of a single family but then again, the party has sold out over the years after their repeated support of military regimes, one after the other – so the product advertisement does not match the reality, and some say the party should drop the word "Democrat" from its name as it is an oxymoron.
Elsewhere we see political parties as "family business" not unlike that of Thaksin, think of Silpa-archa clan and Chart Thai Pattana Party and the patronage politics in Suphan Buri province or Liptapanlop family and Chart Pattana Kla party as examples.
Pheu Thai as a dynastic political party, or family-owned company, is why Thaksin's daughter Paetongtarn Shinawatra was a PM candidate. It is out of sync with the concept of meritocracy subscribed by growing number of Thais fed up with nepotism.
Second, and equally important, that Pheu Thai and Move Forward are not really selling the same products as Pheu Thai made no attempt to reform the lese majeste law, they are thus products from two different segments like one watch with waterproof quality while the other with no waterproof guarantee.
The problem with Pheu Thai is essentially more than just rebranding or marketing as the problem is at the very DNA of the party, with Thaksin, and now getting out of touch with the majority of young voters who want more fundamental change in Thailand. In the final analysis, a political party is more than just a business or a brand and to think of it as such would only be corrosive and detrimental to the party itself.