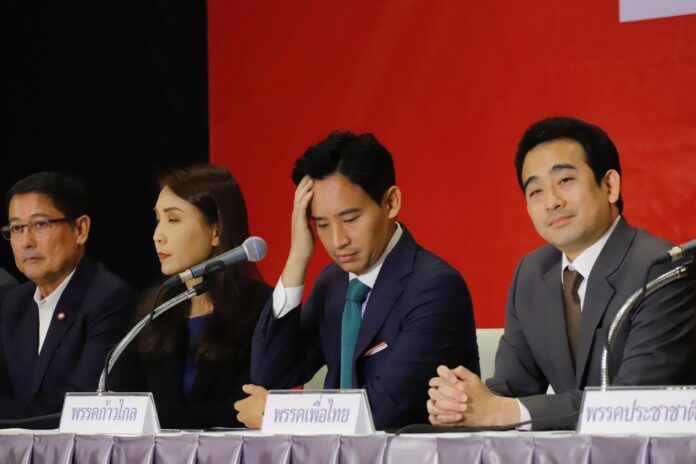 A farce, a charade, a travesty of justice, ludicrous, shambolic, and absurd – these are some of the words described the reactions of some Thais and foreigners upon learning that the Election Commission on Friday has consider to take up the case on whether Move Forward Party PM candidate Pita Limjaroenrat has violated Article 151 of the election laws by holding ITV media shares.
Article 151 criminalized anyone who applied to run for MP knowingly that he or she lacks the qualifications – and holding media shares disqualifies you. Pita could face between one to 10 years in prison, slapped with a fine between 20,000 to 200,000 baht, and banned from voting for 20 years. Basically Pita, who refers to himself as "PM elect" could be kept out of office for 20 years. He is still 42 but when he is back, he will be 62.
The intention of Article 151 was to prevent any candidate from unfairly using mass media to support them in elections and when they are in office. This makes sense.
Everyone knows that ITV has been defunct, not active as a mass media for 16 years and that Pita's 42,000 shares, inherited from his late father, was insignificant. Yet it has not stopped the Election Commission from taking up the case. Why?
In a normal democratic society, this is just an ordinary part of the check-and-balance system. In Thailand, it is part of an elaborate scheme to prevent voters from choosing their own government, however.
All of the seven commissioners were selected and appointed by the very people who were in turn, selected and appointed by the military junta, the National Council for Peace and Order (NCPO), which was led by the junta and coup leader Gen. Prayut Chan-o-cha, who is still nine years after the coup, caretaker PM.
Meanwhile, neither the EC or the court has ever casted doubt that perhaps Prayut, as a former coup maker and junta leader should not be qualified to compete as a PM candidate – never. It is as if these people can only read the letter of the laws and not understanding the spirit of democratic system.
While some said the Pita's case will drag on for years, since it will go to the Criminal Court, but once charged, Pita would have to vacate his (PM) post (if elected). "If elected" is a much bigger "if" now for many if not most of the 250-junta-appointed senators will likely cite the EC's taking up of the case against Pita as a justification for not voting for Pita as PM.
If Pita's supporters take to the streets, some rogue generals are more than ready to intervene and cite a clash between both sides as a pretext to stage yet another military coup. Army Chief Gen. Narongpan Jitkaewthae said just days before the May 14 general election that he cannot promise that the army will stay in the barracks if there is political turmoil.
The only way to defeat yet another possible coup attempt is to have enough people on the streets willing to be imprisoned – 100,000 or more, at least.
This is where Thailand found itself four nearly a month after the general election. The elaborate attempts to subvert the will of the people who casted their votes continue. It is as if those who seized control of the state in the 2014 coup and the men and women they appointed have no shame and the charade will continue to pretend that this is just a matter of the rule of law, and not the rule by law.