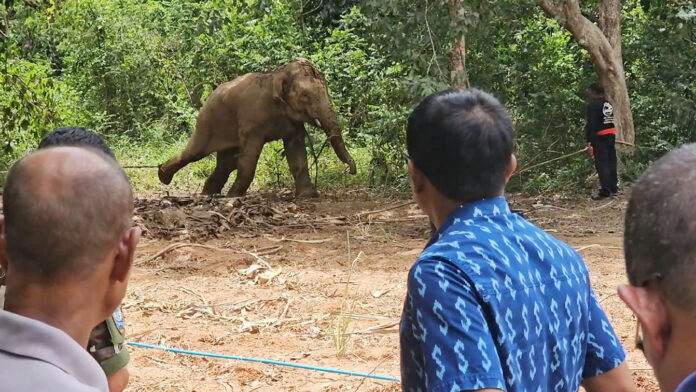 The court now has ordered that Plai Khai Nui, a wild elephant that has been living in a community area in Nakhon Si Thammarat Province in southern Thailand for two years, be moved out of the area by August 22.
However, the officials later requested permission to extend the deadline in order to look after the elephant's health and locate him a suitable new home.
This could be a long-term case study on how to deal with conflict between humans and wild elephants in Thailand.
According to the order of the Nakhon Si Thammarat Administrative Court, Plai Khai Nui is controlled by National Park Department officials by blocking off a restricted area on the edge of the forest behind the Klong Lai Watershed Management Unit's office since being arrested on August 12 in the Mueng Kao forest, Na Reng Subdistrict, Nop Phitam District.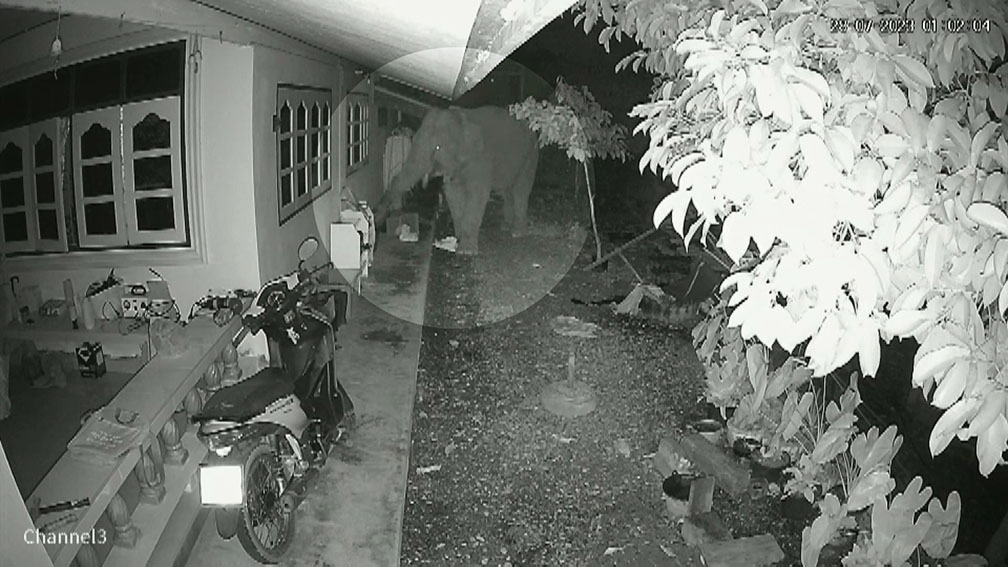 It took authorities several hours to capture Plai Khai Nui and bring him under control so that he could be released in the wild in other regions.
The plaintiffs in this case are 104 people who are suing the Director-General of the Department of National Parks, Wildlife, and Plant Conservation, requesting that the court order the Department to relocate this wild elephant to a more appropriate region after it destroyed crops and property in the community.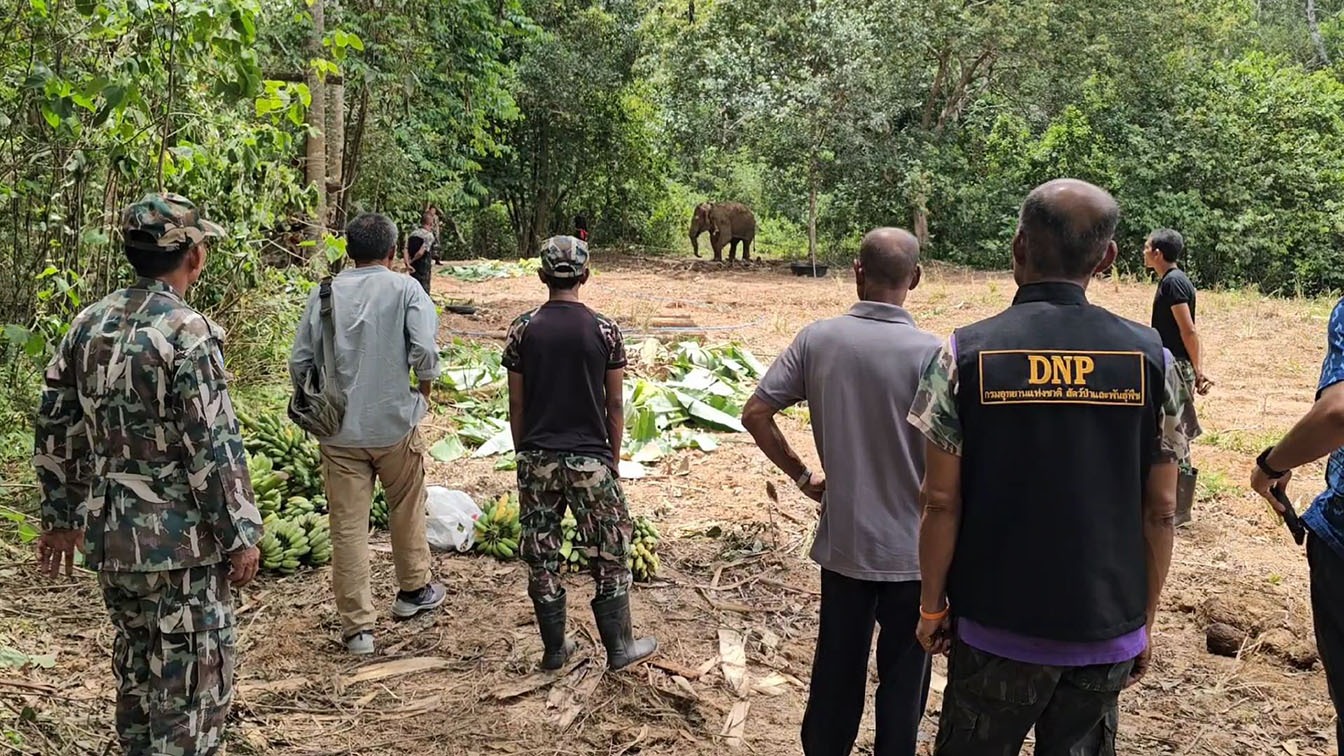 During this time, park officials from Khlong Klai Watershed Management Unit, Khao Nan National Park, and Krung Ching Waterfall National Park set up a team to watch over Plai Khai Nui 24 hours a day. Mahout Aod or Wiroj Supradit, a local mahout assigned by the Department of National Parks, is also helping to care for the elephants. When compared to other wild elephants, Plai Khai Nui acts in strange and violent ways.
Officials ask villagers to bring food for the elephants. To change what Plai Khai Nui eats, they ask people to bring food from the forest, like wild bananas. They haven't given him permission to eat homegrown fruit or durians.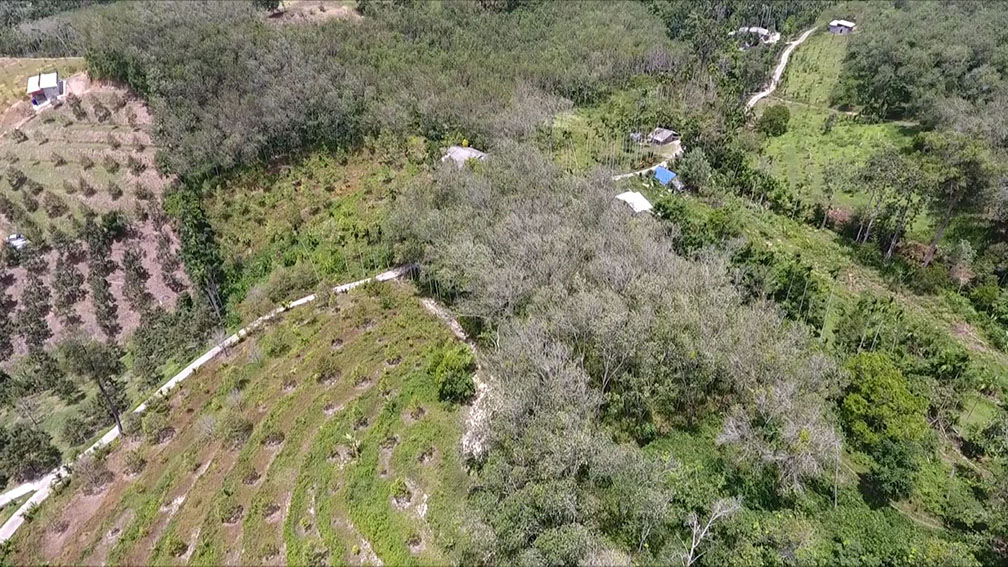 Veterinarians are also there to check on the health of this wild elephant. They found that he had a cut around his trunk, many sores on his skin, and needed to be isolated until his health problems improved before he could go back into the wild.
Previously, a male wild elephant in Loei Province, northeastern Thailand, was shot dead in the forest of Ban Nam Phu, Si Song Rak Subdistrict, in Dan Sai District. One villager found him on August 17 and notified the authorities.
Officials from the Phu Luang Wildlife Sanctuary examined the elephant and found that him had been shot seven times, including four times in the head and once in the middle of the forehead. They thought the elephant was dead for more than a week.
People who don't like having elephants go into their farms could be the ones responsible. But the police have not yet taken anyone into custody.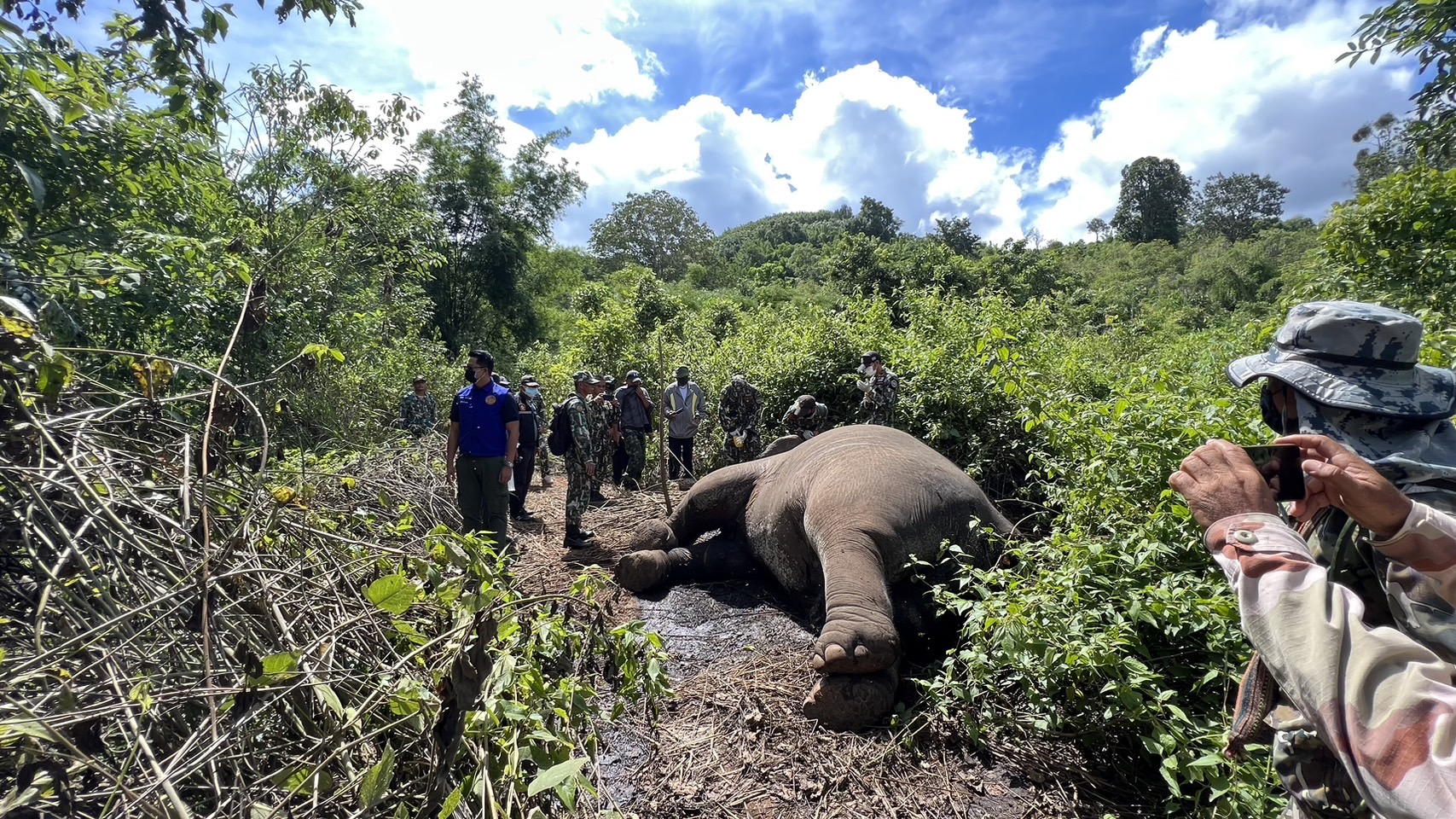 Under the Wildlife Preservation and Protection Act of 2019, "elephant" is the 127th protected animal. This law says that no one can hunt protected and saved wildlife. A person who breaks the law can go to jail for 1–10 years or pay a fine of 1,000,000 baht, or both.
Elephants going back to their old homes in places where people now live has been a sensitive topic for a long time. As the elephant is the national animal of Thailand, the government set up an Elephant Conservation and Management Committee last year to help solve the issues.
_____
Related articles: