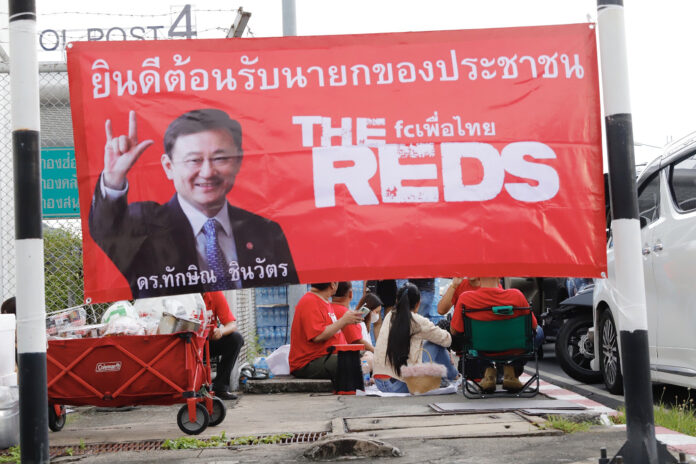 Ousted and fugitive former premier Thaksin Shinwatra's scheduled return to Thailand on Tuesday, Aug. 22, the same day for the bicameral vote for PM, after a decade and a half in exile means he is now confident the Pheu Thai Party will be back in power.
According to his daughter Paethongtarn Shinawatra, she will be awaiting Thaksin's arrival at 9am Tuesday. The vote for the new PM, with Srettha Thavisin as Pheu Thai PM candidate, will take place at around 3pm on the same day, according to Parliament President Wan Muhamad Noor Matha.
That means the 74-year-old Thaksin must be supremely confident the vote is all but a matter of formality as he would have to rely on a generosity of the Corrections Department in hosting him at 'Bangkok Hilton' soon after his arrival for corruptions and abuse of power convictions (at least initially until he seeks a royal pardon or be allowed to move to a hospital, citing ill health and old age) and other state organs including the police and the Justice Ministry to be under Pheu Thai Party's control if not imminent control or influence.
If Srettha is elected on that same Tuesday, which is the day after tomorrow, The Pheu Thai Party would not be legally running the government right away until they are appointed by HM the King. Pheu Thai Party deputy leader Phumtham Wechayachai was quick to deny yesterday the party has anything to do with Thaksin and his return, however.
Believe Phumtham at your own peril but we all know Thaksin is the founder and towering figure of what is now the Pheu Thai Party and essentially de facto leader for life of the Pheu Thai Party. This explains why his younger sister Yingluck Shinwatra, became PM despite little prior political experience and also why his daughter, Paethongtarn, is now one of the three PM candidates for the party although she is a political novice and only 36.
At one time, but not during this election campaign, the Pheu Thai Party's election slogan was "Thaksin Thinks, Pheu Thai Acts." Only a fool should believe this political party is not primarily controlled by Thaksin from exile over the past decade.
Wanting to be back to Thailand to spend his remaining years at home (there is no point returning on a wheelchair or when you are too sick to enjoy your billions of baht), Thaksin, or rather the Pheu Thai Party, apparently has made the ultimate deal by getting the two major pro-junta de facto military parties on board as part of the coalition.
This is probably the only way for Pheu Thai to form the government as under the unfair rules stipulated in the junta-sponsored constitution. They will be needing dozens of the votes from the 250 junta-appointed senators to clinch the PM seat. That means both the United Thai Nation Party, which had former junta leader and caretaker PM Gen. Prayut Chan-o-cha as its PM candidate, and Phalang Pracharath Party, whose leader is former deputy junta leader and caretaker Deputy PM Gen. Prawit Wongsuwan, are indispensable in attracting the necessary junta-appointed senators' votes.
There is no such thing as a free lunch and Pheu Thai's decision to form a grand coalition with the two pro-junta parties comes with a price.
During the campaign, its leaders, including PM candidate Srettha, vow not to be in a coalition with pro-junta parties. Now they just have to find ways to basically say they did not lie but that either the situation has changed, or this is for the best of Thailand's future.
One key Pheu Thai promoter, starchitect Duangrit Bunnag, a key member of Care Group, which is a Pheu Thai's Think Tank, was so certain that such scenario where Pheu Thai is in bed with United Thai Nation, Phalang Pracharath, and Bhumjai Thai was impossible that he recently posted on social media daring others to throw feces on his head if such scenario turns out to be a reality and told worried people to stop imagining.
Duangrit has yet to honor his words as of publication time Sunday. To be fair to Duangrit, I really do not know whether he flatly lied to the public or was taken for a ride by the Pheu Thai Party – a victim of Pheu Thai propaganda.
Meanwhile, de jure Pheu Thai Party leader Cholnan Srikaew publicly declared before the May 14 general election, "I, the party leader, clearly declare we won't join hands with Phalang Pracharath. We won't join hands with [Gen.] Prawit. If we do, I will resign as leader of the party." As of press time, Cholnan has expressed zero interest in resigning and a leaked new cabinet lineup saw Cholnan being the new Public Health Minister.
It is not just promises broken (or lies) as a result of Pheu Thai getting United Thai Nation and Phalang Pracharath on board that would have a long-term negative impact on Thai politics, but the new government will likely not be able to reform the armed forces and police as they are crucial to the powers of the deep state.
Civilian control of the military will continue to be a pipe dream for Thailand. What's more, what the military junta has failed to achieve over the nine years of military and subsequently semi-military rule is now a reality – a breakup of the so-called "pro-democracy" camp between Pheu Thai and Move Forward and their respective supporters.
There is no denial that Pheu Thai will now get a chance to prove it can turn the Thai economy around and that seems to be their strength judging from its past record. They have not been in power since the May 2014 coup, led by Prayut and Prawit, which ousted its government and to say the Thai economy did not do well under Prayut is a huge understatement. This is Pheu Thai's strength.
The established elites, and deep state, so wary of Move Forward Party's pledge to amend the controversial lese majeste law and more can also breath a respite for the meantime as Move Forward Party will be in the opposition.
Thailand's attempt to send the army back to its barracks nearly a decade after the coup has failed and the Pheu Thai Party has chosen to be in bed and share power with them instead. But at least Thaksin will (finally?) get to return home.
He will no longer be just another Jack Ma-looking billionaire strolling in Dubai, Hong Kong or London. Here in Thailand, he is Thaksin Shinawatra, "the longest-serving democratically elected Prime Minister of Thailand" as he described himself on his Twitter account in English. And those working under him refer to him "nai yai" (นายใหญ่) or "the Big Boss". It was a high price to be paid for Pheu Thai and Thailand itself to have the Big Boss returning home.
_______
Previous articles: