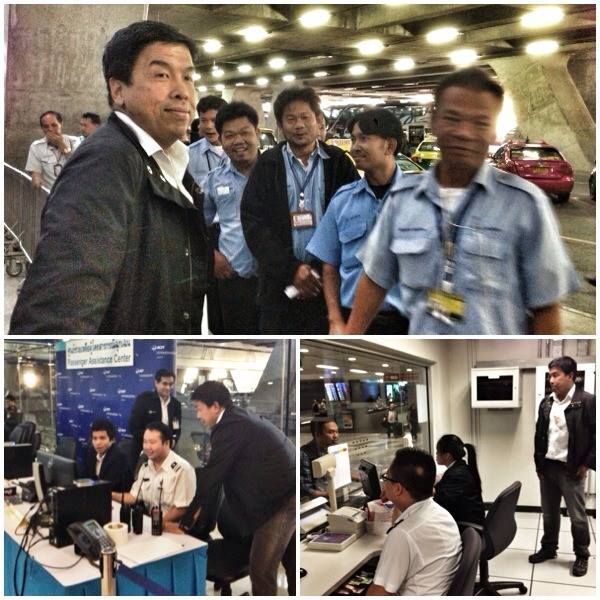 (13 January) Transport Minister Chatchart Sitthipan has asserted that public transportation has been able to cope with "Bangkok Shutdown" so far.
"I have inspected the eastern zone [of Bangkok] such as Lad Krabang, Suvarnabhumi Airport, Airport Link, Aeronautical Radio of Thailand," Mr. Chatchart said on his Facebook post, "Generally, the situation can still be handled".
He added that the effect of the "shutdown" might have been partially eased because many citizens have avoided traveling and many schools have been closed down.
The "shutdown" has been engineered by supporters of the People′s Committee for Absolute Democracy With the King As Head of State (PCAD), who have been occupying a number of major intersections, landmarks, and roads in Bangkok in the bid to unseat Prime Minister Yingluck Shinawatra.
In the Facebook post, the Transport Minister also claimed he had talked with taxi drivers at Suvarnabhumi Airport, instructing them to exercise restraint and take care of their passengers.
"I am very worried that there would be confrontation between motorists and the protesters," Mr. Chatchart said.
More than 30 public bus routes have been diverted in many districts, such as Ladprao Intersection, Victory Monument, Chaeng Wattana Road, Silom, Ratchaprasong, and Siam, according to Mr. Chatchart, warning that the public should avoid these areas for the time being.
He also dismissed rumours that he had ordered a halt in the rail service along southern Thailand, the stronghold of current anti-government protests.
"Even if I did that, it would be useless and I would only be criticised for nothing, because much of the mass travels by buses, vans, and personal cars," Mr. Chatchart explained in the Facebook post, adding that he has performed his duty without political discrimination.
Previously, Mr. Chatchart has said to reporters during his inspection at Suvarnabhumi Airport that the police and soldiers are doing their best to maintain public safety at the airport.
He also asked that the Network of Students and People for Reform of Thailand (SRT) reconsider their threat to shutdown the offices of Stock Exchange and Aeronautical Radio Thailand unless Ms. Yingluck resigns by 15 January.
"It would massively affect the global flight systems that fly across Thai airspace," Mr. Chatchart said.
Although he cannot convince the SRT to abandon their plan, Mr. Chatchart told reporters, he would like to ask them not to carry out the threat, since it is beyond the protesters′ democratic rights.
Asked whether he believes a military coup is possible, Mr. Chatchart simply said that "there has always been this kind of rumour".
For comments, or corrections to this article please contact: [email protected]
You can also find Khaosod English on Twitter and Facebook
http://twitter.com/KhaosodEnglish
http://www.facebook.com/KhaosodEnglish