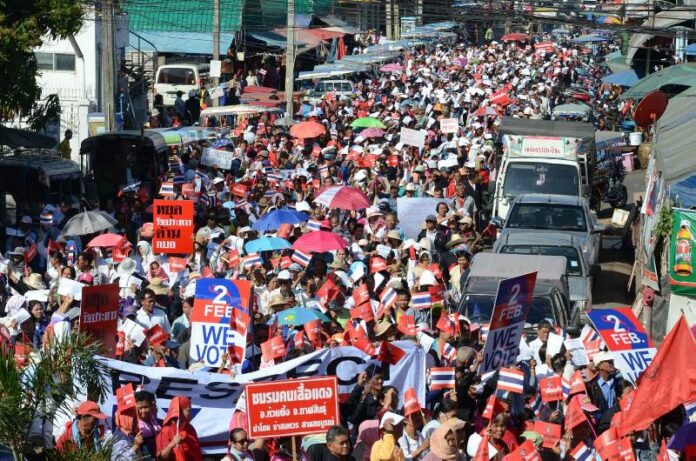 (13 January) Local Redshirts and other citizen groups in upcountry provinces have staged rallies and demonstrations to oppose the "shutdown" of Bangkok by anti-government protesters.
The demonstrators also expressed their support for the 2 February election, which anti-government protesters led by the People′s Committee for Absolute Democracy With the King As Head of State (PCAD) is calling to be scrapped.
Instead of an election, PCAD has demanded that an unelected ′People′s Council′ be installed to implement series of "reforms" deemed necessary by PCAD leadership. In the bid to pressure the government to bow down to this demand, PCAD supporters have occupied many roads and intersections in Bangkok today.
But PCAD′s move to "shutdown" Bangkok and its demand for ′People′s Council′ has angered many Redshirts and citizens who wish to see the election on 2 February, and they have staged their own counter-protests across 16 provinces to express their stances.
In Chiang Rai province, over 3,000 demonstrators marched from Chiang Rai City Hall to Pho Khun Meng Rai Statue to protest against violence and PCAD′s occupation of Bangkok.
Around 1,000 people led by ′Northerners Love Thailand′ group later marched to the Royal Thai Army′s Camp Meng Rai Maharaja to demand a promise from the army not to stage any coup against the government. However, the military sent no representative to respond to the protesters′ demand.
Separate protests in the province were held by Chiang Rai′s local chapter of the United Front of Democracy Against Dictatorship (UDD) and ′Laotian Mothers Love Democracy′ group to protest against the PCAD and renew calls for the general election to be held as planned. The protests were joined by 300-500 people.
In the northeastern region of Nakhon Ratchasima, a group calling themselves ′People of Korat Love Democracy′ staged a rally in front of The Mall department store, which was joined by over 3,000 people from 32 districts. The group was protected by UDD guards and 30 police officers.
Some placards held by the protesters read, "Stop Coup", "Against Violence", and "Respect my rights under the Constitution, thank you for no coup".
The demonstrators later marched to Thao Sura Naree Statue, where they released over 3,000 red-white-blue balloons as a gesture for peace. The protest leaders also read out statements detailing their three principles: oppose all forms of coup d'état, oppose the shutdown of Bangkok, and support the 2 February election.
Meanwhile, in Pathum Thani province, just outside Bangkok′s urban perimeter, around 5,000 demonstrators marched with white balloons in support of the 2 February general election. They also expressed their support for governmental officials in the province.
Mr. Pongsathorn Sajjachonphan, the Governor of Pathum Thani province, later greeted the protesters and stated that he wished to see no violence. "Everybody wants to see a peaceful country", he told the protesters.
Pathum Thani recently saw a violent confrontation between local Redshirts group and PCAD supporters who marched in the province inviting citizens to join the shutdown of Bangkok. A number of people have been injured in the clash, and some of them had been wounded by gunshots.
Elsewhere in the country similar pro-election demonstrations were held, such as:
Kamphaeng Phet: 3,000 people have gathered in front of the City Hall to support the election. Ms. Katriya Kritattakarn, Member of the Provincial Administrative Organization (PAO), stated that she and fellow protesters are ordinary people who wish for a democratic regime under the King as Head of State.
She stated that they do not want any party or movement to derail the election, and they will not accept any representative body appointed without democratic principle. The group later marched around the provincial municipality area asmany supporters joined.
Phayao: Approximately 5,000 protesters, some of them UDD supporters, marched in support of the election. They also gave roses to the police representatives to show their solidarity and launched white balloons as gesture of non-violence.
Mr. Siriwat Jupamadtha, Phayao UDD Coordinator, said that pro-democracy Phayao locals wish to demonstrate their wish in 4 points; (1) oppose any forms of coup, (2) oppose PCAD and their preceding Yellowshirts group (3) support the police (4) support the election.
Udonthani: UDD leader Kwanchai Praipana led his supporters to ride their motorcycles around the province. Over 500 people and 1,000 motorcyclists joined the convoy.
Buriram: Pro-election rallies there were attended by 4,000-5,000 UDD supporters and other citizens.
Sri Saket: At least 7,000 Redshirts from 22 districts, led by Mr. Sawai Sodsai, showed up for their counter-protests. Local Redshirts leaders also criticised Mr. Suthep for shutting down Bangkok, and vowed that they would escalate their campaigns if the election on 2 February is scrapped.
Ratchaburi: Over 3,000 locals and UDD supporters wearing white shirts rode on motorcycle in Mueang Ratchaburi municipality to support the 2 February election and oppose any military coup.
Smaller protests, demonstrations, and other activities were similarly organised in other provinces such as Lamphun, Kalasin, Loei, Sakon Nakhon, and Uttaradit.
For comments, or corrections to this article please contact: [email protected]
You can also find Khaosod English on Twitter and Facebook
http://twitter.com/KhaosodEnglish
http://www.facebook.com/KhaosodEnglish