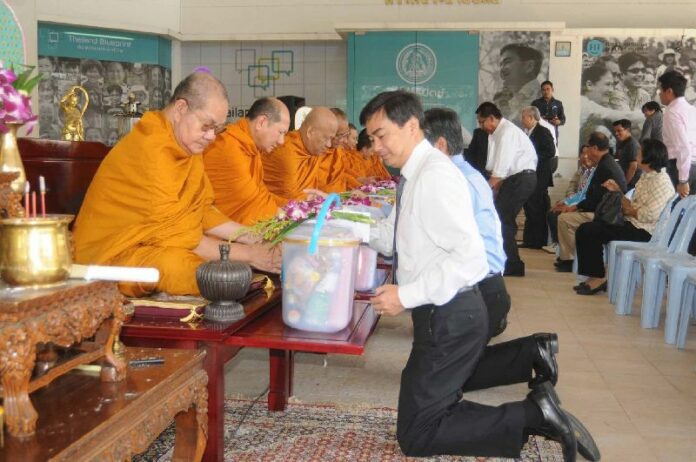 (14 January) The Democrat Party has conducted a ceremony to expel evil spirits after the party's office in Bangkok was sprayed with gunfire.
Yesterday morning unidentified gunmen drove a grey Toyota Camry to the office in Phayathai district and discharged their firearms at a coffee shop, called A Big Seat, which is located inside the office′s compound. No injuries was reported.
While Democrat chairman Abhisit Vejjajiva blamed the attack on political intimidation, Mr. Juti Krairuek, Secretary General of the Democrat Party, suggested that the incident could have dire supernatural effects on the party as well.
To remedy this, he said, the party has invited 9 monks for a merit making ceremony today in front of the statue of Mother Earth Squeezing Her Hair, the symbol of the Democrat Party.
"This would bring us some goodness to fight against the evil we have attracted," Mr. Juti said, "So hopefully we do not have to meet in the next lifetime".
The event was attended by numbers of the party′s bigwigs, including former executives, former MPs, president of party's branches and several party members. Mr. Abhisit also attended the ceremony.
Meanwhile, Mr. Sutham Rahong, Director-General of the Democrat Party, stated that they had strengthened their security policy inside the office's area, as well as asking for supports from Phayathai and Bang Sue police to maintain the safety around the perimeter.
He also suggested that more lighting equipment is needed around the party′s office.
Mr. Sutham also stated that the party had obtained some "good evidence" regarding the shooting incident on CCTV camera.
For comments, or corrections to this article please contact: [email protected]
You can also find Khaosod English on Twitter and Facebook
http://twitter.com/KhaosodEnglish
http://www.facebook.com/KhaosodEnglish