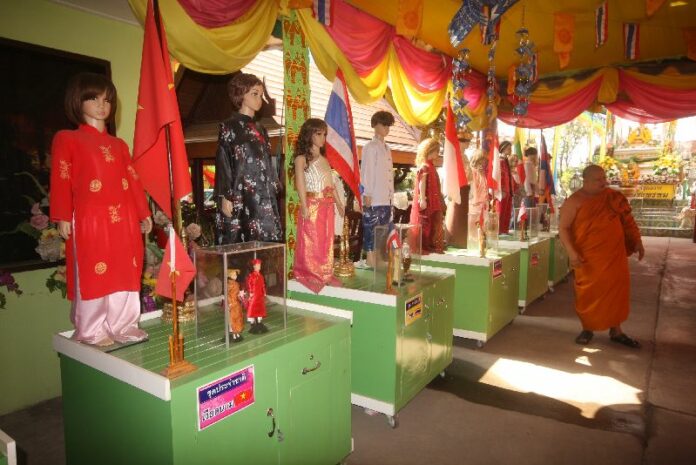 (20 February) A Buddhist temple in Phra Nakhon Sri Ayutthaya province has launched an exhibition aimed to young children to encourage their temple attendance.
Newly finished installations at Wat Tha Ka Rong Temple include a learning exhibition centre to educate the children about different nations and cultures of the Association of Southeast Asian Nations (ASEAN).
The exhibition features large mannequins wearing national dresses of the 10 ASEAN countries, along with each of their national flag and country information. Additionally, the children can learn about different Buddha figures worshiped in other ASEAN countries.
A large fish tank in the temple also showcases various types of of fish found in Chao Phraya river, complete with details of each species, along with their common and scientific names, written near the tank.
However, it appears that the item which draws the most attention from visiting children is a robot model constructed of metal scraps. It was nicknamed "Transformer" by the temple monks.
Phra Kru Sutthipanyasophon, abbot of Wat Tha Ka Rong Temple, said children and youths nowadays have been alienated from the temple. He hopes the construction of the robot and the exhibiton would draw their attention back to the temple.
Moreover, as Thailand is approaching an economic integration with ASEAN neighbours, the temple administration believes the young children should also study and learn information about ASEAN countries, the abbot added.
For comments, or corrections to this article please contact: [email protected]
You can also find Khaosod English on Twitter and Facebook
http://twitter.com/KhaosodEnglish
http://www.facebook.com/KhaosodEnglish