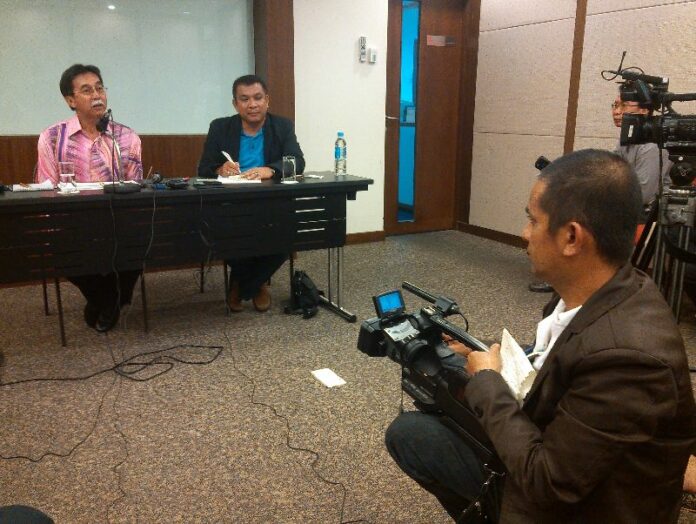 (19 February) The Malaysian mediator for the negotiation between the Thai authorities and the Islamic separatists in the southern border provinces said he hoped the peace dialogue will resume soon.
"Malaysia, as the mediator nation for this peace dialogue, has hope that it will continue in near future," said Dato Sri Ahmad Zamzamin bin Hashim, the former director of Malaysian intelligence agency.
Dato Hashim delivered the remark yesterday during a press conference in Kota Bharu, Malaysia, on the occasion of first anniversary of the negotiation, which saw the Thai government engaging directly in a peace dialogue with one of the separatist groups, BRN, for the first time.
The attempt had been hailed by a number of experts as a departure from mostly hardline approaches adopted by successive Thai governments to quell the ethnic and religious violence in the southern border provinces.
However, the negotiation has been indefinitely suspended due to the ongoing political turmoil in Bangkok.
But Dato Hashim remains optimistic that the peace dialogue would not be in vain. He called the decision by a high-ranking Thai official to shake hands with Mr. Hasan Taib, core leader of the BRN, last year as "an admirable act of bravery".
The mediator also praised the efforts of both sides to openly discuss violent attacks which occurred during the previous Ramadan fast season. Nevertheless, Dato Hashim said there are more incidents that should have been brought to attention and straightforward discussion, such as the recent killings of 3 children in Narathiwat province.
"I hope the new government of Thailand will continue to pursue [the peace dialogue]," Dato Hashim said in the press conference, "Mr. Rajib Nazak, the Prime Minister of Malaysia, is very keen to act as a coordinator for a continuous dialogue".
"But it is also up to the Thai government whether they want Malaysia to act as a coordinator. If the new Thai government does not want it, Malaysia is willing to cease this role," Dato Hashim added.
As for the next round of negotiation, Dato Hashim admitted there is no fixed date in the foreseeable future, but he expressed his belief that it will include other active militant groups such as the PULO and the BIPP, as well as local civil groups like Muslims and Buddhists who had been affected by the violence.
For comments, or corrections to this article please contact: [email protected]
You can also find Khaosod English on Twitter and Facebook
http://twitter.com/KhaosodEnglish
http://www.facebook.com/KhaosodEnglish