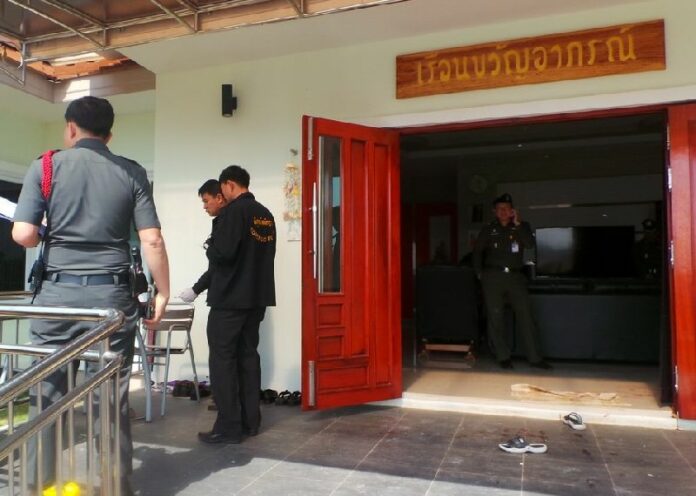 (20 February) Four military officers accused of engineering the assassination attempt of a Redshirt leader have been released on bail.
Army officers escorted
Capt. Prachya Chanrordphai, Sgt. Chanon Tabthimthong, MSGT Mawin Yangbua, and MSGT Wirote Pimsingh to a police unit in Khonkaen province on 18 February where they were immediately arrested and taken into custody.
The four suspects are wanted by the police for their alleged role in the drive-by shooting at the residence of Mr. Kwanchai Praipana, a core leader of the United Front of Democracy Against Dictatorship (UDD), in Udon Thani province last month.
Police have pressed numerous charges against the suspects including first degree murder, possession of firearms and ammunition without permit, and carry of said weapons into residential ares without appropriate causes.
The four suspects and two witnesses were later separately interrogated by the police. Police identified the witnesses as two sex workers the officers reportedly hired during their stay in a resort hotel in Udon Thani.
However, the suspects refused to cooperate with the police, insisting that they would only testify in the court, a high-ranking police officer said. The officer added that the suspects also refused to have their DNA sampled in order to match with the DNA trace found on AK-47 rifles believed to be used in the crime.
The accused eventually received a bail release, each posting a bail money of 100,000 baht. They were released at around 02.30 on Wednesday.
For comments, or corrections to this article please contact: [email protected]
You can also find Khaosod English on Twitter and Facebook
http://twitter.com/KhaosodEnglish
http://www.facebook.com/KhaosodEnglish