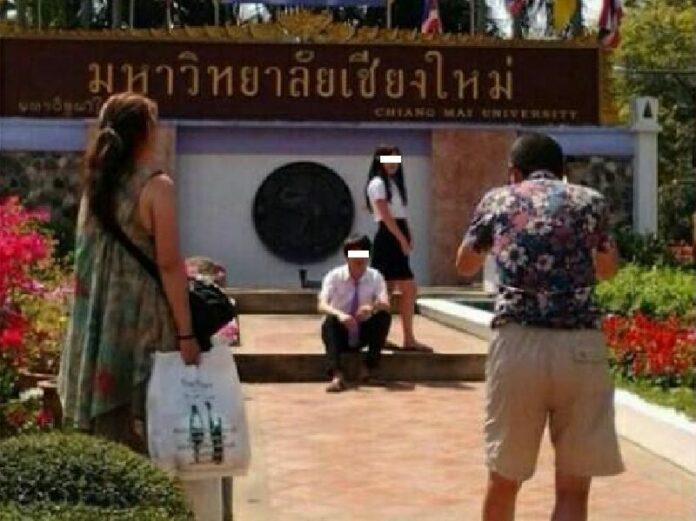 (26 February) Chiang Mai University says it will impose "visiting fees" and other regulations to curb waves of sightseeing Chinese tourists.
The decision was announced by today Mr. Rome Jiranukrom, a deputy dean of Chiang Mai University.
According to Mr. Rome, the university administration has received numerous complaints about Chinese tourists whose visits to the scenic university compound have caused much annoyance to the students and other staff.
"I have to admit that the fact that CMU is a popular attraction for the Chinese tourists is both an opportunity and a threat for the university community at the same time," Mr. Rome said, explaining that their visits have affected traffic and public order in the establishment.
Some Chinese tourists have camped out next to ponds in the university and "disrupted" classes during their sightseeing around the university, while others like to occupy seats on university buses which are reserved for the students, Mr. Rome complained.
Among the more bizarre incidents is Chinese tourists dressing up in the university students′ uniform and taking pictures with the university landmarks, Mr. Rome said, adding that the security guards detained 4 such tourists yesterday during their "cosplay" activity.
The 4 tourists were later reportedly escorted to meet with the CMU directors who informed them that their action is considered inappropriate by the university community.
The group was also taken to a police station in Chiang Mai province where they were charged with violating the laws; Mr. Rome said disguising oneself in a CMU student uniform without proper reasons is punishable by a maximum penalty of 1 year in prison or 100,000 baht fine.
Although the university will most likely drop the charge, Mr. Rome said he hoped the case would serve as a "lesson" to other Chinese visitors.
To regulate the flows of tourists into the university, Mr. Rome told our correspondent, the CMU administration has imposed visiting fees of 50 baht per one adult (20 baht per child) for those who wish to visit the university.
If the tourists arrive on vehicles, they would be required to park them in the university parking lot and pay parking fees, according to the new regulation. A bicycle would cost 50 baht per 4 hours parking, 100 baht for a motorbike, and 200 baht for a car.
Upon entering the CMU compound, the tourists would also be required to board the trams which would take them to tour various attractions in the university. The trams will make no stop, except at the famous pond for 15-minutes photo op. The trams will leave every 30 minutes, and the tour will take approximately 30 minutes, Mr. Rome said.
Mr. Rome insisted that these measures are necessary to maintain public order in the university as more and more Chinese tourists continue to pour into Chiang Mai and the university.
"I want this issue to be an agenda for Chiang Mai province, so that all sides can find solid solution," said the deputy dean.
For comments, or corrections to this article please contact: [email protected]
You can also find Khaosod English on Twitter and Facebook
http://twitter.com/KhaosodEnglish
http://www.facebook.com/KhaosodEnglish