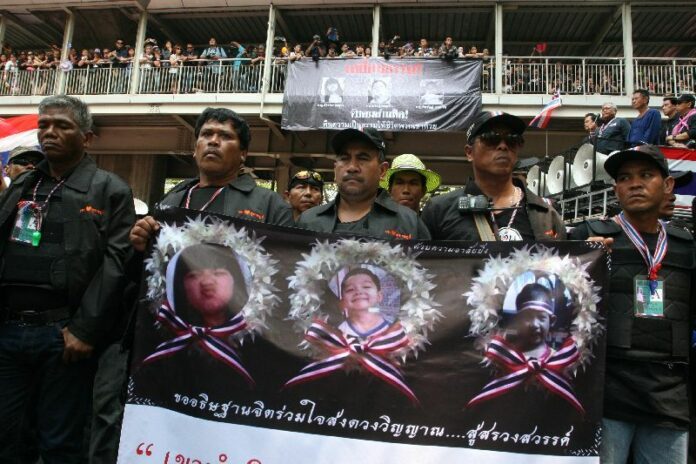 (26 February) A commander of the Royal Thai Army has downplayed the extent of the nighttime shootout between anti-government militants and unidentified gunmen last night.
At least four locations around campsites maintained by the People′s Committee for Absolute Democracy With the King As Head of State (PCAD) in downtown Bangkok came under gunfire shortly after midnight.
The police initially reported that gunfire was first heard in the the districts of Pratunam, Ratchaprasong, and Pathumwan. The skirmishes later moved to the vicinity of Chulalongkorn University and Henri Dunant Road, police reports say.
Sounds of gunshots continued to ring out for almost two hours, according to witnesses. It was not clear who were involved in the shootouts, but accounts from many witnesses and reporters say PCAD guards were seen firing at unidentified gunmen.
It was the latest violent incident for Bangkok. The capital city has experienced violence related to anti-government protests on a nightly basis.
However, Maj.Gen. Warah Boonyasit, commander of the 1st King′s Guards Infantry Division, told reporters today that there was no shootout between opposing forces last night.
Maj.Gen. Warah claimed the incident was "merely" about PCAD guards shooting at drunken men who threw fireworks at their checkpoints in order to chase them away.
He also denied reports that the military personnel stationed near PCAD rally sites had come to the anti-government guards′ aid and helped them in the firefight against the unidentified gunmen, as the soldiers had no weapons, except for a number of officers who carried handguns.
"It wasn′t a gunbattle, and no one was injured," Maj.Gen. Warah said, "It was only shooting to scare off [the drunken individuals]".
As for a separate incident at Makkawan Bridge, in which gunfire was heard at around 24.00, Maj.Gen. Warah explained that it was caused by a group of teenagers on motorcycles who approached a PCAD campsite to "harass" the protesters.
The PCAD guards responded by firing their guns at the group and managed to drive them away from the rally site, Maj.Gen. Warah said.
"I′d like to ask the media, especially the TV media, not to portray the news as fierce gunbattle with unidentified forces," the army commander told reporters, "Let me insist that our soldiers kept guard at every location. No such thing happened".
He added, "Please do not exaggerate in your news reporting, because it would frighten the public".
Nevertheless, Maj.Gen. Warah said the military has planned to add more checkpoints in order to prevent attacks or violent incidents, such as the office of the National Anti-Corruption Commission (NACC) and the Constitutional Court.
Soldiers will also increase their patrols around the protest sites to ensure safety for "all sides", the officer announced.