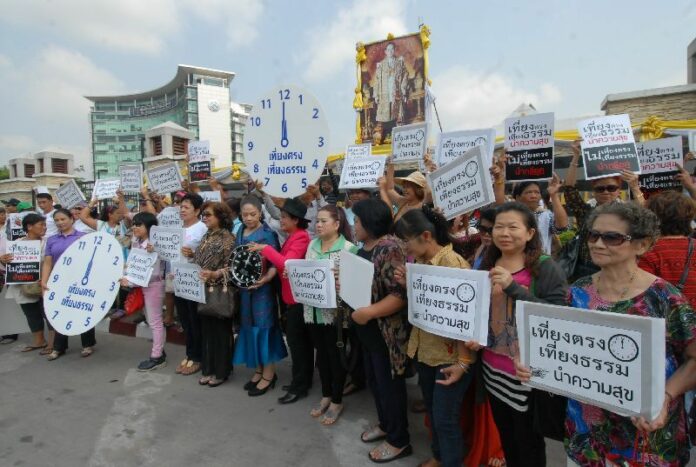 (26 February) The Redshirts have organised a symbolic protest at the anti-corruption agency to test the validity of a court ruling which barred the authorities from forcefully dispersing protesters.
At the rally in front of the National Anti-Corruption Commission (NACC) office in Nonthaburi province, the Redshirts demonstrators said they wanted to find out whether they are granted the same rights to peaceful assembly similar to the anti-government protesters.
The Civil Court ruled last week that the government cannot remove anti-government protesters from their rally sites nor impede their campaign to oust Prime Minister Yingluck Shinawatra by means of confiscating their items or sealing off roads around their protest sites.
According to the judges, the anti-government protesters led by the People′s Committee for Absolute Democracy With the King As Head of State (PCAD) were exercising their rights to free assembly in a non-violent manner, as protected by the 2007 Constitution.
The verdict effectively strips the government of special powers authorised by the emergency decree, which bans any political gathering, and is widely seen as a judicial endorsement of the anti-government protests.
To the pro-government Redshirts, the verdict is nothing less than another proof that the Thai courts are applying "double-standard" to the political crisis; in 2010, the court affirmed the State of Emergency imposed by then-Prime Minister Abhisit Vejjajiva against the Redshirts protests in Bangkok.
In front of the NACC office today, the Redshirts demonstrators burned a mock coffin of NACC director and gave speeches denouncing the works of the NACC, especially its summon for Ms. Yingluck to hear corruption allegations against her on 27 February.
Some of the protesters also held up signs resembling a clock with its hands pointing at 12.00 (tiang trong) – the pun gesture was meant to question whether the Thai courts are fair (tiang trong) like the clock.
The Redshirts also chained the entrance gate to the NACC headquarters, mocking the action of PCAD demonstrators who had besieged various state agencies in the past weeks.
The protesters were led by Mr. Chawarit Suriya, a local member of the United Front of Democracy Against Dictatorship (UDD).
4 companies of police officers and 1 company of soldiers were stationed inside the NACC office to maintain order, while all non-essential staff were instructed to leave the office as a precaution.
None of the NACC top directors were present at the office, our correspondent added.