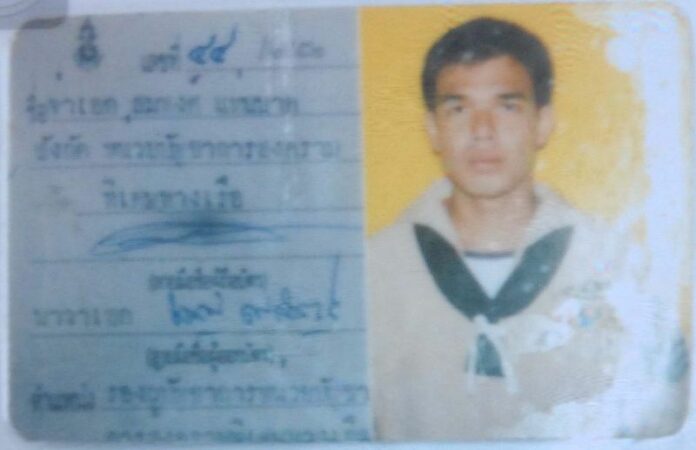 (26 February) Two arrested Royal Thai Navy officers have confessed to serving as security guards for anti-government protests, police say.
Petty Officer First Class Sompong Thaennark and Petty Officer First Class Preecha Moonpuak were arrested at a police checkpoint in Bukkalo district of Bangkok today after the officers searched them and found two Glock handguns, along with a number of ammunition for handguns and rifles.
An officer said the police grew suspicious of the pair when their pick-up truck approached the checkpoint and the officers quickly realised the vehicle had no license plate.
The search also turned up ID cards for security teams of the People′s Committee for Absolute Democracy With the King As Head of State (PCAD) and separate ID cards of the Navy Special Warfare Command – commonly known as the Thai Navy SEALs.
The police said both 1PO Sompong and 1PO Preecha are active serviceman.
Upon the arrest, the pair claimed they were based in Narathiwat province and were traveling to their headquarters in Chonburi province via Bangkok. However, the police refused to believe their tale and escorted the suspects to the police station.
Both suspects initially refused to provide any testimony to the police, a police officer said, but after 3 hours of interrogation 1PO Sompong and 1PO Preecha reportedly admitted they were hired by PCAD to serve as their armed guards.
Pol.Maj.Gen. Thitirat Nongharnpitak, deputy commander of the Bangkok Metropolitan Police, later arrived at Bukkalo Police Station and talked with the suspects. Speaking to reporters afterward, Pol.Maj.Gen. Thitirat said 1PO Sompong and 1PO Preecha claimed they were hired to protect PCAD leaders at the rally site near Lumpini Park.
Asked whether the police would press charge against the pair, Pol.Maj.Gen. Thitirat said although the suspects′ firearms were properly issued by the navy, it is an offence to carry weapons into areas under the State of Emergency without due cause.
He said the Royal Thai Navy has been contacted to retrieve 1PO Sompong and 1PO Preecha from the police custody.
Pol.Maj.Gen. Thitirat also expressed sympathy for the arrested suspects, as they would have to face legal prosecution. "One of them has a 4-year old child, and the other has a 9-year old child," the officer said.
"The protest leaders must have felt frightened, so they felt the need to hire well-armed and professional men like these to provide some protection," Pol.Maj.Gen. Thitirat said, "I can only say that I really feel sorry for the [suspects]".
The Thai navy has been linked to the ongoing political crisis in recent days due to reports that some SEALs members have joined the ranks of PCAD guards.
However, the Royal Thai Navy has repeatedly denied the allegation that its force is involved in the current anti-government protests in any way.