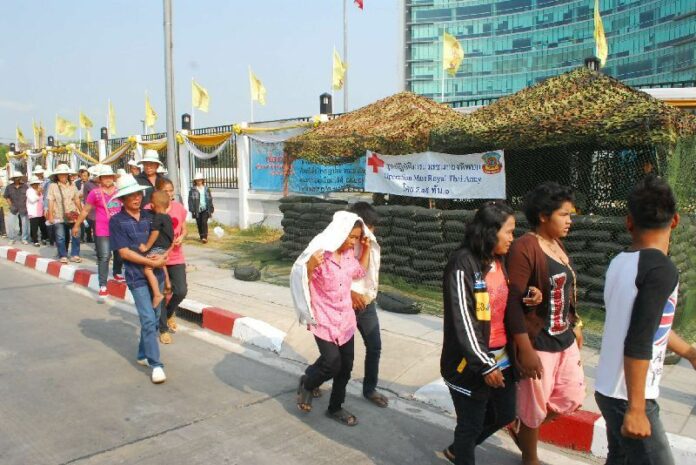 (27 February) The pro-government Redshirts continue to lay siege to the office of anti-corruption body for the second day.
The People′s Radio For Democracy (PRD) – splinter group of the Redshirts in Nonthaburi province – marched to stage their rally in front of the National Anti-Corruption Commission on Sanambin Nam Road yesterday in the bid to test the validity of a court ruling which endorsed the rights of the anti-government protesters to besiege state agencies and occupy roads.
In its verdict delivered last week, the Civil Court ruled that the campaign to oust Prime Minister Yingluck Shinawatra by the People′s Committee for Absolute Democracy With the King As Head of State (PCAD) is in accordance with rights to peaceful assembly guaranteed by the Thai Constitution.
Incensed by what they view as the court′s siding with anti-government protesters, the PRD imitated their rival′s tactics, such as sealing off roads around the NACC, chaining the office′s gate, and preventing NACC officials from entering their workplace.
Even their name of the campaign – "Shutdown All Non-Governmental Organisations" – is a direct parody of the PCAD′s "Shutdown Bangkok" operations.
At around 11.00, a PRD activist also announced on the stage that the officials should remove their vehicles from the NACC parking lot before noon, as the Redshirts would construct concrete barrier to lock-down the NACC compound – as the PCAD protesters have done to Government House earlier this month.
A number of Redshirts from Ratchaburi province also arrived at the campsite this morning.
Police said only one lane of the main road in front of NACC is open to traffic, resulting in heavy congestion throughout the morning.
The PRD′s siege coincides with the appointed date for Ms. Yingluck to meet with NACC chiefs and hear charge of her alleged corruption in the rice-pledging scheme, as summoned by anti-corruption commissioners. It is not clear whether Ms. Yingluck herself will visit the NACC today.
Pol.Col. Somphol Wongsrisunthorn, a police commander in Nonthaburi, said the authorities have deployed 600 police officers and 150 soldiers to maintain order inside the NACC compound.